Recently, the number of F0 patients treated at home and cured in the province has continuously increased. Before that, the provincial medical branch implemented the strategy of caring for and treating F0s at home with the determination not to let F0s become severe and die. Therefore, F0s are being treated at home and closely monitored, cared for by local medical staff.
There are 19,000 F0 cases treated at home
According to the Covid-19 situation in the province, from the end of October to the beginning of November 2021, the number of F0s treated at home increased, especially as the province implemented Resolution No. 128/NQ -CP of the Government and Decision No. 4800/QD-BYT of the Ministry of Health on "safely adapting, flexibly, effectively controlling the Covid-19". According to statistics at the beginning of November, the number of F0s treated at home in the province amounted to about 60,000. Although F0s patients treated at home had received a full dose of vaccine, had mild symptoms, little risk, but in large numbers, putting an overload on medical system. With the voluntary spirit, grassroots medical workers overcame many difficulties and dangers to take care of people's health.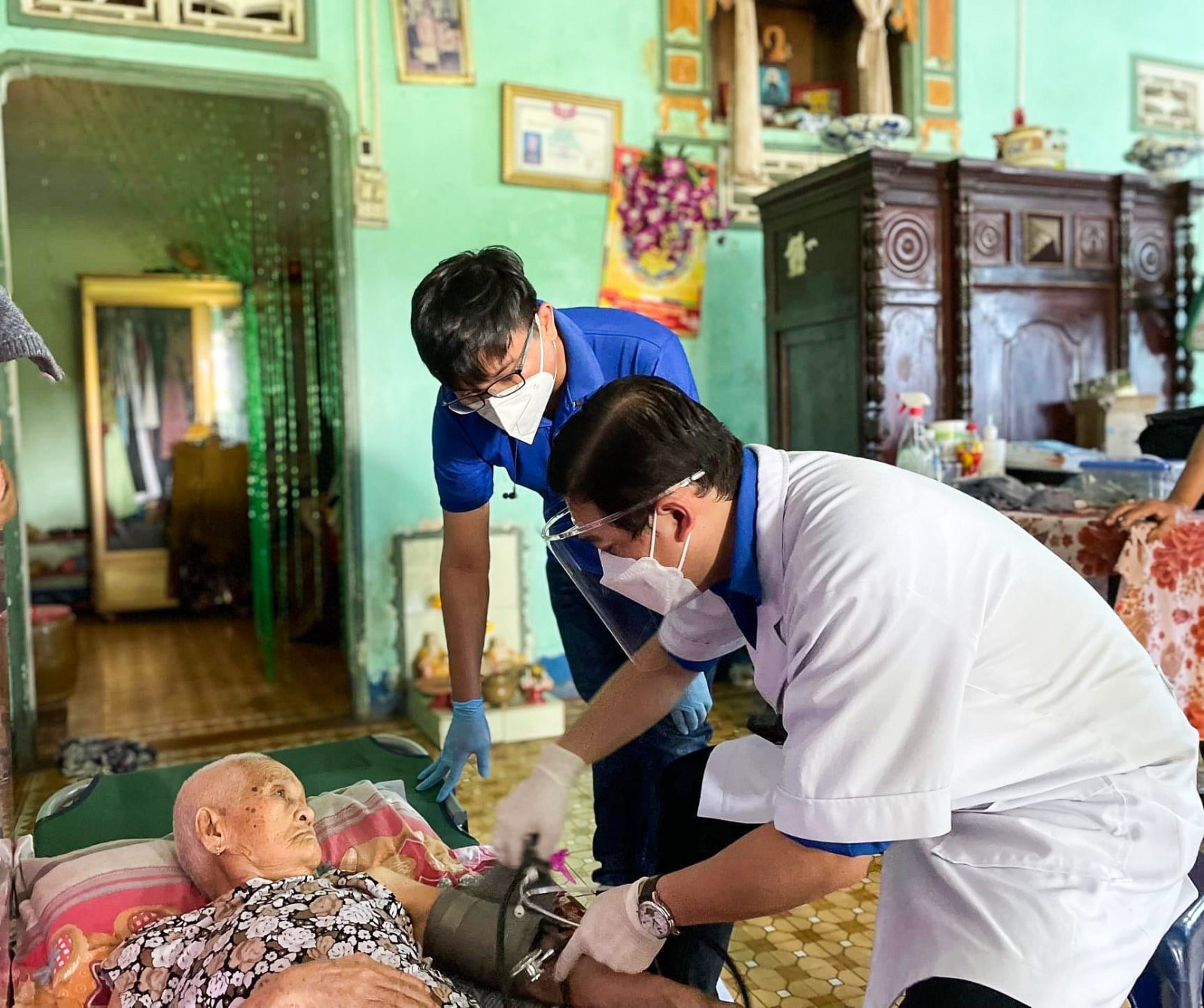 Officials, nurses and doctors of Thu Dau Mot City Medical Center provide health care for high-risk elderly at home.
In recent months, the number of F0s treated at home has continuously increased. Every day, the province recorded an average of 1,000 - 2,000 patients recovering at home; There were days when the number of patients recovering from the disease reached 3,000. A large number of F0 patients who have been treated at home and recovered from the illness have contributed to reducing the load on testing and medical treatment facilities, hence the province concentrates medical human resources on taking care of severe Covid-19 patients. With monitoring and care solutions, the province has only about 19,000 cases under treatment. In the past three months, the province had about 41,000 F0s being treated at home and recovered.
Tu Vy Khuong, Head of Mobile Medical Station Uyen Hung Ward, Tan Uyen Town, said the mobile medical station was assigned to monitor F0s at home. Every day, medical workers reviewed the list, contacted F0s to give advice, and came to their house to dispense medicines. After receiving a new infection case, the station members counseled and determined that the case is eligible for home isolation (with separate isolation room, medical equipment, SpO2 meter, etc.), then instruct the patient to self-isolate and take care of themselves at home. "During the treatment at home, the F0s are regularly called and counseled by medical staff. Staff asked patients to provide numbers of body temperature, blood oxygen concentration index and quickly report their symptoms if any, " Khuong said.
Le Thi Huong, a F0 patient recovered from the disease in Tan An ward (Thu Dau Mot city), said that at first she and her family were very confused when they learned that they were infected with Covid-19. After making a medical declaration, the family was received by the ward's medical staff, and signed a commitment to isolate and treat themselves at home. Her family was also instructed to equip thermometers, blood pressure monitors, waste containers; Medications were given and temperature was taken regularly. Huong said: "With the enthusiastic help and guidance of medical staff and neighbors around, my family's home isolation is very convenient, daily activities were not disturbed much. After 10 days of isolation and treatment at home, three members of my family all tested negative for SARS-CoV-2. During the treatment at home, my family was cared for by medical staff, who came to the house to gave medicine, examined, counseled carefully, so it was very reassuring.
To improve grassroots medical capacity
Huynh Minh Chin, Deputy Director of Provincial Department of Health, said that to improve the care and treatment quality for Covid-19 patients at the grassroots level, Department of Health has implemented solutions to improve treatment capacity for F0s at home of medical stations, mobile medical stations. The medical branch advocates that people must have early and afar access to healthcare from the grassroots, hence grassroots health care system must improve capacity, take the initiative in equipment and human resources, especially therapeutic drugs, oxygen... in order to well achieve the goals of early diagnosis and treatment, and reduction of severe disease and mortality rate. In addition, the medical branch also intensify vaccination for people. This is a strategic and decisive factor in both short term and long term for disease prevention and control.
Dr. Huynh Minh Chin emphasized that medical branch is currently paying special attention to the detection of Omicron variant that could invade the area. The grassroots medical system must absolutely not be negligent, subjective, update the disease situation, coordinate with Pasteur Institute of Ho Chi Minh City, Provincial Center for Disease Control and Health Centers of districts, towns and cities to form a evaluation system, early detection of new strains; pay attention to pandemic prevention and control in urban areas, industrial zones and clusters. The Lunar New Year 2022 is coming, grassroots medical units must continue to check, learn from experience, continue to strictly implement the three anti-pandemic elements (isolation - testing - treatment) and formula "5K + vaccines, therapeutic drugs + raising people's awareness and measures to prevent and control diseases".
In particular, grassroots medical units needs to take care of and give spiritual encouragement to F0s treated at home, combining treatment between Eastern and Western medicine. Previously, Provincial Department of Health opened a training course to treat Covid-19 patients at home to improve the professional qualifications of medical staff at medical centers and mobile medical stations. The medical branch mobilizes the entire private health system, retired medical staff and staff with appropriate medical knowledge to participate in mobile medical stations, community Covid teams to join hands for the treatment of Covid-19 patients at home, creating trust among the people.
Reported by Hoang Linh - Translated by Ngoc Huynh