Currently, in addition to strengthening disease prevention control, the provincial market management force is closely collaborating with functional forces to prevent commercial violations in order to stabilize the market.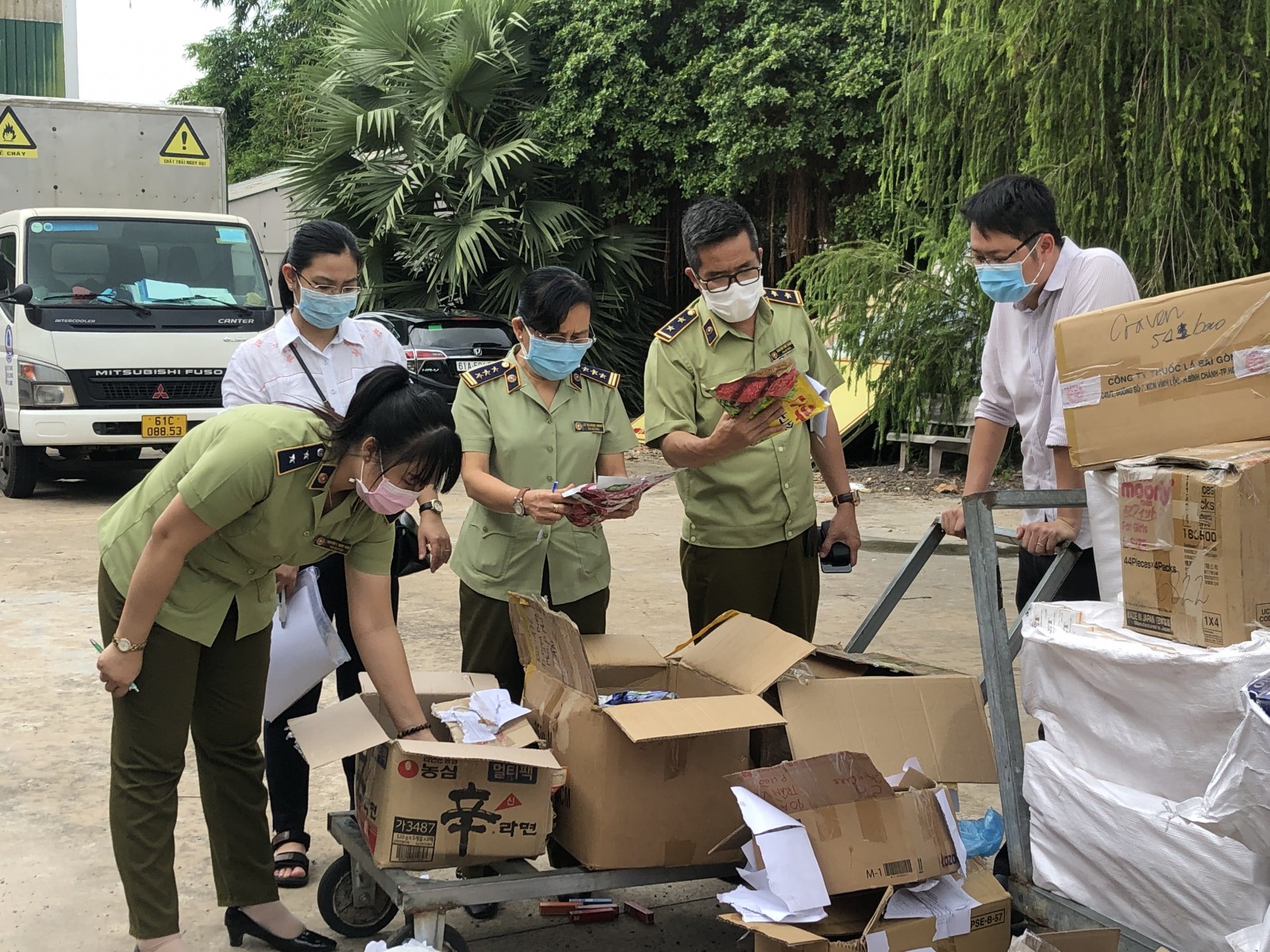 The authority examine and destroy false goods.
Commercial frauds occur
Although Binh Duong is not "hot spot" of smuggling, the increasing population, convenient transportation, and the development of trade and service are opportunities for smuggling and illegal goods transportation, especially during the current complicated situation of the COVID-19. In order to stabilize the market and ensure the full supply of goods, provincial Market Management Bureau issued documents to direct market management teams to intensify inspection, and strictly handle commercial frauds.
Over the first 5 months of 2021, the authority carried out peak waves, conducted regular inspections to promptly detect and strictly handle acts of taking advantage of the pandemic to speculate, hoard goods, and sell goods of unknown origin, goods have no labels, poor quality, unreasonable price increase of supplies, medical equipment, epidemic prevention products... Market Management teams strengthened inspection work according to the 2021 periodical plan, regularly checked business registration, focused on conditional business items, essential goods affecting production, business and consumption of people.
Out of 413 inspection cases, market management teams discovered violations of food safety, especially food containing banned substances, and some unhygienic eateries. The teams detected many counterfeit products, a large number of smuggled foreign cigarettes... All violations were recorded and sanctioned according to regulations by provincial market management force.
To timely tackle violations
In fact, thanks to the works of disseminating laws, inspecting and controlling the market, provincial market management branch prevented and promptly handled law violations in commercial activities, contributed to making the commodity market stable. According to Trần Văn Tuấn, Deputy Director of Provincial Market Management Bureau, the good result was gained by the collaboration with departments and branches to do well dissemination, as well as inspection and handling. However, while performing their function, there were some difficulties in working conditions, regulations on penalties, personnel, vehicles, etc. In particular, the most concern is about the auction of confiscated assets, many goods backlogged for a long time could not be liquidated. The fact of using banned substances in processed foods has not been completely handled, violators often buy materials of unknown origin...
According to Tuấn, the above inadequacies made smuggled goods, counterfeit goods, counterfeit trademarks, goods of no invoices, unknown origin, poor-quality goods continue to develop, making it more difficult to inspect and control the market. "Therefore, every month, every quarter, we set out plans and tasks to check market movements. In particular, we will strengthen the management and direct our teams in different areas to check business organizations and individuals to collect information, ascertain market developments in order to detect and promptly tackle violations. Unusual fluctuations in commodity prices, speculation, hoarding, excessive price increase or decrease, or spreading false rumors cause market turmoil and consumer's panic in the context of the pandemic, all shall be severely punished", added Trần Văn Tuấn.
Over the first 5 months of 2021, total inspection was 413 cases, the authority tackled 232 violations of contraband goods, counterfeit of poor-quality goods, goods without invoices or origin. Nearly VND 3.2 billion of fines was collected and paid to state budget, and tens of thousands of packs of smuggled cigarettes of all kinds have been confiscated. In addition, there were many products of food, cosmetics, milk powder, electronic goods, hair accessories, etc., which violated commercial laws.
Reported by Thanh Hong - Translated by Ngoc Huynh