According to warning of the authorities, drug users are becoming younger. Drugs appear in many different forms and gradually creep into schools, approach students in many different ways...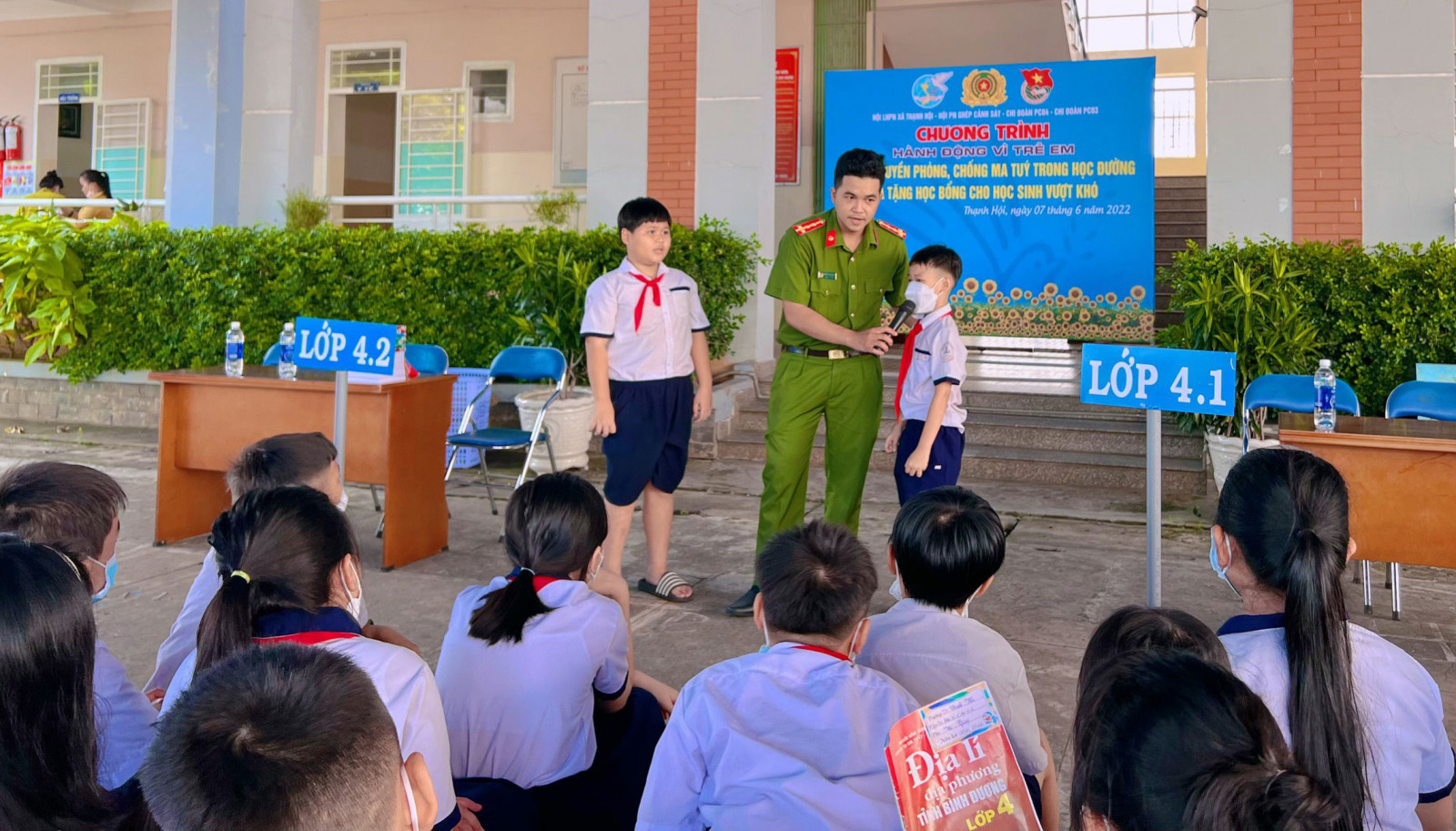 Officials of the PC04 Department propagate drug prevention and control for students of Thanh Hoi Primary School (Tan Uyen Town).
In recent years, drugs and narcotics have appeared in various forms, crept into schools, causing the proportion of young people that use drugs tend to increase. The harm caused by drug addiction to people, families and society is unpredictable.
Lieutenant Colonel Do Ngoc An, Head of the Provincial Police's Drug Crime Investigation Department (PC04), said: "Drug users, especially meth and synthetic cannabis, will develop hallucinations that cause the mind to be disturbed, thereby causing dangerous things for those around them. Some drug users become psychotic, and stab their parents, because of the illusion that their family are devils. The consequences of drug use are subject to very severe legal and moral punishment."
Recently, social network has been buzzing about very strange drugs called "cordyceps", "milk tea", "chocolate". About these new drugs, Colonel An said: "This is also the law of supply and demand, drug criminals often change their patterns, the way they approach users, especially young people to maximize their profits. So they produce and manufacture many different drugs, but they are generally in drug groups, such as meth, synthetic drugs including ecstasy, heroin and other new synthetic drugs, including synthetic marijuana.
In general, these new strange drugs are different forms of synthetic drug that is changed to reach young people. A large number of students do not understand much about the harmful effects of drugs that have these very attractive names. Therefore, young people must be wary of being invited by friends to use, try these. If we are accidentally "passive drug use" such as being forced to drink, being put into food and drink, then we need to quickly go to the nearest medical center for first aid before our lives are in danger."
Currently, the prevention and control of drug harm is integrated in extracurricular activities, including official lessons so that students can understand the harmful effects of drugs and know how to protect themselves. Accordingly, during school extracurricular activities, officials and soldiers from the PC04 Department coordinated with schools to propagate the harmful effects of drugs, organize games and quizzes to create a vibrant and exciting atmosphere for students in these activities.
At these propagation sessions, students acquired basic knowledge about current drugs and their harms as well as how to recognize manifestations of addicts, tricks of drug crime to entice teenagers. Nguyen Anh Dung, Deputy Head of Junior High School - Continuing Education Board under Provincial Department of Education and Training, said: "Drugs are extremely harmful to young people, especially students. The Department of Education and Training has implemented school drug prevention and control plans. In addition, schools also set up many models, clubs, teams, groups for students to participate in activities after official lessons. The main courses, extracurricular activities, experiential programs all help students improve their knowledge and understanding of the harmful effects of drugs on themselves, their families and society, thereby helping them to have a change in perception, always "say no to drugs" and take self-discipline actions to prevent, combat drugs, drug crimes as well as dangerous levels of narcotics "do not try, not even once".
Recently, the Department of Education and Training, Provincial Police, and agencies and unions have stepped up propaganda on social networks. Schools set up fanpages to disseminate the harmful effects of drugs on students. PC04 also regularly update information through the fanpage "Binh Duong Provincial Drug Prevention Club" for the population to grasp and report drug crime in the province.
Reported by Tam Trang – Translated by Ngoc Huynh