Many businesses in the province continue to invest in automatic equipment and technology, which is one of the important factors to withstand market pressures on quality, fast delivery, as well as reduce the number of workers during and after the pandemic.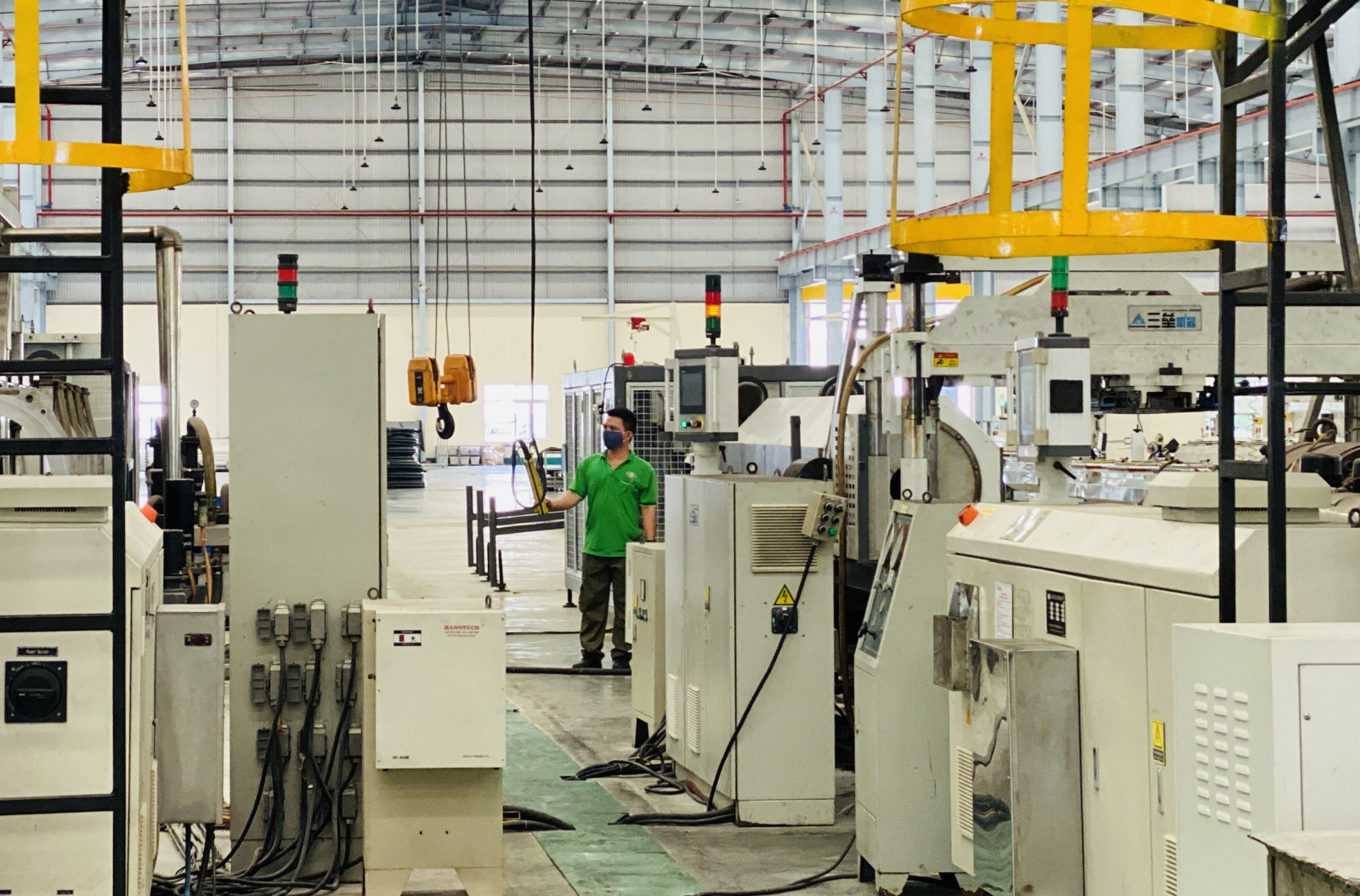 Many businesses in the province have invested in technology to adapt to the current development trend. In photo: Manufacture at Southern Tien Phong Plastic Joint Stock Company (Dong An Industrial Park 2).
Long-term story
In the pandemic context as well as the effects of free trade agreements, the competitive factors has become even fiercer. Therefore, Vietnamese enterprises have to both reduce costs and improve operational efficiency. There are many factors affecting the process of productivity and quality improvement, including the decisive role of technological innovation, application of innovations in product design, production process, and process management…
According to Vuong Sieu Tin, Director of Phuoc Du Long Ceramics Company (Tan Uyen Town), amidst the pandemic, the company tried to put into operation a new gas furnace and burnt the first batch successfully. The investment and operation of a gas furnace at this time is a preparatory step to complete orders in 2021, to improve product quality, meet market requirements. Tin also said that even though there were many orders in 2021, the company tried to develop their manufacture, in which technology is a priority orientation in the coming period.
In the context of limited trade, the rise of Vietnam's wood processing and furniture industry has affirmed its new position. This is not only a "good luck" but the result of a process to adapt and innovate from production to the method of finding customers. Nguyen Thanh Duoc, Director of Dau Tieng Wood Joint Stock Company, informed that in 2020, the output of plywood and rubber billets decreased by 8% and 19%, respectively. However, the output of refined wood products of this company reached 138% target, an increase of 17% compared to the same period in 2019.
To take advantage of this market, the company strengthens investment in technology, develops the production of refined wood products, and high-class furniture products for export to markets, such as the US, Australia, and the UK. According to Duoc, their factory is now fully utilized at 100% capacity. This company is setting up a project to build another factory of refined wood products on an area of 10 hectares at Doan Van Tien Farm (in Dinh Hiep commune, Dau Tieng district).
The key to development
Textile is one of the flagship export industries of the province, plays an important role in economic growth. Due to technological innovation, Vietnamese textile and garment enterprises have improved their productivity, quality and met market demands. According to Phan Le Diem Trang, Vice President of Provincial Textile and Apparel Association, textile and garment companies must increase investment in innovation of technology and equipment in the direction of modernity; and improve skills of human resources to increase labor productivity, reduce production costs, avoid being left behind while labor cost and import price of raw materials are increasing.
According to Huynh Quang Thanh, Vice Chairman of Vietnam Timber and Forest Products Association, the Covid-19 pandemic does not slow down the technological transformation but elevates the transformation to new heights. Furthermore, it becomes a catalyst for businesses to change and be aware of the need for transformation, accelerating the application of science and technology. In the long term, businesses need to improve labor productivity and product value, especially focus on the current trend, in which buyers are looking for manufacturers who use materials of clear origin, giving priority to products that can be converted into different functions and are friendly to the environment, thereby maintaining Vietnam's new position in the world wooden furniture market.
During the pandemic time, businesses that actively apply science and technology have a very high survival rate and are less vulnerable. Even many businesses have shown their initiative and ability to innovate, quickly research and employ technologies to increase customer access, change business methods, and restructure their products suitable for the new conditions.
Reported by Tieu My - Translated by Ngoc Huynh