On November 23, provincial Department of Culture, Sports and Tourism held a ceremony to announce a national treasure and two intangible cultural heritages of the province that were acknowledged by the Prime Minister and the Ministry of Culture, Sports and Tourism at the end of 2020 and the beginning of 2021. This event has a very special meaning for the Culture, Sports and Tourism branch as it was held on the anniversary of Vietnam Cultural Heritage Day (November 23), as well as for those who have made great contributions to protecting, preserving and developing these cultural heritages in Binh Duong recently.
The value stands the test of time
Binh Duong is a land with a long history and old culture. During its long history, generations of Binh Duong residents have been building, fostering and forging a specific cultural identity in the general diversity of the national culture. The unique creations of our forefathers bequeath rich and diverse material and spiritual heritages of very special value. That continues to be proved when Binh Duong has recently added one more tangible cultural heritage "Phu Chanh wood weaving toolkit" and intangible cultural heritage "Binh Duong pottery profession", "Vo Lam Tan Khanh Ba Tra" which were recognized as national treasures and national intangible cultural heritage.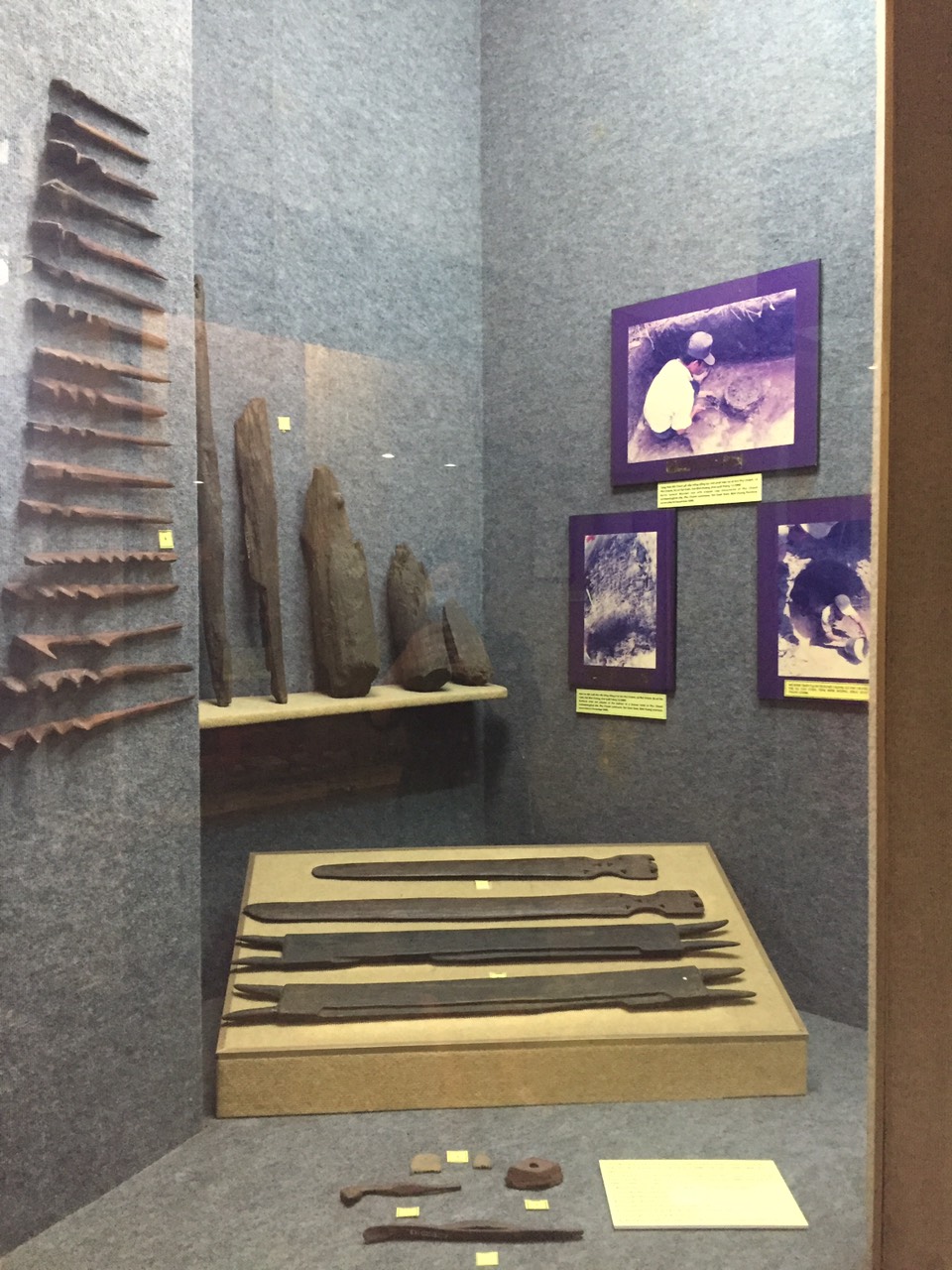 Phu Chanh wood weaving toolkit is preserved and displayed at the Provincial Museum.
Le Van Phuoc, Director of the Provincial Museum, said that the Phu Chanh Wood Weaving Toolkit was discovered at an archaeological site in Phu Bung hamlet, Phu Chanh commune, Tan Uyen district (now Tan Uyen town) in 1998 and 2001, and dates from the late third century BC to the first century AD (more than 2,000 years ago). The kit has a total of 23 artifacts, including: weaving shafts, weaving knives, combs and bars with undetermined uses. These are the compositions of a loom that is still used today by some ethnic minorities in the Central Highlands and Southeast Asia. After a research process, archaeologists determined that the Phu Chanh Wood Weaving Toolkit is a special, rare and typical artifact representing a historical era before and after AD of Phu Chanh, Binh Duong and more broadly the Southern region and Vietnam.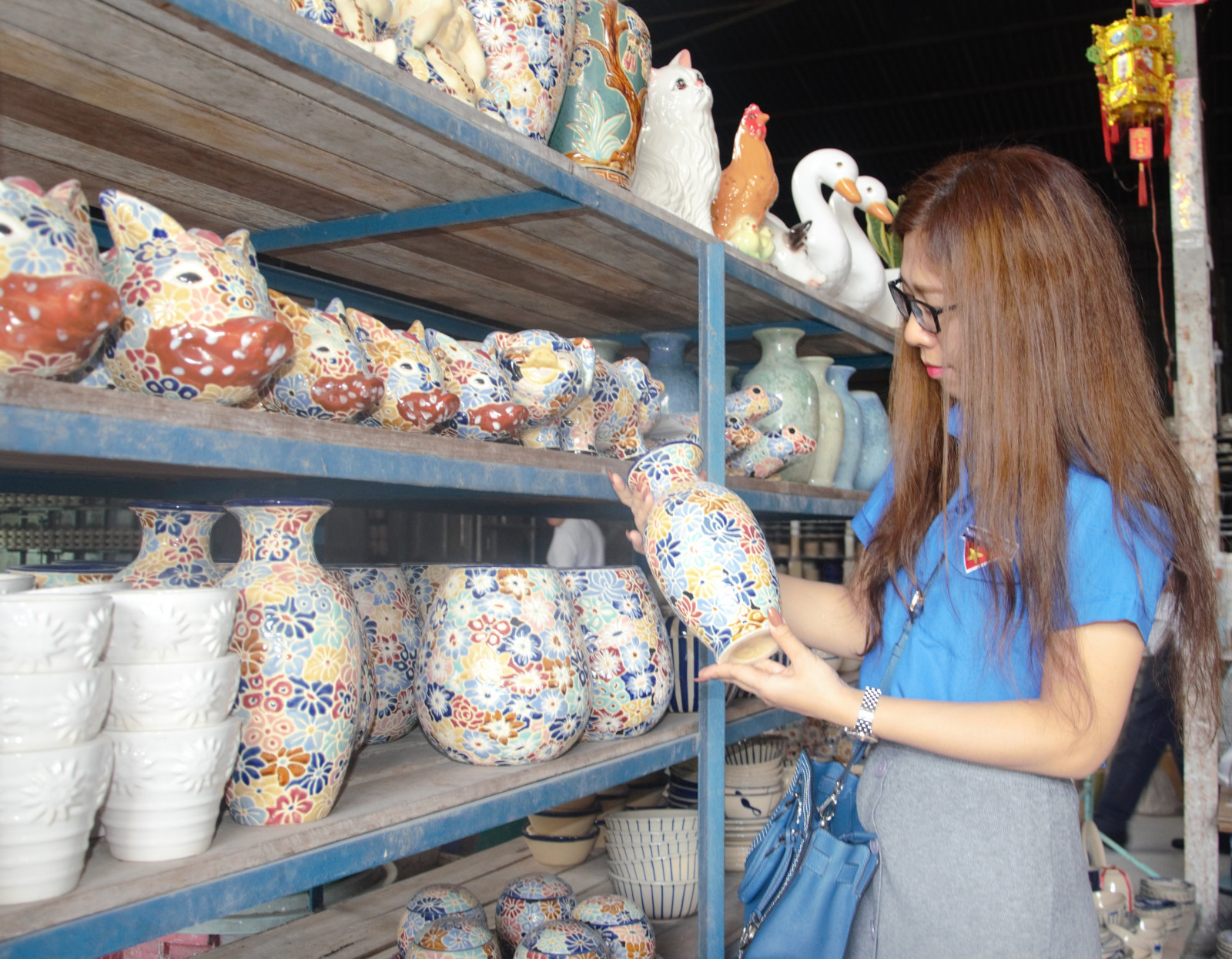 Binh Duong ceramic products at a production facility in Tan Phuoc Khanh ward, Tan Uyen town.
Continuing the course of history, Tan Khanh Ba Tra martial art and pottery of Binh Duong were also formed and constantly developed, made great contributions to the establishment process of hamlets, villages, socio-economic development, and became cultural ambassadors that introduce and spread images of the beautiful and unique Binh Duong land and people to domestic and international friends. Phuoc said, Binh Duong Pottery has a long history of about 200 years, has been handed down through generations, and has become a famous traditional craft of Binh Duong. Since its inception, Binh Duong ceramics has had a stable foothold in the domestic and international markets. Binh Duong ceramic products always meet the diverse tastes of customers and all walks of life.
Meanwhile, Tan Khanh Ba Tra martial art has a very important position in the cultural consciousness of Binh Duong people in general, especially people in Tan Phuoc Khanh area (Tan Uyen Town), Binh Chuan (Thuan An City). Master Ho Tuong (currently living in Ho Chi Minh City), the current master of Tan Khanh Ba Tra, said that this martial art originated in Tan Khanh (now in Tan Phuoc Khanh ward, Tan Uyen Town and Binh Chuan Ward, Thuan An City) and associated with an anecdote of a girl named Tra (who was a close soldier of female general Bui Thi Xuan) who fled to this land. Tan Khanh locals absorbed Tay Son martial arts of Binh Dinh and synthesized more moves of settlers (Vietnamese, Minh Huong people) and gradually formed a new martial art, called Tan Khanh Ba Tra martial art. Up to now, Tan Khanh Ba Tra martial art has thousands of student, present in 10 provinces and cities in the country and abroad. The values of Tan Khanh Ba Tra have contributed to the diversity of cultural identity of Binh Duong land and people.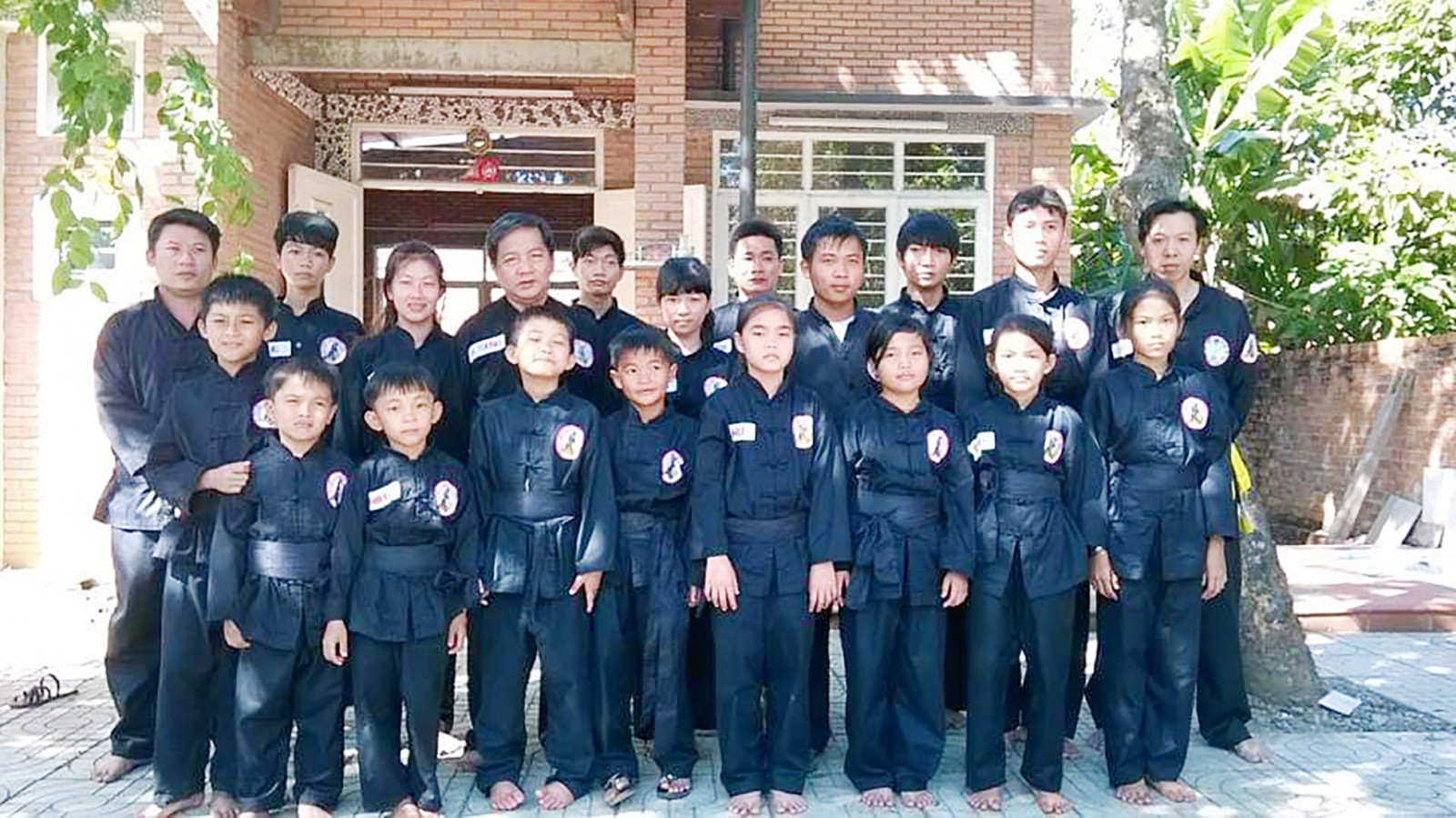 Generations of Tan Khanh Ba Tra students have tried their best to preserve and develop this traditional martial art.
To continue developing
With this recognition, Binh Duong has so far had 3 national treasures, namely: "Doc Chua animal statue" (recognized in 2013), "Tomb of wooden jars with Phu Chanh bronze drum lid" (recognized in 2018), "Phu Chanh wooden weaving toolkit" (recognized in 2020) and 3 handicrafts honored as intangible cultural heritage "Tuong Binh Hiep lacquer", "Binh Duong pottery" and "Tan Khanh Ba Tra martial art".
Nguyen Khoa Hai, Director of provincial Department of Culture, Sports and Tourism, said that the recognition of these cultural heritage is of great significance to Binh Duong province. In order to continue to do well the value conservation and promotion of the above cultural heritage, in the coming time, this agency will collaborate with municipalities where the heritage is located, relevant departments and agencies to develop plans for conservation and development; building a favorable environment for ceramic production's sustainable development; creating favorable conditions for masters and students of Tan Khanh Ba Tra martial art to learn, practice and teach in universities, junior high schools and high schools in the province; to perform well the state management of cultural heritage. The Department will also develop plans to manage, protect and promote the value of newly recognized national treasures; at the same time, advise the Provincial People's Committee to develop a plan to preserve Phu Chanh archaeological relics, a project to preserve and develop the value of intangible cultural heritage Tan Khanh Ba Tra and Binh Duong Pottery.
In addition, the department will cooperate with press agencies, provincial radio and television station to produce programs, columns to introduce national treasures and cultural heritage on the media, diversify forms of implementation so that traditional cultural heritage reaches the masses inside and outside the province. "One more national treasure and two national intangible cultural heritage to be honored are the honor and pride of Binh Duong province, and at the same time make a practical contribution to preserving and promoting the richness and diversity of Vietnam's cultural heritage. With responsibility and national pride, we would like to thank our ancestors and generations of Binh Duong people who contributed to the formation and preservation so that today we have valuable cultural heritage. We are committed to doing a good job of preserving and developing the values of cultural heritage in general and cultural heritage that have been honored by the State in particular," said Hai.
Reported by Hong Thuan - Translated by Ngoc Huynh