After the Covid-19 outbreak was basically controlled, the province has recovered the economy, focuses on building and developing social housing to strengthen the bond of migrant workers with Binh Duong. Namely, the mobilization and calling for resources from businesses to take care of workers' lives is also a solution.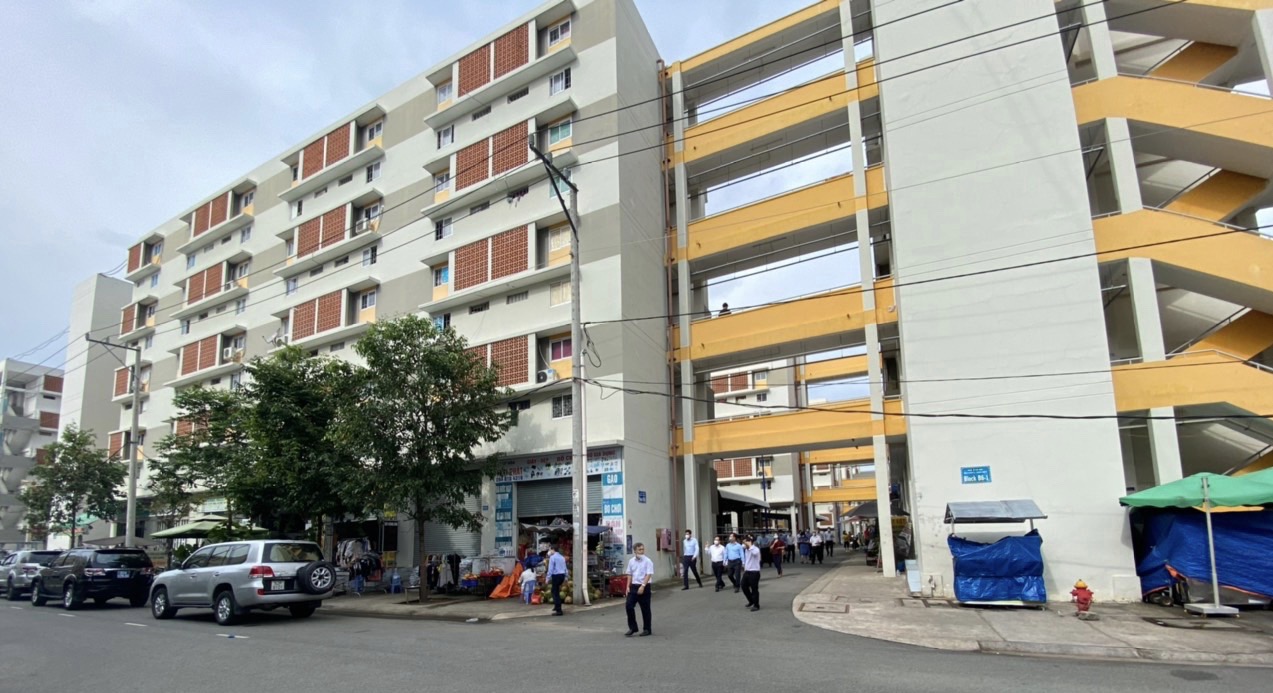 Dinh Hoa social housing area was invested and built by Becamex IDC Corporation.
To connect workers
Vo Hoang Ngan, Director of Provincial Department of Construction, said that the province needs about 300,000 more apartments of social housing model to meet the demand. To solve the problem of settlement for the majority of people who have not had a house and stabilize their lives, Binh Duong has invested in hundreds of thousands of social housing apartments. However, the quantity is still small compared to the actual demand. Binh Duong's goal in the 2021-2025 period is to develop 1 million more apartments to provide accommodations for workers and low-income people in the province. Binh Duong has also proposed the Government to lend about VND 10,000 billion of the Central's fund to carry out this plan.
In this regard, Mai Huu Tin, Chairman of Binh Duong Business Federation stated that, after the pandemic, if companies want to retain workers, a bond must be formed. Migrant workers would consider Binh Duong as their second hometown, not a temporary residence. Hence it is necessary to have a solution to help workers buy houses in Binh Duong. The province needs a mechanism so that enterprises can build houses for workers. If municipalities create favorable conditions for land procedures, enterprises would make great efforts to take care of workers' lives.
However, Ngan added, there are limitations in the development of social housing in the province. Currently, rapid urbanization has led to an increase in housing demand, especially for low-priced housing, but the demand has not been met, especially for rental housing. The planning and investment in industrial parks and clusters do not commensurate with the planning and investment in social housing. The implementation progress of social housing projects (under the 20% land fund) in commercial housing projects is still slow, due to obstacles in compensation, site clearance and investor's limited capacity. Support policy and incentives for investors of social housing projects have not really attracted investors...
Businesses are ready
Nguyen Van Loi, Member of the Party Central Committee, Secretary of the Provincial Party Committee, Head of the provincial National Assembly's delegation, said that timely support for workers facing difficulties was a problem posed by the province during and after the pandemic. Localities, such as Di An City, Thuan An City and Tan Uyen Town, are places where gather large numbers of workers. However, there are very few social housing. Municipal authorities have paid special attention to building a series of housing projects for low-income people. "Binh Duong will create all favorable conditions on land and location for units and businesses to invest in housing for workers in the most effective way," said Nguyen Van Loi.
At a meeting with PanKo Vina Company ( Ben Cat town), Bui Minh Tri, Head of the Provincial Management Board of Industrial Parks, suggested that the company's land that was previously planned for the construction of a hotel should be converted into housing for workers in the form of rental. With the number of more than 7,000 workers, the company needs a good housing policy to retain workers and ensure production in the current situation. The Management Board of Industrial Parks and administrative branches are making efforts to support enterprises to implement this project. Choi Young Joo, General Director of PanKo ViNa Company, said that he would report this plan to the Board of Directors and look forward to the province's support if this plan is carried out.
In Tan Uyen Town, in a meeting with local authorities after the pandemic outbreak, Nguyen Liem, Chairman of Directors Board of Lam Viet Company, said that with a highly labor-intensive industry, it is necessary to build houses for workers so that they would have long-term commitment with the company. But now the problem facing businesses is land fund and investment procedures. He hoped that local authority would create favorable conditions for businesses to invest in housing for workers.
Reported by Tieu My - Translated by Ngoc Huynh