Besides spiritual tourism, visiting historical - cultural relics, rural tourism is one of the potentials of Dau Tieng district. In order to stimulate tourism development in this area, Dau Tieng district has had activities to support as well as orient the rural tourism development.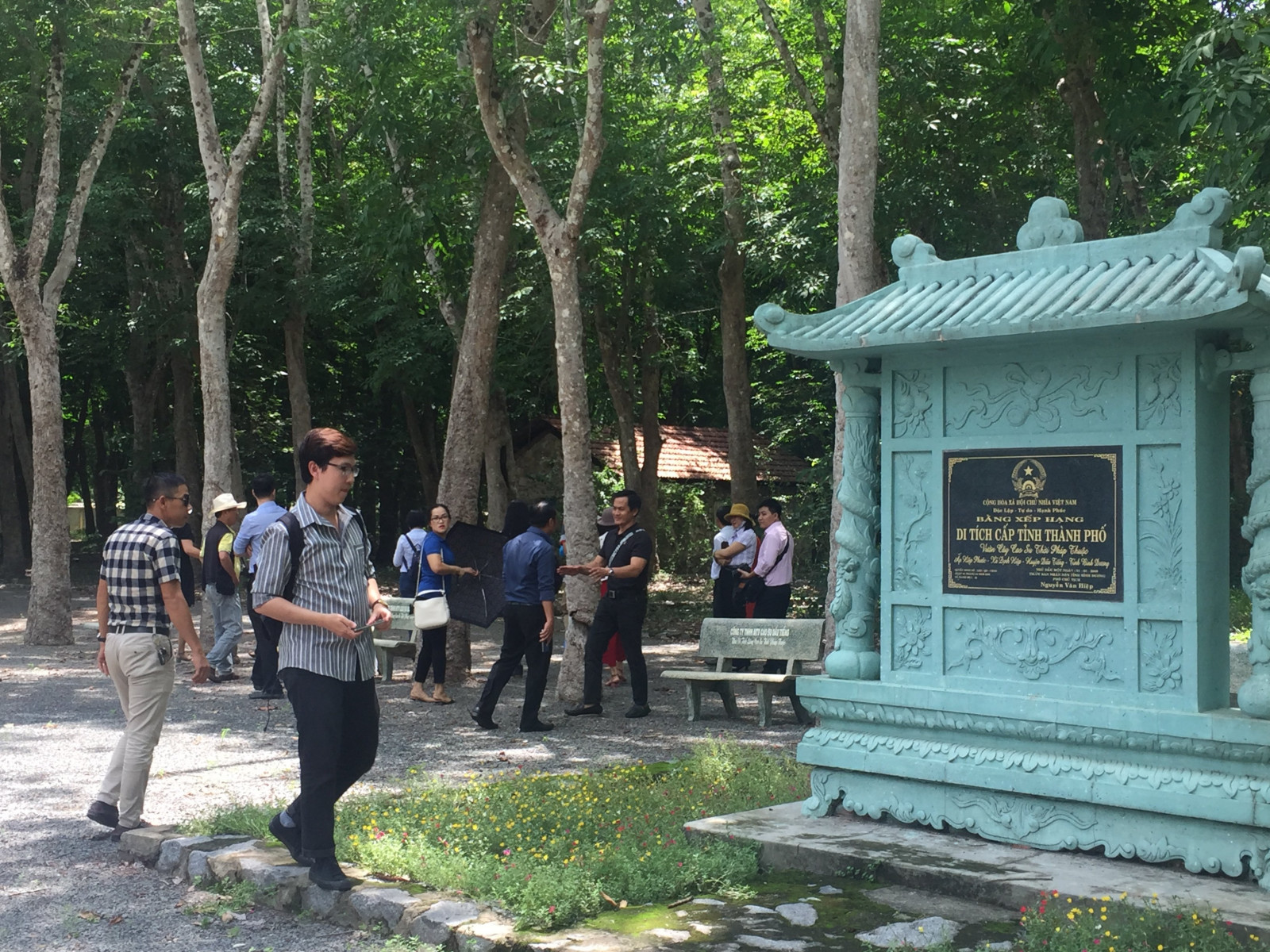 Linking orchards with historical and cultural relics in Dau Tieng district is the direction for rural tourism.
Support for rural tourism development
With the advantage of having Saigon River flowing through the area, many households in riverside areas of Dau Tieng district have invested in growing fruit trees and gain high output, high quality, such as as asparagus, durian, green-skin grapefruit... This is also the potential for Dau Tieng district to put into operation many orchards - a type of ecotourism that is currently popular.
Nguyen Thanh Tung, Vice Chairman of Dau Tieng District People's Committee, said that in order to promote and support rural tourism development in the area, in addition to implementing the district's general tourism development plan, the District People's Committee also set up a project to develop specialized areas of fruit trees combined with ecological tourism development in Thanh Tuyen commune. At the same time, the district also identified gardens and orchards in the area as tourist destinations integrated with economic development and new rural construction of the district. The district has implemented a number of policies to support and develop orchards in the area to serve tourists.
In order to gradually form and develop orchard ecotourism and community tourism in the district, contributing to exploiting the available potential and advantages of the district, in addition to scientific and technical support for farmers to increase productivity and quality of orchards, the district provided training of knowledge as well as related skills in tourism exploitation and development for farmers. The district Office of Culture and Information coordinated with Economic Office to organize training courses for farmers in Thanh Tuyen and Thanh An communes on development of orchard ecotourism and community tourism. The training courses were often combined with visits to outstanding fruit tree farms in western provinces such as Giang, Ben Tre... for farmers to learn more experience and apply new advanced techniques.
To mobilize resources for development
According to statistics, Dau Tieng district has more than 560 hectares of fruit trees, including hundreds of households working in mangosteen farming. Mangosteen of Dau Tieng district, in 2019, was certified for collective trademark and meeting VietGAP standards. Farmers growing mangosteen orchards in Thanh Tuyen commune and Thanh An commune under Thanh An Commune Ecotourism association group are forming tourist stops. In particular, there are some prominent gardens, such as: Tran Van Sau, Nguyen Van Thuy, Cao Que Anh, Huynh Van Duong in Thanh Tuyen commune. Particularly, Thanh An Commune Ecotourism association group (Ben Tranh hamlet) has also formed a common tourist stop... Currently, the district is continuing to mobilize and support farmers with orchards and eateries in combination with performances of "Đờn ca tài tử" troupes in Thanh Tuyen and Thanh An communes to build qualified orchard attractions to serve tourists.
In addition, the District Economic Office also continues to carry out the acceptance of scientific and technological projects that applied technical advances of intensive cultivation of plants and meet VietGAP standards and were linked from production to consumption in Minh Hoa commune and Minh Thanh commune. This is a condition for heightening the quality of Dau Tieng fruits, contributing to the promotion and attraction of rural and community tourists in the coming time.
With the attention and support of municipal government, initially, a number of farmers and agricultural cooperatives have provided tourism services. However, according to the assessment of local leaders, these are just simple products and services, farmers have no connection with tour operators, as well as connection with each other to create community tourism. The majority of tourism orchard establishments are small, the quality of service is not high, there is no linkage and cooperation between orchards and service providers. Moreover, the characteristics of fruit trees are only seasonal, so tourists only visit orchards and enjoy fruits in months with ripe fruits. The other difficulty is that the linkage and development of tours of Dau Tieng district is still limited, because the district does not have suitable attractions and cannot keep tourists for a long time; material facilities of accommodation establishments are not up to standard, the ability to meet demands is still low...
Speaking about the orientation of rural tourism development in Dau Tieng district in the coming time, Nguyen Thanh Tung said that the district would strengthen the mobilization of resources to develop infrastructure, facilities and techniques for tourism. The district will prioritize appropriate resources to invest in the development of transport infrastructure that connects tourist areas and spots together, in which priority will be given to the construction of passenger terminals on the Saigon River combined with tourism services. Besides, the district will continue to implement and complete works under the project of intensive development of fruit trees combined with the development of eco-tourism in Thanh Tuyen commune; urge relevant units to accelerate the investment progress of Nui Cau - Dau Tieng ecotourism area; coordinate to organize training courses for tourism managers and local people to participate in tourism activities; develop local workers to serve the development of community tourism, contributing to creating jobs in rural areas. The district will also promote association and cooperation with localities to effectively exploit tourism resources, promote tourism, form specific tourism products with advantages to gradually promote rural tourism development in the area.
Reported by C.Ly, T.Binh – Translated by Ngoc Huynh