In the days when some wards in Thuan An city, Di An city, and Tan Uyen town have implemented measures to "lock up and freeze", the health sector in these localities has operated at full speed. For the effective operation of mobile medical stations in the above localities, Binh Duong has determined to continue to replicate the model throughout the province; thereby, helping people continue to access the epidemic. medical services as quickly as possible when returning to the "new normal state".
To promote effectiveness
Thuan An city is one of the "red zones" of the province. To support people's health, the city has established 15 mobile medical stations in 4 wards of "dense red areas" namely Thuan Giao, An Phu, Binh Hoa and Binh Chuan. Each medical station consists of 10 people including 3 military medics, 1 local medical staff, 1 supporting volunteer and 5 guiding volunteers. As of September 11, mobile medical stations have monitored and managed 511 F0 being quarantined at home, 213 accessible to medical support, and health care consultation via phone lines; by which, 2 have completed home quarantine.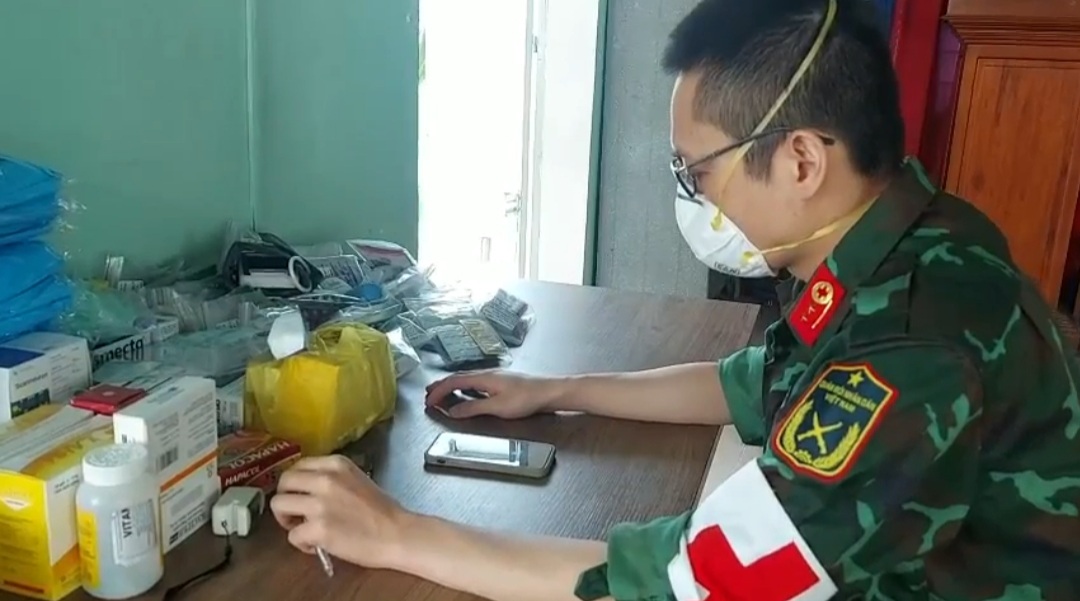 A doctors of a mobile medical station in Tan Uyen town are offering health consultancy to patients on the hotline. Photo: Do Trong
The mobile medical stations have been established to help commune and ward health stations reduce the load in managing F0 at home; especially, in medical care, emergency and health counseling for people. Among 15 mobile medical stations in Thuan An, the most prominent is the mobile medical station at the quarantine area of ​​Binh Thuan Primary School at Thuan Giao ward. Accumulated up to now, the station has 773 F0 who have completed quarantine requirement; 21 cases have been referred to higher triage of treatments; 8 cases have been with severe signs and were taken care of in time without incurring deaths. Currently, the station is focusing its forces to move operations to the locality, clearing the ground to return the facility to the education sector.
Doctor Nguyen Dinh Thinh, Head of the quarantine area of ​​Binh Thuan Primary School, said: "Currently, the area is managing more than 200 F0, of whom, 18 severe F0 are being monitored and the rest are with underlying diseases. In the process of deploying mobile medical stations, the area has established 5 mobile front-end stations located in neighborhoods to receive calls from people calling to meet medical requirements. After receiving the calls, the preparing team classifies F0, if in mild status, it would instruct the infected to treat at home. In case of severe F0, it would require emergency care and health monitoring, then the infected patient is transferred to mobile emergency station. If the patient's condition exceeds the treatment capacity at the station, they will be transferred to a medical center."
According to health officials, currently, the force involved in Covid-19 prevention and control is still lacking and the area is complicated, the number of staff and medical equipment are still limited, so it is very stressful and overloaded. In order to overcome the above difficulties, in the coming time, the health sector will gather human resources in quarantine areas to establish a common system. It will purchase or contact Dai Nam Joint Stock Company for oxygen cylinder support (the 5kg type) and oxygen generators while simplifying administrative procedures.
Along with 15 mobile medical stations in Thuan An city, mobile medical stations in Tan Uyen town are also effective. Currently, Tan Uyen town has 8 mobile medical stations in 7 wards that are "locked and frozen". Each mobile medical station has 6-8 doctors and nurses on 24/7 duties to treat F0 when they call the hotline of the local Health Station.
To multiply the model
Regarding the policy of living with the epidemic, the establishment of mobile medical stations is suitable for the currently new situation. Evaluating the mobile medical station model in the quarantine area of ​​Binh Thuan Primary School, Dr. Nguyen Hong Chuong, Director of Department of Health, said that the mobile health station model here is a good model and it is good for the province to replicate in the area. Currently, the province has 25 mobile medical stations that mainly operate in epidemic hotspots in Thuan An city, Di An city and Tan Uyen town. Thanks to the effective promotion of mobile medical stations, many patients quarantined at home have overcame the Covid-19. In addition to counseling, mobile medical stations also coordinate to distribute safety medicine bags at home.
In order for the mobile medical station model to be highly effective, according to Assoc. Prof. Dr. Nguyen Lan Hieu, Director of Hanoi Medical University Hospital and Medical Director of the Emergency Resuscitation Center of Becamex International Hospital, said that medical teams and medical staff from mobile medical stations need to very well screen for F0s. When you see signs of coughing and shortness of breath, you need to be ready for emergency and planned to move to a higher level of the triage. The elderly F0 with many underlying diseases should be mobilized to collection facilities or field hospitals. Along with that, the ward medical center must have oxygen, SpO2 meter, and necessary medical equipment ready to handle when receiving support requests from F0s.
"From the operational efficiency of these models, Department of Health will continue to put these stations into operation after September 15. Specifically, in the "red zones", 1-3 stations attached to concentrated quarantin and locked areas will be available. For the "green zones" and "yellow zones", at least 1 station under the management of the local health station should be established. As for mobile medical stations in industrial zones, clusters and enterprises, the implementation is chaired by Department of Industry and Trade and the Management Board of Industrial Parks. Each industrial zone and cluster must arrange at least one station, in the case of large industrial zones, two mobile medical stations must be arranged," added Dr. Nguyen Hong Chuong, Director of Department of Health.
Reported by Hoang Linh - Translated by Vi Bao