Due to the complicated happenings of the COVID-19, Trade Unions in the province have been pushing the communication and dissemination of accurate information to workers to raise their awareness and reassure workers about the pandemic. Namely, trade unions actively work, do not neglect or are bewildered by developments of the disease.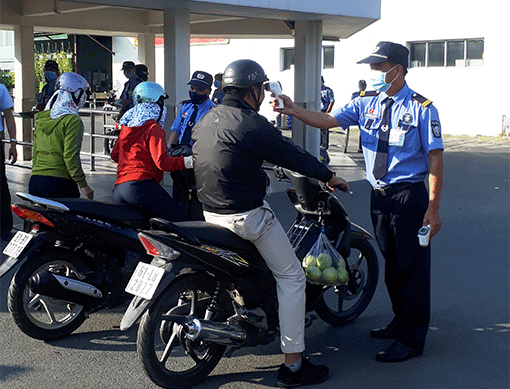 Currently, most businesses in the province pay attention to disease prevention control work, comforting workers and promoting production.
After receiving information about COVID-19 infections in Di An city, many companies in the city have boosted forms of communication about the disease situation in order to calm union members, workers; strictly implemented prevention measures, create workplace safety, health guarantee. Many companies implemented several measures for prevention control of diseases at workplace, job security for workers.
Nguyễn Tài Đương, Chairman of Maruichi Sun Steel 's Trade Union (Tan Dong Hiep ward, Di An city) said: "The company has intensified propagation by hanging banners, text, images at factory entrances about the disease in order to help workers better understand disease prevention control measures and not be bewildered; trust in measures at the company to work more efficiently".
In order to improve the efficiency of the disease prevention control, Sao Viet Company (Dong An industrial park, Thuan An city) established 35 COVID-19 safety squads with 210 members. These squads disseminated information, reminded, instructed workers to strictly implement of measures.
Nguyễn Bình Yên, Chairman of the grassroots Trade Union, said: "As a business having large number of workers, we understand the importance of the COVID-19 prevention control work.Therefore, we prioritize works to ensure health safety in production and business, strictly implement recommendations of the authority".
Currently, most businesses in the province are attaching large attention on the disease prevention control work, often provide official, valid information on the disease situation to reassure union members and workers.
Reported by Hong Phuong - Translated by Ngoc Huynh