In response to Workers' Month and Young Workers' Week 2023, Youth Union of Di An City coordinated with Organizing Committee of Solidarity Project to gather young people and young workers in wards to organize a series of activities at lodging houses' youth branches. The activities show the companionship of Youth Union with young workers to overcome difficulties…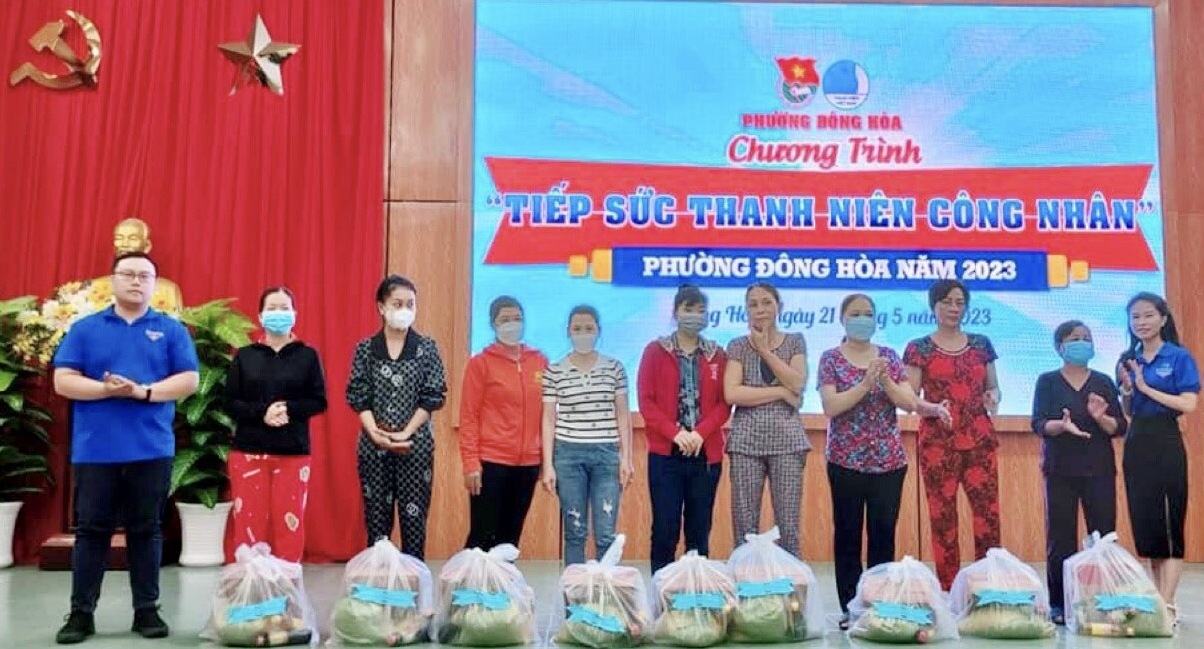 Dong Hoa ward (Di An city) organizes "Youth Workers' Day".
Weekend playground
"Weekend playground" is an activity at youth branches of lodging houses and is regularly maintained by Youth Union of Di An City. Responding to Youth Week, Dong Hoa Ward Youth Union cooperated with Organizing Committee of the Solidarity Project to gather young people and young workers in the ward to organize "Young workers' day" and "Weekend playground". The activity attracted more than 100 union members, young people, and children. At this program, young workers took part in prize-winning folk games, exchanged plastic waste for gifts, and was instructed to activate level 2 electronic identification. The program organizers also held a talk on "Youth with entrepreneurship, starting a business in the 4.0 era"; commended heads of typical young workers' branches; gave 10 gifts to young workers having difficult circumstances, each worth 500,000 VND, and gave 10 gifts to disadvantaged children with a total value of 4 million VND/piece.
Bui The Duy, Secretary of Dong Hoa Ward Youth Union, said: "The activity shows the care of Project Organizing Committee and the ward Youth Union for young workers living and working in the ward. The activity "Weekend playground" also helps workers to have fun and relax after working hours". Together with Dong Hoa Ward, Youth Union of Binh Thang Ward also organized the program "Weekend Playground" with practical and cheerful activities, like free barber shops, food, "Choose the right price" contest, and free statue painting all attracted the participation of many individuals and children of workers. On this occasion, Youth Union of the ward also propagated the cultural and civilized urban lifestyle in weddings, funerals, and festivals. The program brought joy, helped employees dispel tiredness, and enjoyed a happy weekend.
Workers' Day
During Young Workers' Week, wards in Di An city took care and supported young workers. By innovating to create a vibrant atmosphere, the Organizing Committee of the Solidarity Project, bringing together young people and workers in Binh An ward organized "Worker's Day". The festival with a variety of activities and especially is completely free for employees. In which, free hair cutting activities, "Ao Dai - Gifts for women", cultural exchanges, food stalls, fruit and vegetable stalls, and instructions about activating electronic identification level 2, creating an online public service account, attracted a large number of individuals and workers. Youth Union of the ward also organized a journey to red address "Connecting individuals" at Chau Thoi mountain. During the series of festival activities, the ward's project organizing board gave 35 gifts to workers having difficult circumstances with a total gift value of 10.5 million VND.
In Tan Binh ward, the ward Youth Union collaborated with Youth Union of Natural Resources and Environment Office, Youth Union of Urban Management Office to organize the "Zeri-dong booths". Many workers having difficult circumstances in the ward received necessities, for free such as rice, instant noodles, cooking oil, soy sauce, washing powder, etc. The above activities motivated young workers to work and improve their lies.
Responding to Workers' Month and Youth Week's Week, Youth Union, Youth Federation, and Women's Union of An Binh Ward also coordinated with Youth Union of Police Department of Drug-related crime investigation, Youth Union branch of Police Division of Administrative Management of Social Order, and Youth Union branch of Department of Professional Records - Inspector (Provincial Police) to organize the program "Young Workers' Day 2023". On this occasion, the organizers gave 20 gifts worth 10 million VND to workers havi gdifficult circumstances. At the program, young workers also learn about drug crimes. Since then, workers raised their awareness of vigilance and joined hands for the fight against crime and drug abuse.
Reported by K.Tuyen - Translated by Ngoc Huynh