"Có một bài ca không bao giờ quên/ Là lời đất nước tôi chẳng phút bình yên/ Có một bài ca không bao giờ quên/ Là lời mẹ ru con đêm đêm…" (There is a song that will never be forgotten / Is this words of my country has no peace / There is a song that will never be forgotten / It is a mother's lullaby at night...). It is the main song ("Bài ca không quên" (Unforgettable song) by musician Pham Minh Tuan) in the musical show Unforgettable song performed by the Provincial Arts and Culture Center at the meeting celebrating the 75th anniversary of War Invalids - Martyrs Day (July 27, 1947 - July 27, 2022). Besides, there are also many "unforgettable songs" that have been performed in cultural programs held at many places on ocassion of this meaningful anniversary.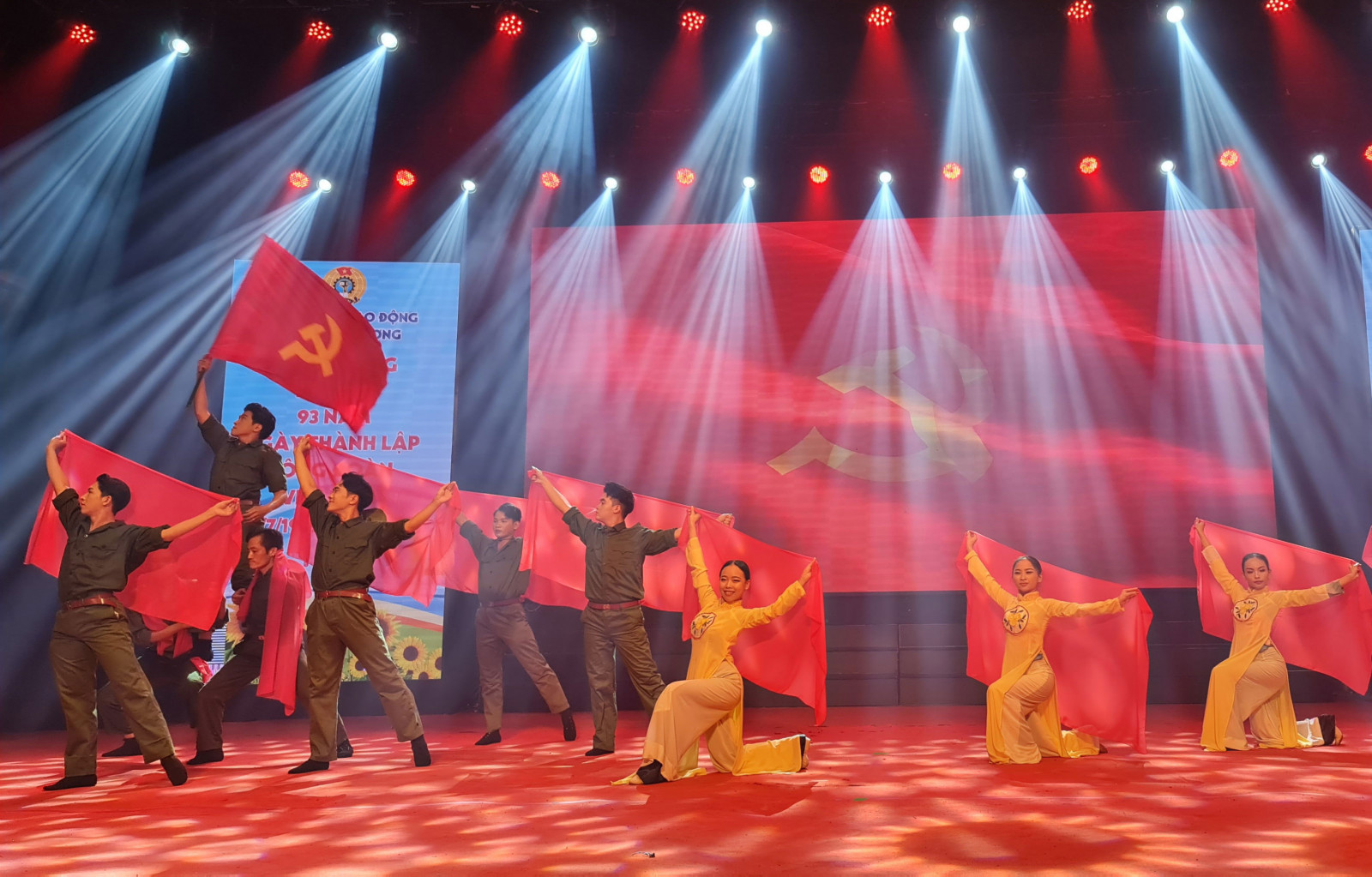 The soldier is magnanimously shaped in cultural musical performances. In photo: A performance named "Lá cờ Đảng" (Party flag) of Labor Confederation of Thuan An City at Binh Duong music festival of civil servants in 2022.
Be grateful with all the heart
Immersed in the solemn and emotional atmosphere of the meeting, Vietnamese heroic mothers, wounded soldiers, sick soldiers and policy families had meaningful moments of remembrance. The show opened with a monument statue and red silk covering the stage, then artists performed dance movements together with the silk to express gratitude, and in remembrance of fallen heroes fighting for the independence of the nation; at the same time, to remind us to always preserve the tradition of "Drinking water, remembering its source".
Next, the audiences had an opportunity to go back in time to heroic years of the nation through spectacular and unique theatrical performances such as: "Giai điệu Tổ quốc" (Fatherland Melodies), "Màu hoa đỏ" (Red Flower), "Miền xa thẳm" (Distant Region), "Vết chân tròn trên cát" (Round Footprints on the Sand), "Mẹ và Tổ quốc" (Mother and the Fatherland), "Người mẹ xứ Bình Dương" (A Mother of Binh Duong), "Linh thiêng Việt Nam" (Sacred Vietnam)…
Tran Thanh Son, Director of the Provincial Arts and Culture Center, director of the program "Unforgettable Song", said that with the desire to bring to the audiences special and meaningful moments, the center carefully planned and rehearsed for this program. The program was also responded and applauded by many workers and local folks at Binh Duong City Park in the evening of July 27.
In the sacred atmosphere of these July days, many special theatrical performances were also watched and cheered by a large audience in gatherings to celebrate the 75th anniversary of Invalids and Martyrs Day, candlelight ceremonies in localities. The programs contributed to arousing the pride in Vietnam's revolutionary tradition, passionate patriotism and deep gratitude to those who sacrificed a part of their body or even a loved one for the national independence and a peaceful life today.
Poetry and music in harmony to show gratitude
With admiration for the warriors in the national resistance wars, Binh Duong writers and artists have created many literary and musical works filled with gratitude.
The song "Nụ hoa và người lính" (Flower Buds and Soldiers) composed by musician Pham Minh Thuan set to music from a poem of Truong Dac Thuy expresses young soldiers' great love for the Fatherland. "Hiến dâng trọn tuổi xuân cho Tổ quốc yêu thương"… "Chúng con kiên trung giữ gìn từng tấc đất/ Cho quê hương không bao giờ mất/ Tôi mãi yêu Người! Ơi Tổ quốc của tôi" (Dedicating our entire youth to our beloved Fatherland… We steadfastly protect every inch of our land/ For the homeland to never be lost/ I will love you forever! Oh, my country).
In the song "Hoài niệm" (Nostalgia) of musician Nguyen Quang Tam (from Tran Khuyen's poetry), emotional and passionate melodies rekindled memiories of the days as participating in the fight against the enemy. These were "từng suối lũ" (every stream of floods), "từng đường rừng" (every forest road), "những con đường gầm rung bao tiếng nổ" (roads roared with explosions), "áo trận đã từng nhạt phai" (battle shirts have faded)... so that "Ta còn tình yêu một thời" (I still have love for that time).
To deeply memorialize heroic Vietnamese mothers, soldiers who did sacrifice themselves for the Fatherland, Nguyen Minh Ngoc Ha wrote a poem "Nén hương vĩnh cửu" (Eternal incense). To Ngoc Ha, "Nếu chiều nay người đến viếng nghĩa trang/ Nhè nhẹ bước kẻo anh thức giấc/ Xin thắp lên nén hương lòng quý nhất/ Nén hương cháy mãi không tàn…" và "Nén hương này vĩnh cửu lòng biết ơn/ Sẽ thắp trong chiều nay/ Chiều mai/ Và rất nhiều chiều nữa…" (If people come to visit the cemetery this afternoon/ Lighten your steps lest soldiers wake up/ Please light the most precious incense/ The incense lights forever... and This incense is the eternal gratitude/ Will light this afternoon / Tomorrow afternoon / And many more afternoons…).
The feelings of soldiers who fought in the past historic July days are even more filled with heroic memories. Therefore, in poem "Đón các anh" (Welcoming soldiers) of Tran Thanh Hai, there are images "Chúng mình xách súng vượt lũy thành/ Truy kích tàn quân phường Pôn Pốt/ Càng đánh tinh thần càng thấy hăng…" (We carry guns over the citadel / Pursuing the remnants of Pol Pot army / The more we fight, the more energetic we feel...). However, "Đoàn quân trở về vắng các anh"… "Các anh nằm lại nơi đất bạn/ Đắp tình hữu nghị mãi thắm tươi" (The army returned without you soldiers… They soldiers stayed in the land of our friend / Build friendship forever). It has been decades, as Vietnamese soldiers sacrificed in Cambodia, "Nay đón anh về Tổ quốc ta/ Sum họp cùng với bao đồng đội/ Hàng năm tôi đến viếng hương hoa" (Now welcome you fallen soldiers back to our country / Gather with your comrades / Every year I visit you soldiers".
Reported by Minh Hieu - Translated by Ngoc Huynh