The Covid-19 pandemic hit, some children lost their father or mother, and some became orphans. The pain left by Covid-19 is immense. In last days of the old year, the children received visits, were encouraged, and Tet gifts by authorities at all levels to partially ease the pain they are suffering.
This spring without mother
Since the day his mother died, Nguyen Ky Nam (10 years old) has become very quiet. Nam's older brother, 16-year-old Nguyen Van Ha, is stronger, applied to a pottery factory to earn money to nurse Nam. Orphaned by the coronavirus, the two children are living with Tran Thi Hieu (cousin) and neighbors living in the same lodging house.
The lodging house where the two children live on Thuan Giao 18 street of Thuan Giao ward, Thuan An city, in the last days of the year, has received many Tet gifts, but sadness is still imprinted on the two children's faces. Ha said that her hometown is in Soc Trang province, her grandparents died many years ago. Currently, this lodging room is their home, Binh Duong is their hometown. This spring, without his mother, Ha said that he would take the role of mother to buy new clothes for his brother, cook some delicious dishes on Tet holiday... Pains and losses of Ha and Nam are numerous. Looking to the future, the two children still don't know where to go and what to do.
Nguyen Van Loi, Member of the Party Central Committee, Secretary of the Provincial Party Committee, Head of the Provincial National Assembly's Delegation; and leaders of Thuan An City give Tet gifts to students orphaned by the Covid-19 in Thuan An city.
Also in the same area, the situation of Cao Ngoc Yen's family (from Soc Trang province) is very pitiful. Father and mother work together as workers at VSIP 1 (Thuan An City). In September 2021, Yen's father died of Covid-19, leaving a burden on her mother, Quang Bich Thuy. With a low salary, Thuy could not raise 3 children, hence she sent 2 younger sisters back to her hometown. "The children study very well, but I don't know whether or not I am able to take care of them and afford their schooling, I will try my best. In the coming time, we hope to receive the attention of the authorities at all levels," said Thuy.
Two children, Bui Thuy Tien (17 years old) and Truong Quang Thang (12 years old), from Binh Dinh, are currently living in An Binh ward, Di An city, orphaned by Covid-19. Thang said, his father, who worked as a security guard, was unfortunately infected with Covid-19 and died when the two sisters returned to their hometown to visit their aunt in Phu Yen province and were stuck there due to Covid-19. "The day my father died is also my birthday. I will try to study well so as not to disappoint my father", Thang said.
Scars healed
In recent days, administration at all levels throughout the province are striving to perform social security work, take care of disadvantaged people. Taking care of children orphaned by Covid-19 is a big concern. Besides gifts from the Provincial People's Committee, many programs to take care of the children are supported by the Fatherland Front, Women's Union, Youth Union, Red Cross in short and long term. Nguyen Ngoc Hang, Deputy Director of provincial Department of Labor, War Invalids and Social Affairs, said that the province has 316 orphaned children due to Covid-19. All children are entitled to 5 million VND/child from the Vietnam Children's Fund. In Binh Duong, school-age children receive long-term sponsorship from 700,000 to 1.2 million VND/month by the Provincial Children's Protection Fund. This Lunar New Year, provincial State budget presents VND1 million to each child having difficult circumstances (14 groups according to the Children's Law), all Covid-19 orphaned children in this group will be supported.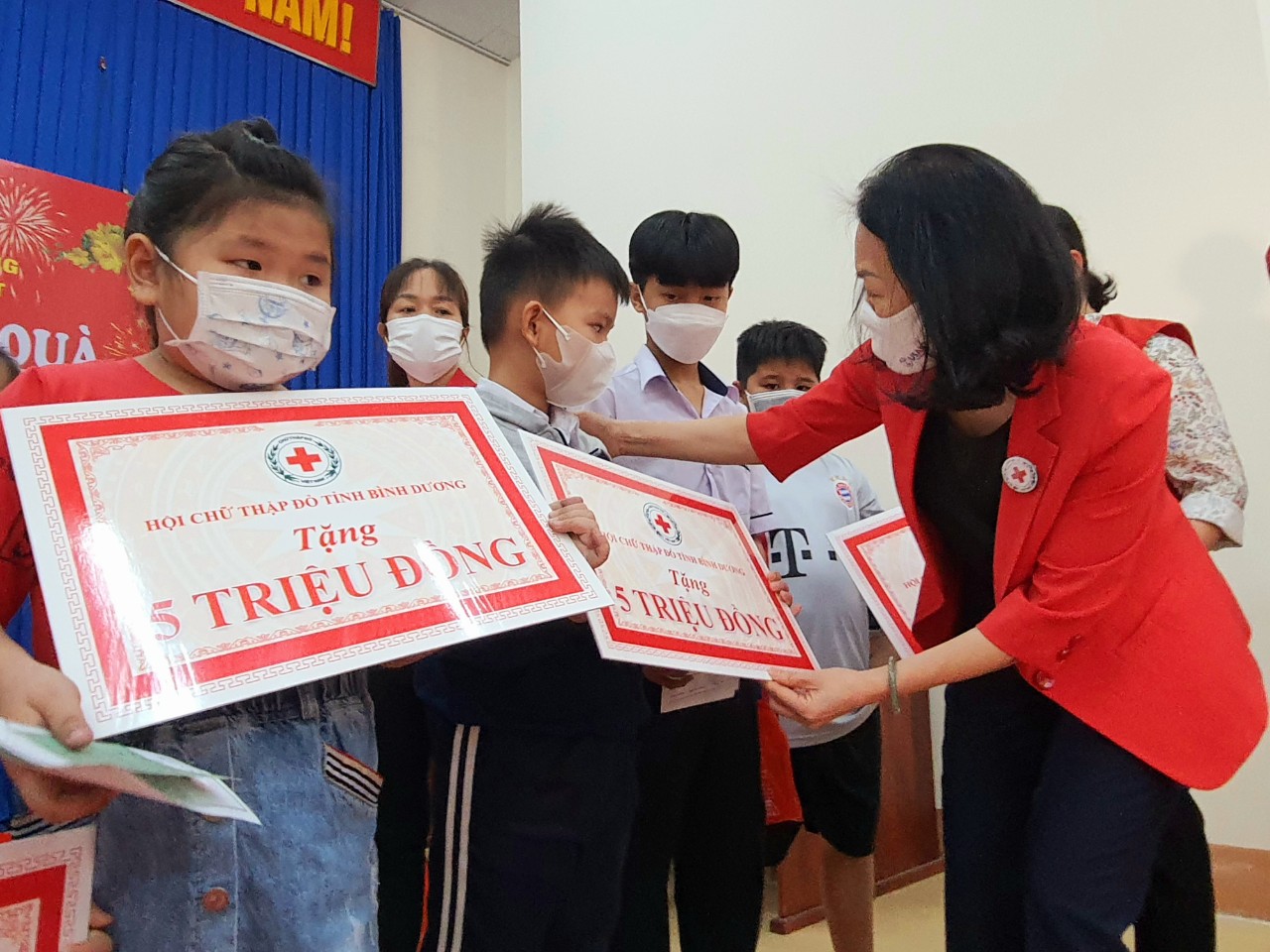 Bui Thi Hoa, President of the Vietnam Central Red Cross Society, presents gifts to children at the program "Tet for the poor and Agent Orange victims" in Ben Cat Town in 2022.
Together with other agencies and units, the Provincial Labor Confederation soon joined the campaign to support children. According to the provincial Labor Confederation, the province has about 150 children under 16 years old whose parents are trade union members dying of Covid-19. Particularly, trade unions will directly present each child, who has lost a father or mother, a savings book worth 10 million VND, and those, who have lost both parents, a savings book worth 20 million VND. 65 children have received savings books. The rest are waiting for documents and will receive in the second phase.
Besides,15 children were supported by the Provincial Young Entrepreneurs Association with 3 million VND/child; 20 children were supported by the Golden Heart Fund of Lao Dong Newspaper with 1 million VND/child; 3 children were supported by Lao Dong Newspaper with 5 million VND/child; 5 children were supported by Nguoi Lao Dong Newspaper with 5 million VND/child. All the children received gifts from Provincial Labor Confederation. Currently, the Provincial Labor Confederation is making lists of 15 children for Provincial Young Entrepreneurs Association to provide monthly scholarships until the age of 18; 10 children for the Provincial Customs Department to support each child from 10-20 million VND.
In addition, the orphans received the sponsorship of Provincial Children's Protection Fund, Women's Union, and many benefactors, organizations and individuals are working together to take care of these children... Localities in the province have programs to take care of the children during Tet Festival 2022. With this care and attention, orphaned children will have a warm New Year to partially compensate for the great loss they are experiencing.
Reported by Quang Tam - Translated by Ngoc Huynh