As the education and training branch started to implement online teaching to prevent and control the Covid-19 pandemic in the new school year, one of the concerns of schools was that students lack learning equipment. However, with a compassionate heart, many individuals and units have timely supported learning equipment for students that have difficult family circumstances so that they are able learn online without worries.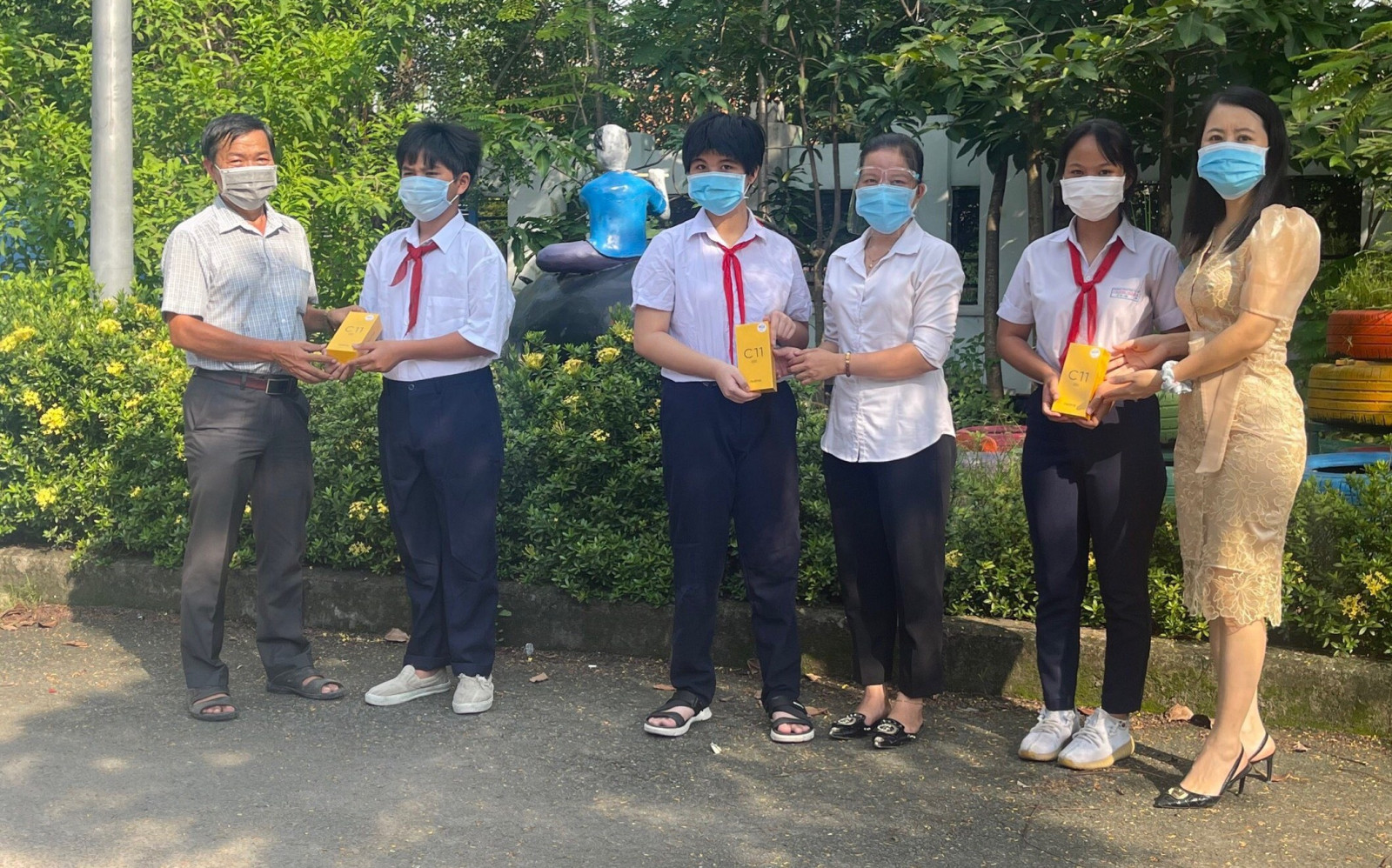 Chanh Nghia Junior High School (Thu Dau Mot City) presents online learning equipment to disadvantaged students.
To aid disadvantaged students
At beginning of the 2021-2022 new school year, provincial Department of Education and Training had an open letter calling for donations and support of online learning equipment for disadvantaged students in the province. After that, provincial Fatherland Front Committee also sent a letter to launch a program named "Computers for children". Responding to the call of the province, education and training branch, many individuals, organizations and unions immediately joined hands for this.
In order not to let students worry about having no learning equipment, Department of Education and Training immediately directly and quickly give equipment donated to students. Through face mask, their expressions were not clear as receiving the learning equipment, but happiness gleamed in their eyes.
From the department's open letter as well as the call of provincial Fatherland Front, municipal Education and Training Offices also sent this message to educational training institutions in districts, towns and cities. Since then, the love and care for disadvantaged students has continued to be spread and multiplied. The number of students receiv learning equipment increases every day. Even rural areas, such as Phu Giao, Dau Tieng and North Tan Uyen districts, also received timely support.
Nguyen Van Chet, Head of Thu Dau Mot City Office of Education and Training, happily said that, from the program "Computers for children", not a single disadvantaged student in the city was left behind. At beginning of the school year, the city's education and training branch had 743 students lacking online learning equipment. With the attention and support of the authorities, branches, levels, benefactors, school administrators, this branch has fully aided disadvantaged students with online learning equipment. Some children also received textbooks and notebooks before the new school year.
Community join hands
The program "Computers for children" has a profound humanistic meaning, expresses the spirit of solidarity and mutual love of our nation. Although the Covid-19 has affected all socio-economic aspects, the program has received enthusiast supports from organizations, units and individuals... In Thuan An City, from the program "Computers for children", in addition to 31 computers and 20 scholarships presented by provincial Department of Education and Training, the city's Education and Training Office mobilized 36 computers, 7 laptops, 2 tablets and 105 mobile phones.
"Currently, the program continues to be implemented so that the remaining students could have online learning devices. It is the aspiration and the effort of schools so that the general education program could gain the best quality," said Huynh Thi My Ngan, Head of Thuan An City Office of Education and Training.
In addition, schools also called for the support of benefactors and students' parents to donate online learning equipment to students. With the valuable contributions of teachers, parents and benefactors, Chanh Nghia Secondary School (Thu Dau Mot City) presented 7 smartphones and 8 scholarships to disadvantaged students.
It is touching when preschools also shared difficulties and joined this campaign to provide online learning devices for children. For example, Vo Thi Sau Kindergarten Di An City. After the school sent the letter of Provincial Fatherland Front Committee to parents' groups, many parents took part in sponsorship. As a result, the school donated 10 smartphones with a total value of 35.5 million VND to students of primary and secondary schools of the city.
To apply online teaching in first two months of the new school year, through a survey by Department of Education and Training, the province had about 60,000 students without learning devices. Department of Education and Training has so far received donations and supported 900 online learning devices, gave 50 scholarships to students having difficult circumstances. In addition, this branch also received a cash support of VND1.1 billion, is having a plan to buy online learning equipment for difficult students.
The love given will last forever, on behalf of provincial education and training branch, Dr. Nguyen Thi Nhat Hang, Director of provincial Department of Education and Training, hopes to continue receiving contributions of the whole society in the future. With the number of devices received, this branch hand-delivered to the right students, especially the most disadvantaged children, so that their online learning can be most effective.
Reported by Hong Thai - Translated by Ngoc Huynh