In May, in addition to meaningful activities to celebrate the 132nd birthday of President Ho Chi Minh, who is the founder and the first honorary president of the Vietnam Red Cross, is also the peak month for all-level Red Cross in the province to simultaneously perform mobilization activities, develop funds to support vulnerable people groups in the community, contributing to building safe communities.
Practical "0VND market"
To help the poor, disadvantaged and vulnerable groups in society, all levels of Red Cross in the province have been implementing humanitarian month with many meaningful humanitarian activities, contributing to spreading and encouraging decent deeds in the community.
Not only during the Covid-19 outbreak, but also as life has returned to the "new normal" condition, all levels of Red Cross in the province have continued to maintain meaningful "Humanitarian Market" to aid poor people. Nguyen Thi Le Trinh, Chairwoman of the Provincial Red Cross, said: "This meaningful activity continues to received much attention, simply because our lives should be shared time by time, place to place. Just as doctors save people when the disease still can be cured, not wait until near death to save people."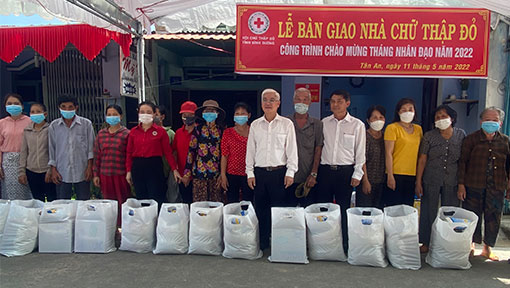 Nguyen Van Loi (seventh from right), Member of the Party Central Committee, Secretary of the Provincial Party Committee, Head of the Provincial National Assembly's delegation; and provincial leaders, Provincial Red Cross, and Thu Dau Mot City attend the handover ceremony of Red Cross house to a household in Thu Dau Mot City.
In recent days, many "0VND market", "0VND booth" events have been organized from the province to district level and commune level. Each gift was worth from VND300,000 to VND1 million, depending on the conditions and mobilized resources of each Red Cross level. Le Trung Hieu, Chairman of Tan Binh Ward, Di An City, said that since the beginning of May, Red Cross branches had organized four "VND0 booths" events supporting 580 poor and disadvantaged people with a total cost of about VND175 million. To spread acts of kindness, the Ward Red Cross encouraged 5/5 Red Cross branches of quarters to register and organize humanitarian activities to respond to this year's Humanitarian Month.
According to the Provincial Red Cross, in this year's Humanitarian Month, all levels of Red Cross throughout the province organized 111 events of "0VND market" supporting 19,900 people, the total value of cash and goods was over VND 8.9 billion. Up to now, the Provincial Red Cross has organized 2 markets supporting 700 people with disabilities, poor people and workers; each support gift worth from VND600,000 to more than VND1 million. About this meaningful activity, Trinh said that the "Humanitarian Market" is a model implemented by all levels of Red Cross in the province very effectively. This activity has created a widespread effect from the province to the grassroots, contributing to creating humanitarian strength among the people. All levels need to do better to bring the best to the poor.
Meaningful humanitarian works
Small humanitarian actions and activities contribute to spreading kindness in life. Le Thi Ngoc recently (Tan Binh ward, Di An City) has make a donation to Red Cross branch of the ward to support cooking and delivering 120 free lunches to young workers, lottery ticket sellers and poor people in this neighborhood. Many other individuals and organizations in the province have also been doing humanitarian work from small but meaningful things to multiply beautiful actions, bring kind things to many people.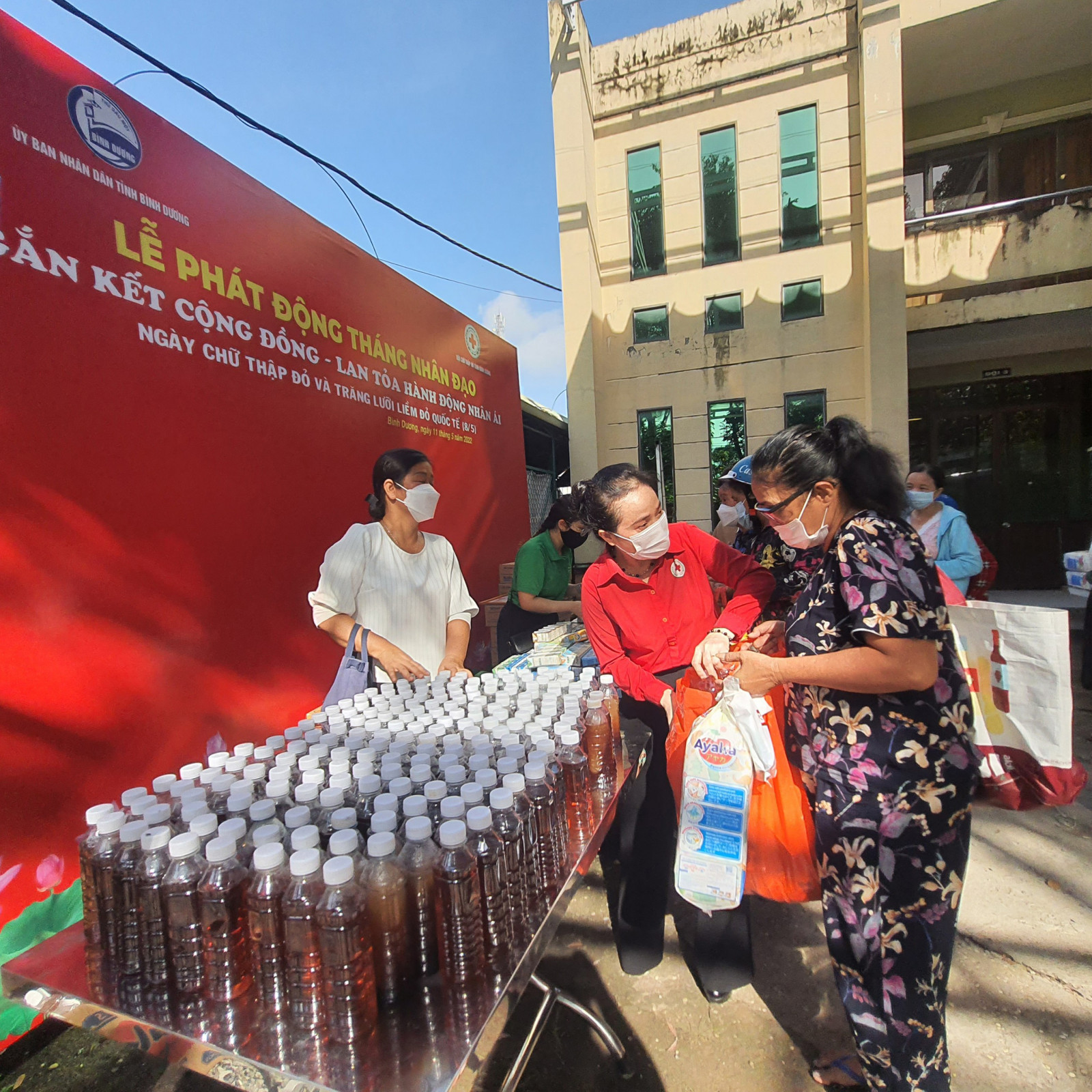 "0VND market" held by the Provincial Red Cross is to support food and necessities for poor people.
Thanks to the support of Provincial Red Cross, Thuan An City Red Cross funded and offered An Son 44 Bridge worth more than VND 238 million to people in An Quoi and An Phu hamlets, An Son commune. On the day of the bridge handover, the people here were very happy and witnessed the ribbon cutting ceremony to inaugurate the bridge, and took first steps on the bridge. Huynh Van Tuan, a resident of An Thoi hamlet, said: "In the past, it was very difficult as went across this bridge. Now Red Cros and the municipal government supports the construction of a new bridge, this creates favorable conditions for people here to travel easily, so everyone is very happy."
One of the most meaningful activities of all levels of Red Cross in the Humanitarian Month is to mobilize donations and funds to repair and build houses for poor households. According to the Provincial Red Cross, from the beginning of this year, all-level Red Cross branches has mobilized and built 28 houses. In this Humanitarian Month alone, all levels of Provincial Red Cross will build 18 new houses worth more than VND1.6 billion. Up to now, the construction of many houses have been executed and put into use, helping families having special difficulties in housing in localities to afford housing and continue bettering their lives.
As receiving a spacious new house with a construction value of VND 130 million right in this Humanitarian Month, Nguyen Thi Huong in Kinh Nhuong hamlet (Vinh Hoa commune, Phu Giáo District) was so touched, said: "My family is so glad that we are always be taken care and supported by the local government and sponsors to have this new house. Now my family has a decent place to live and will strive to rise up and have a more stable life."
The effectiveness of the above humanitarian activities has contributed to material and spiritual support for people having difficult circumstances and disadvantaged groups in society, contributing positively to ensuring welfare and socio-economic development of the province. "The cooperation and contribution of the community in humanitarian activities will always be a noble deed of agencies, units, organizations and individuals. This helps to the Party committees and authorities at all levels to build a united, healthy, happy and developed community," Trinh said.
Reported by Hong Thuan – Translated by Ngoc Huynh