In order to create a useful and meaningful playground for children in the whole province on occasion of the new year 2022, the Provincial Children's House held a contest of Childhood Beauty 2022 in Binh Duong Province. With careful preparation and investment, the contestants showed their talents through impressive performances, spreading a joyful atmosphere.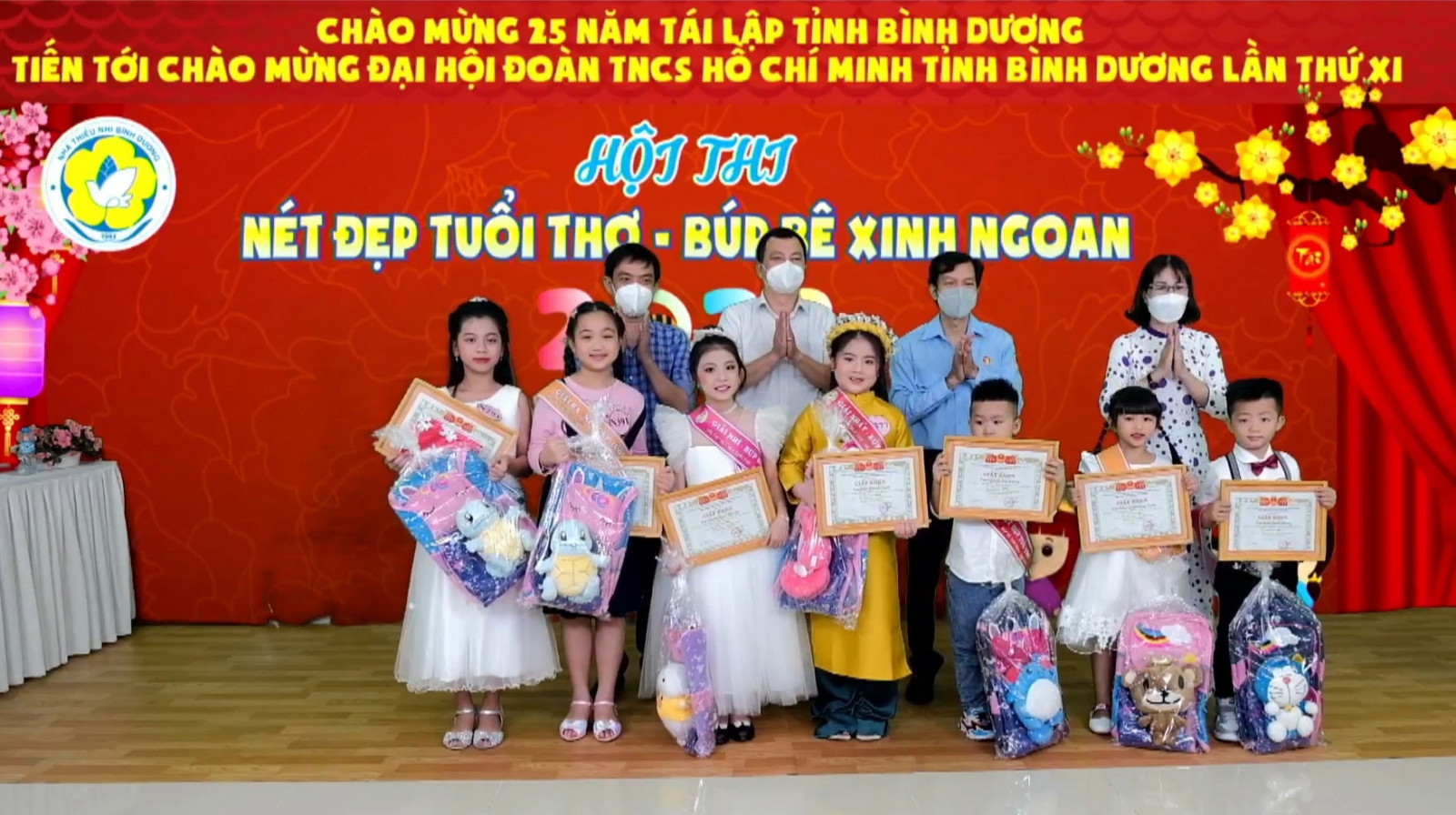 The Organizing Committee and delegates take photos with the winners of the Contest of Childhood Beauty 2022 in Binh Duong Province.
Vibrant contest
This year's contest took place when the whole province is looking forward to the 25th anniversary of Binh Duong's construction and development (Jan 1st 1997 - Jan 1st 2022) and many meaningful activities of Youth Union welcoming the 11th Ho Chi Minh Communist Youth Union's Congress in Binh Duong Province, hence all participants were very excited.
Because the Covid-19 is still complicated, this year's contest was held online. The contest attracted the participation of 666 contestants (from 4 to 11 years old) from schools in the province to the preliminary round. The contestants were divided into two groups: kindergarten and elementary school groups. The organizers selected 71 candidates to enter the semi-finals. There were 20 contestants to the final round, including 7 candidates to live interview round.
Nguyen Phan Thai Anh, Director of the Provincial Children's House, said that he was very pleased that the contest received the attention of parents so that nearly 700 students took part in the contest. Parents prepared very carefully for their children to participate in the competition, creating a jubilant atmosphere to welcome the new spring 2022. Like previous years, through activities of the contest, the Provincial Children's House raised a fund for disadvantaged children to celebrate Te holiday. This year, the program also received the attention and support of many benefactors, sponsors, and carried out many meaningful activities. The Provincial Children's House gave 200 gifts to students in North Tan Uyen district, 7 tons of rice to students having difficult circumstances, children of workers in districts, towns and cities in the province.
To spread the love
The most impressive part of this year's competition was the live interview part of seven contestants in the final round. They were pretty children that showed their sympathy with their friends through answering questions from the Jury, such as: What have you been doing at home during this pandemic time? On New Year's Day, who will you extend your Tet wishes to? Where will you go on this Tet? What will you do when you get lost? What will you do to help children orphaned by Covid-19?...
Tran Khanh Ngan, a pupil of Nguyen Du Primary School, Thu Dau Mot City, said that in order to contribute to the prevention and control of the Covid-19, we must strictly implement the "5K" message, send a part of her small savings to help orphans during the pandemic. As for Pham Ngoc Hai My, a pupil at Tran Phu Primary School, Thu Dau Mot City, said: "I will save my New Year's lucky money to buy school supplies for unfortunate children, and study well so that parents, teachers would be pleased, and become more useful to society.
Le Thi Kim Ut, a jury, said that the number of contestants this year was higher than usual, showing the pervasiveness of the contest in the current "new normal" context. It was really meaningful. Many parents and teachers prepared carefully and made professional video clips to attract viewers. This is the love for beloved children and students. Many children confidently showed their talents in the clips. These children are expected to further develop their talents so that they can take part in more school and class activities.
With careful investment from the Organizing Committee to the enthusiastic participation of candidates, parents and teachers, the contest created a very useful and meaningful playground. Many activities to share difficulties, help children having difficult circumstances on Tet holiday were carried out to create a joyful and meaningful atmosphere for children to welcome the new spring.
As a result, contestant Tran Khanh Ngan, a student at Nguyen Du Primary School (Thu Dau Mot City) excellently won the first prize of Childhood Beauty. The first prize of Beautiful Dolls belonged to Nguyen Gia Khiem of Hoa Hong 4 Kindergarten (Di An City). In addition, the Organizing Committee also awarded the second, third and fourth prizes and additional prizes to contestants having high scores of the contest.
Reported by Thuc Van - Translated by Ngoc Huynh