She rarely talks about herself, but Nguyen Thi Be Ba, Secretary of Party Cell, Head of Fatherland Front of Tan An quarter (Tan Dong Hiep Ward, Di An City), is always praised by local officials, party members and people. With the motto "to stay close to the people", she is an exemplary, dedicated, wholehearted official to her work and to the people.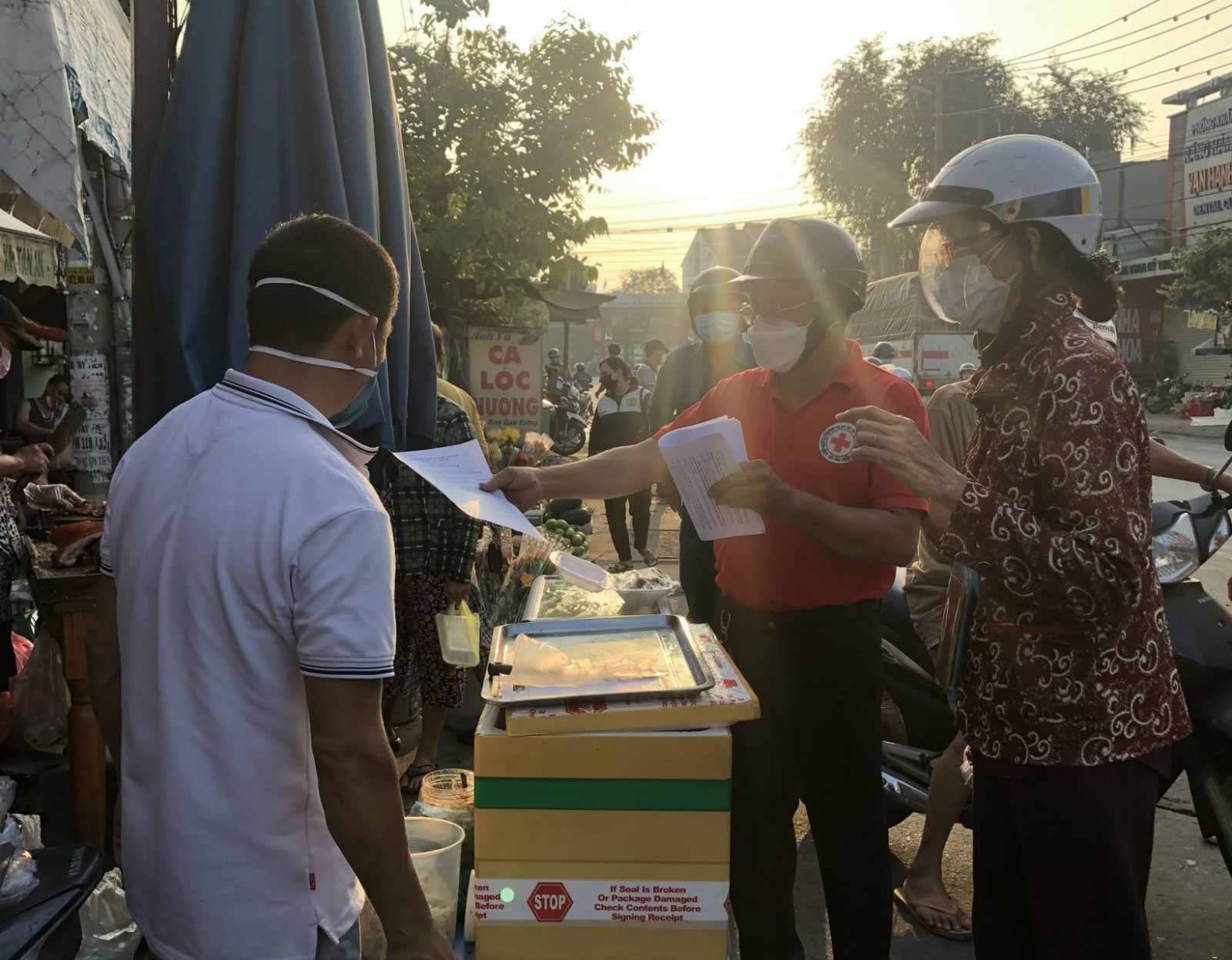 Nguyen Thi Be Ba (right end) and unions come to every household to propagate and mobilize the people.
Many initiatives for Party cell's activities
Vo Van Giau, Secretary of the Party Committee, Chairman of People's Committee of Tan An quarter, Tan Dong Hiep ward in Di An City, commented: "Nguyen Thi Be Ba works effectively, has had many initiatives for activities of the Party cell and Party Resolution's realization. She is an example of dedication to her work and to the people."
Party cell of Tan An quarter currently has 62 Party members. The majority of Party members in this cell are retired seniors, some young members are occupied working and earning a living for their family, hence the assignment of political tasks as well as creating a vibrant atmosphere of active participation in all local activities is quite difficult. However, with her enthusiasm, Ba led the Party cell and local unions to propagate and mobilize Party members and people to well abide by the Party's guidelines and State's laws, helping this quarter become an example of local emulation movements.
During many years of taking on the role as Party Cell Secretary, Head of Fatherland Front Work Committee, Ba, together with Party officials and members, directed activities of the Party cell orderly, strictly implemented and maintained principles and activities of the Party cell, ascertained all developments and situations. The organization and leadership in carrying out political tasks and building the neighborhood is increasingly effective, especially thanks to the solidarity and consensus in the cell and the neighborhood... "I have worked hard to research, closely followed the situation, proactively proposed to the Party cell and the quarter many practical and feasible solutions that contribute to improving the quality and efficiency of the Party cell, thereby gained good results...", said Ba.
In particular, she had new ideas about organizing cell meetings. For example, in its monthly meeting, the cell also recorded sessions of learning about Party resolutions and news to replay for party members; prepare a monthly draft resolution for party members to easily follow and have time to discuss and contribute ideas for implementation. Every month, the cell organizes thematic activities about Uncle Ho. Therefore, the movement of studying and following Uncle Ho's teachings spread strongly. Another good thing is that during the story-telling activity, she assigns specific member to make a presentation in each meeting session so as for the cell meeting not to be boring. For self-management models, the Party cell also requires units to regularly organize activities to meet each other to share experience, heighten work efficiency...
From these initiatives, the cell fulfilled most targets of political tasks. The coordination of activities between the executive board, the fatherland front working committee and unions of the quarter has become regular and closer, effectively encouraging people from all walks of life to join movements and task performance; the face of the quarter is increasingly prosperous, the material and spiritual life of local residents, policy families, and the poor receive attention. The pressing difficulties of the neighborhood and people were promptly solved. Social security and order are maintained, the organization and operation of Party cell and the quarter become more and more effective.
Going to every household to do propagation
In the propagation of the Party's guidelines and the State's policies, Ba thought of creative ways, especially for lodging houses. Namely, she has mobilized members of mass organizations, unions to come to every alley, knock on every door to propagate the prevention and control of dengue fever. In 2021, despite the complicated situation of the Covid-19 pandemic, as a Party secretary, she promptly conveyed directives of her superiors to localize F0 cases, prevent the spreading of the disease; make forecasts and advice to organize rapid tests and vaccination in the neighborhood. This created a high unity and synergy among all party members in the neighborhood for the prevention and control of the pandemic to be highly effective and be recognized as "The neighborhood establishes the first green zone of Tan Dong Hiep ward". Ba aslo cared much about people facing difficulties due to the pandemic, mobilized benefactors to give gifts and support these people.
Vo Van Giau said: "With her dynamism in propagation work, throughout the time of social distancing, there were no cases of people violating regulations on disease prevention and control in our quarter. In addition, Ba always actively propagates and mobilizes people in the neighborhood to protect environmental sanitation and practice a civilized urban lifestyle. In the past year, many projects of our quarter worked very effectively, such as "Fatherland Front takes part in crime prevention and combat", "Street with no garbage", "Bright, green, clean and beautiful residential area", "security camera", "Rice jar of love", "Loan rotation for home-based business development" …
Although she is now 66 years old, Ba actively takes part in local activities, as well as in meetings with voters in the neighborhood; well resolves people's conflicts in daily life. She always upholds the motto "staying close to the people", listens to people's thoughts and aspirations to propose solutions to competent authorities. Therefore, difficulties of the neighborhood and the people were promptly solved. This helped the Party cell to achieve the title of clean and strong Party organization, the neighborhood to be a cultural quarter. She herself received a certificate of merit from the Chairman of Provincial People's Committee for her outstanding performance in "Studying and following Ho Chi Minh's thought, morality and lifestyle"...
Reported by Ho Van - Translated by Ngoc Huynh