On the morning of October 23, Mai Hung Dung, Member of Provincial Party Standing Committee, Permanent Vice Chairman of Provincial People's Committee; Associate Professor - Dr. Nguyen Lan Hieu, Director of Hanoi Medical University Hospital, Director of Binh Duong Emergency Resuscitation Hospital; Dr. Nguyen Hong Chuong, Director of Provincial Department of Health, surveyed locations to establish the Covid-19 treatment areas in North Tan Uyen district, Bau Bang district and Ben Cat town.
Nguyen Van The, Director of North Tan Uyen District Medical Center, reported that this locality prepared the location for the establishment of Tan Thanh General Clinic (next to the District Medical Center) to renovate and upgrade, it is possible to arrange 50 beds for Covid-19 patients.
In Bau Bang district, the district selected a factory near the center of Lai Uyen town to build a treatment area with about 200 beds. In Ben Cat Town, the town leader said that Faculty of Traditional Medicine was selected to upgrade to a Covid-19 treatment area with an initial size of 40 beds. Currently, the town is upgrading the treatment facility to 80 beds.
Municipal leaders said that treatment areas would be equipped with a synchronous central oxygen system connected to hospital beds; ways in and out of the treatment areas would be renovated, there will be also medical waste storage areas, oxygen storage areas, staff quarters in the treatment area...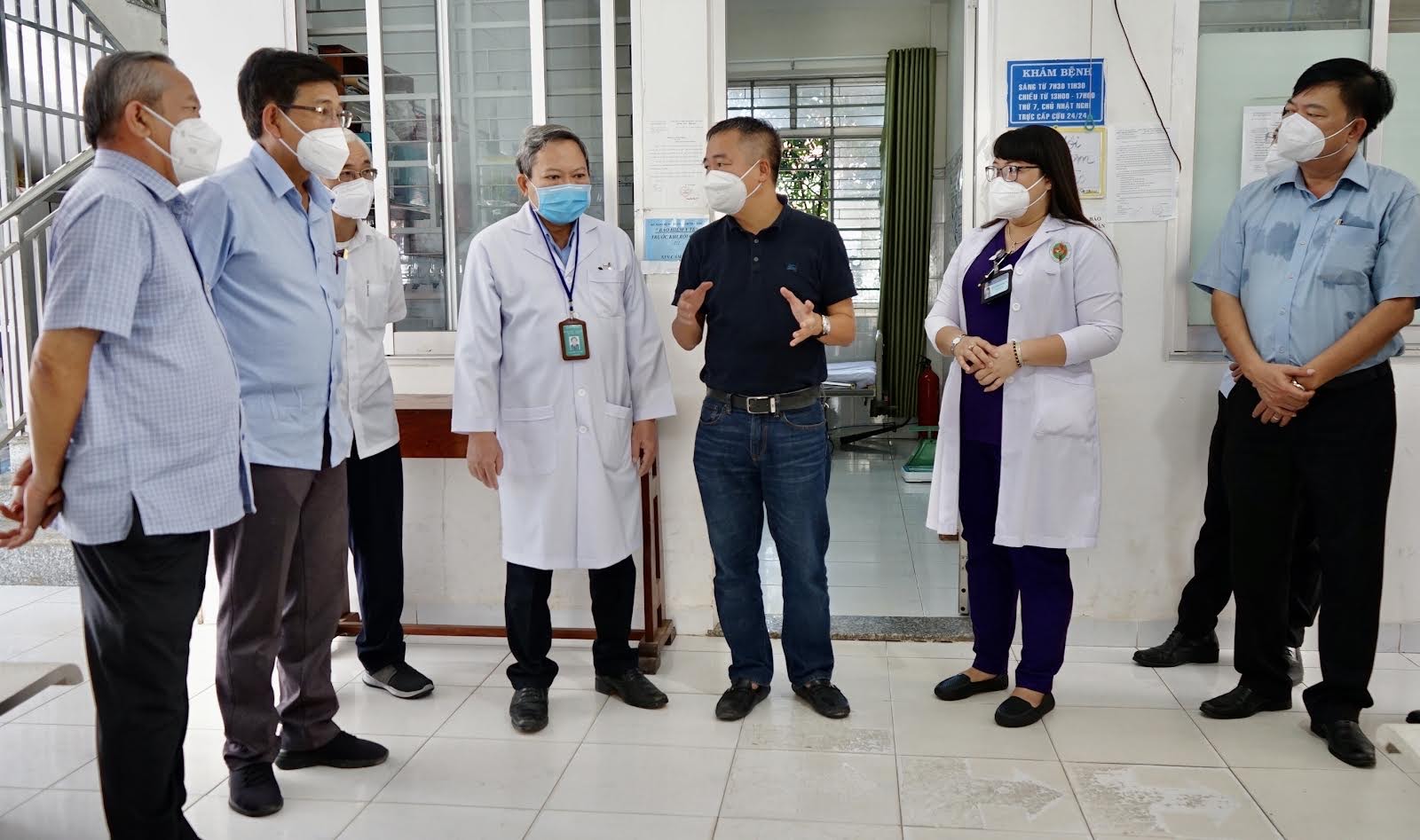 Associate Professor - Dr. Nguyen Lan Hieu commented, these sites are eligible to be renovated and upgraded to specialized treatment areas for Covid-19 patients.
Associate Professor - Dr. Nguyen Lan Hieu said that Health Centers in many localities of the province had been newly invested; although the new facilities are very well invested, they have to take on common medical services to take care of the people's health and treating many other patients, it is not possible to set up treatment areas for Covid-19 patients right in the Health Centers. Therefore, to operate effectively and safely, it is necessary to separate the treatment area for Covid-19 patients.
This has both proactively prevented cross-infection at medical centers, and at the same time avoided people's fear and apprehension when going to medical centers for medical examination and treatment, leading to overcrowding at province- hospitals.
Through a survey of locations to establish treatment areas for Covid-19 patients in some localities, according to the assessment of functional agencies, most of the locations meet the conditions for becoming Covid-19 specialized treatment areas. However, localities need to pay attention to synchronous investment in central oxygen system, patient health monitor, compressed air; streamline, arrange exits and entrances for patients and medical staff to ensure safety, prevent cross-contamination in the treatment areas...
Mai Hung Dung said Binh Duong returned to a new normal state under the motto "safely adapting, flexibly, effectively controlling the Covid-19". The province is removing concentrated isolation areas and dissolving field hospitals in the near future, and at the same time separating the treatment of Covid-19 patients as a treatment specialty for infectious diseases.
Besides, the province also established mobile medical stations to bring healthcare closer to the people in order to meet the requirements, take care of people's health, especially treat Covid-19 patients well, reduce severe cases and mortality.
In addition to investment and upgrading of material facilities to become treatment areas, the problem of human resources to meet the treatment work is also a problem faced the province due to the lack of human resources. Therefore, Binh Duong province is paying attention to recruiting, training, as well as fostering professional skills for medical staff, doctors, nurses in order to meet the demand for human resource and treatment for Covid-19 patients in the area in the near future.
Reported by Minh Duy, Xuan Thi - Translated by Ngoc Huynh