In order to contribute to efficient economic improvement, Department of Science and Technology is currently implementing the provincial science and technology task of "Researching and developing strategies and policies for sustainable development of the logistics Binh Duong province to 2030 with vision to 2050."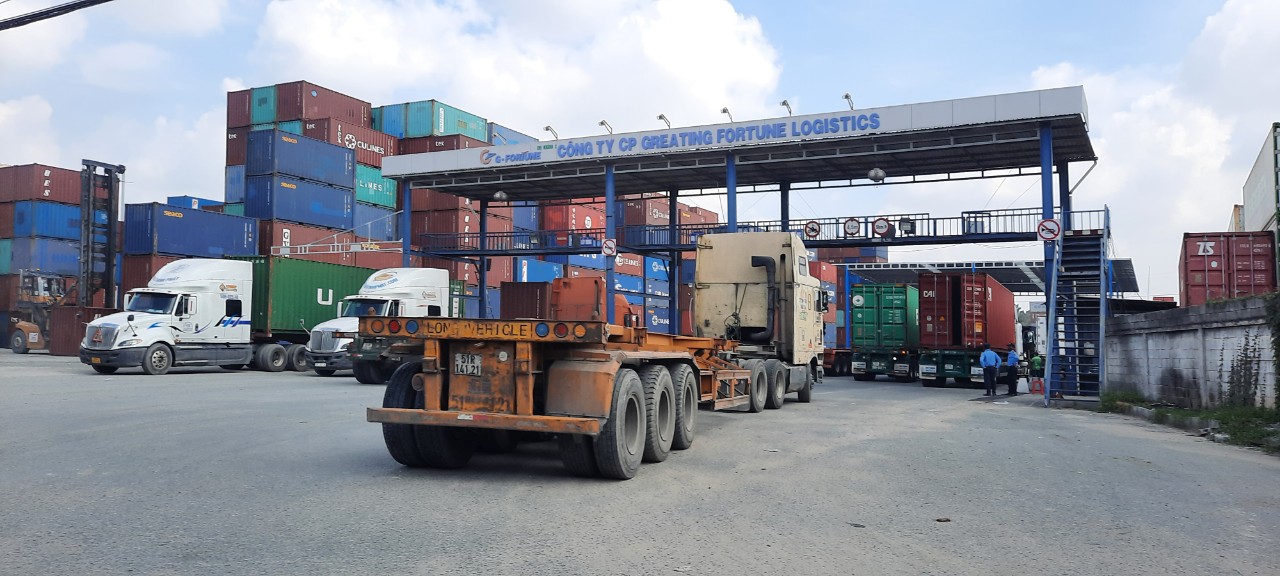 The sustainably developing logistics of Binh Duong will improve competitiveness of goods – a contribution to economic development promotion. In the photo: Goods transportation is on-going at a company in Di An city
Strategies and policies needed
Binh Duong is one of the industrial provinces with high development speed attracting attention of foreign investors. Currently, the province has 27 industrial parks and 12 industrial clusters that have been put into operation with a total scale of 10,000 hectares. Up to now, the province has investors from 65 countries and territories. Along with industry, the field of trade and services and urban areas in Binh Duong have developed rapidly, posing an urgent need for a logistics center to serve production and consumption distribution activities.
According to the evaluation of the Vietnam Logistics Research and Development Institute, most of logistic enterprises in the province, despite the rapid development in quantity, size and quality of services, can only provide the following services of 1PL logistics services (self-sufficient logistics, shipping provision logistic services by their own facilities) and 2PL (partial logistics, shipping hired part of logistic services). Although Binh Duong still has a number of large logistics centers providing 3PL services (outsourced logistics and logistics services provided by third parties in individuals) but the number is still very limited. In addition, service providers still do not have close coordination and mutual support in providing market and customer information, so business activities have not achieved high efficiency.
In addition, logistic enterprises are unevenly distributed and mainly concentrated in the areas of Di An city and Thuan An city. In the area of Ben Cat town, Tan Uyen town and some northern districts of the province, due to the small number of businesses, the logistic servicing industry has not been interested in in terms of investment. Traffic jams still occur frequently at peak hours of the day on some key routes of the province and those problems have shown signs of increasing in recent times, making it difficult for the development of logistic services in the area.
Facing such situation, it is necessary to extend policies as well as logistic development planning in the province towards sustainability. On the other hand, free trade agreements (FTAs) will create not only opportunities but also challenges for the Vietnamese economy in general and Binh Duong in particular in the international integration process. Currently, logistic service providers in Vietnam and Binh Duong will have to compete strongly with foreign competitors in terms of finance, infrastructure, technology, network and human resources. The provision of logistic services for domestic exporters must ensure to meet the requirements of cost, time and quality, contributing to reducing costs and improving the competitiveness of Binh Duong's exports to regional and global markets, meeting the requirements of production and distribution, especially the trend of e-commerce and last-mile delivery.
Sustainable development
Assoc. Prof., Dr. Ho Thi Thu Hoa, Director of the Vietnam Logistics Research and Development Institute and Head of the "Research on building strategies and policies for sustainable development of the logistics in Binh Duong province to 2030 with a vision to 2050", said: "The research results help us gather the theoretical basis for a sustainable logistics by analyzing the current situation and building forecasts as a basis for proposing solutions and mechanisms and policies. Besides, the research results of the topic can serve as a reference for other provinces and cities while preparing to implement the logistics development projects; thereby, enhancing regional and interdisciplinary linkages in the field of logistics."
According to the assessment and based on the research results, the research has built strategies and policies for sustainable development of the logistics in the province. Facilities including logistic servicing enterprises and shipping businesses can refer to the application of proposals and solutions of the research into the actual operation of the enterprises, contributing to improvement of the quality of logistic services in the local areas of Binh Duong province; thereby, contributing to the increase of outsourcing logistics services from shippers. The research results are a source of reference for research institutions, undergraduate and graduate training units, and a valuable data source for state management agencies. For the socio-economic and environmental aspects, the research proposes specific mechanisms, policies and solutions for sustainable development of the logistics in Binh Duong province and proposing potential logistics center locations along with focusing on environmental impact assessment on the formation and development of logistics centers as well as transportation infrastructure; thereby, contributing to the state management agencies to have a basis to make appropriate decisions.
Reported by Phuong Le – Translated by Vi Bao