Enterprises have entered the difficult and unprecedented period caused of the Covid-19 pandemic. However, export activities are recognized as one of the prominent sectors of the province's economy. Achieving that positive result has a positive impact from the Free Trade Agreements (FTAs) that Vietnam participates in.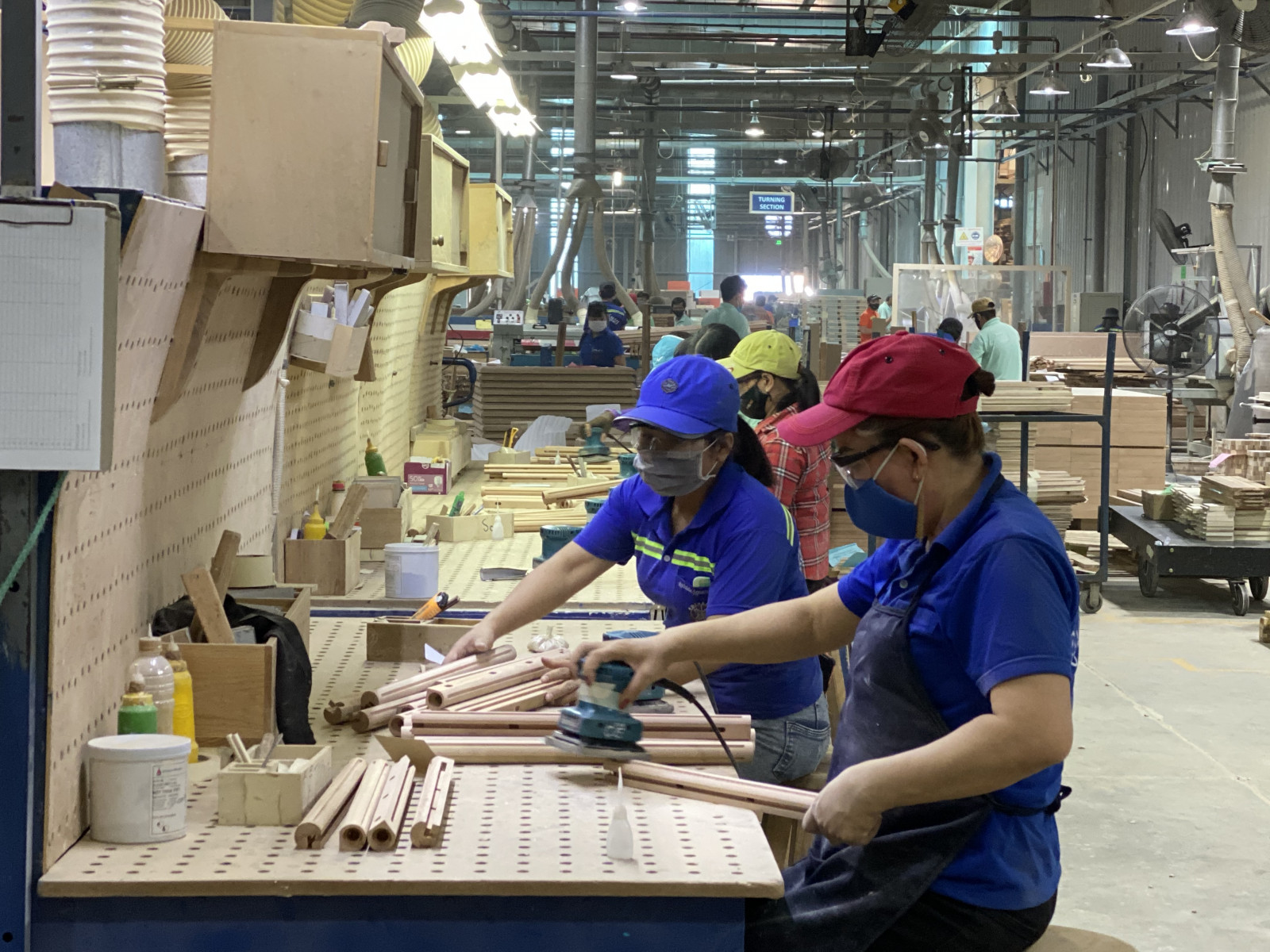 Furniture is one of Binh Duong's key export products.In photo: Wood production at Rolchdale Spear Company (Tan Uyen Town).
High growth
2021 is a tough year to the economy in general and businesses in particular. However, there are still bright spots in that picture. Import and export turnover, especially exports, grew strongly in October and is expected to grow further in the last months of the year. Notably, the growth in export goods was recorded not only in conventional markets, such as China, ASEAN, and the United States, but also in markets where Vietnam has signed FTAs.
Currently, with 15 bilateral FTAs, especially new generation FTAs, such as the Comprehensive and Progressive Agreement for Trans-Pacific Partnership (CPTPP) and the Vietnam - European Union Free Trade Agreement (EVFTA) to take effect, with the reduction of nearly 100% of goods tariffs within 7 years, it will open up many great opportunities for the business community, especially small and medium-sized enterprises. Accordingly, the most benefited are the key export industries of the province, which previously incurred with high tariffs, such as wood, textiles, and footwear. Notably, the official effect of EVFTA also helps Vietnamese wood exporters increase market share in European countries. In the road map for eliminating 99% of tariffs, businesses will have many opportunities to increase the price competitiveness of goods when importing into this important market.
According to Hoang Yen, Director of Rolchdale Spear Company (Tan Uyen Town), with its strengths in European and American markets, the company has proactively planned for production, controlling product quality, mastering technology to dominate the domestic market and increase exports. To take advantage of FTAs, the company's production and business have progressed compared to 2020, overcome difficulties of the pandemic.
With FTAs and many other advantages, textile, garment and footwear industries of Binh Duong in particular and of the country in general are expected to continue to have many large orders, helping export turnover to continue achieving strong growth in the last months of 2021 and first quarter of 2022. Namely, in October, textile and garment products had an estimated export turnover of 152 million USD, up 241.4 % compared to the previous month.
Phan Minh Cu, Head of Import-Export Department of Long Yi Industrial Vietnam Company (My Phuoc 2 Industrial Park, Ben Cat Town) said that the company's footwear exports were improving due to the disease good control. Many shipments have been successfully exported to major markets in the world such as the US and Europe. The company makes an effort to take advantage of incentives from FTAs to boost exports, recover production and business.
To turn potential into opportunity
Up to now, opportunities have been identified and effectively utilized, but the potential of FTAs is still very large. Developing the competitiveness of local enterprises is still a story waiting to happen in reality. What will businesses do to continue improving the position of products participating in the global value chain? What are the key development links for development in the near future?.
With the goal of ensuring the localization rate and origin of goods, when exporting to countries that have signed FTAs with Vietnam, they can enjoy tariff preferences, Gre Apha Electronic Company (VSIP 2A Industrial Park) is making great efforts to look for domestic electronic capillary suppliers. The company wishes to work with partners who can meet their demand, help reduce product costs, and ensure tariff conditions. However, the company has not yet found the initiative from domestic enterprises.
The steel industry is also trying to seize the opportunity as entering markets of FTAs. Nguyen Thanh Nghia, General Director of Dai Thien Loc Steel Company, said that the company had applied modern quality management systems, become one of the reputable SMEs, occupied a large export market share in ASEAN, South America, some West Asian countries, Africa... The application of this technology has contributed to improving the competitiveness of Dai Thien Loc products in the domestic and international markets. The company has made efforts to make products that meet Japanese industrial standards (JIS) and US ASTM standards, but the price is completely competitive compared to similar products in these markets. Currently, the company continues to invest in technology according to European standards to reach out to the world market.
Reported by Tieu My - Translated by Ngoc Huynh