With good plan, the engagement of many forces, the examination and medical declarations after Tet holiday in Di An city was strictly carried out. Thereby, more than a thousand people were monitored at home by local government, ensuring good prevention and control of epidemic in the new situation.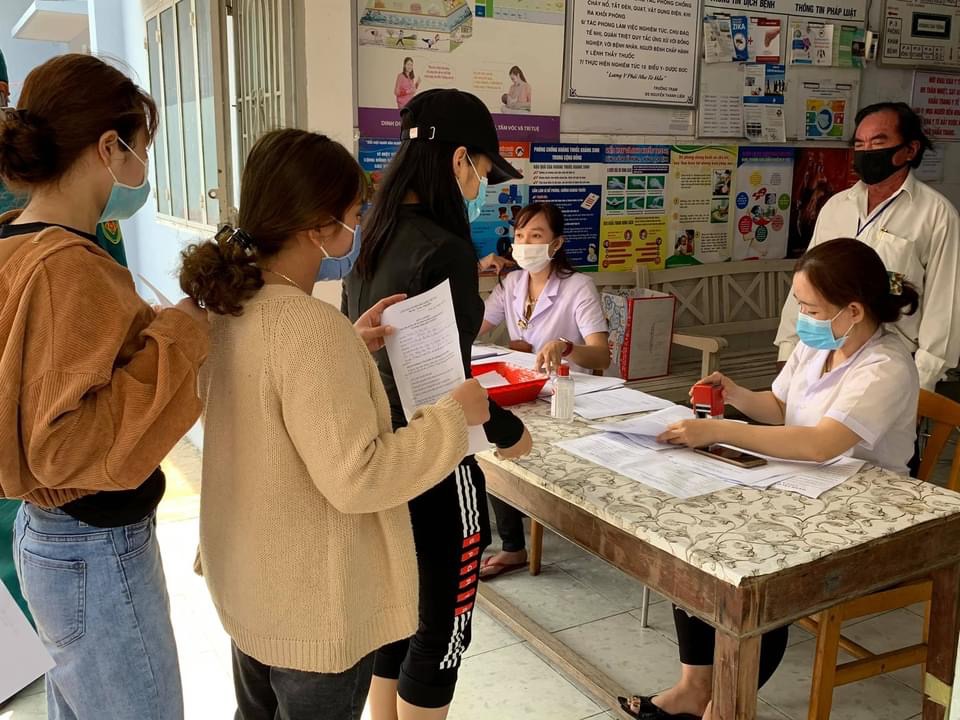 The good coordination between the forces has helped Di An city effectively implement the COVID-19 prevention control. In photo: People from other provinces coming to Di An city are forced to make health declaration at ward health stations.
To set up anti-COVID team
After Tet, Di An city has quarantined 1,356 people coming from other provinces, cities; monitored 23,821 cases of home-quarantine. Dr. Do Viet Hung, Deputy Director of city COVID-19 Steering Committee, said: "In order to carry out the examination and medical declaration after Tet in the locality, Di An city devised several options, mobilized forces from quarters to wards. Besides, we defined groups of subject to facilitate the work performance. These are groups: people coming from epicenters; people from provinces and cities having the epidemic; those traveling from provinces and cities having infected cases; the last group are those traveling from provinces and cities without cases".
Based on specific options, medical staff of wards quickly identified target groups to classify for home quarantine, quarantine at local centers, or home medical monitoring. Forces for work performance included police, army focre, and functional branches. In particular, all quarters established COVID Community Teams (CCT). CCTs monitor and communicate COVID-19 prevention fighting to each household. CCTs is a proactive liaison between local authorities and people in disease epidemic prevention and control. Each team has 2-3 members. Depending on the actual conditions, each team is in charge of 40-50 households and has a specific list of households. Every day, these teams go to every family to propagate and remind people to implement epidemic prevention control measures; implement 5K messages of Ministry of Health
In order to achieve high efficiency in monitoring medical declarations after Tet, CCTs has collaborated with all families, especially lodging house's owners. Therefore, CCTs had the detailed list of people those came home during Tet, who is in which province. When people in the list returned to Di An City, lodging house's owners immediately instructed them go to the ward People's Committee to make a medical report; and were not allowed to enter the lodging house, if they do not have a registered medical declaration. Dr. Do Viet Hung said that in the process of making medical declarations after Tet, there were days when local forces had to work from early morning until late night, and sometimes had to consult superior levels, especially for cases coming from Hai Duong epidemic zone. "As a municipality with a large population, bordering many provinces and cities, and having many national highways, Di An city strictly follow the examination process. Only when doing this well, Di An can prevent epidemic risks from entering the city", Dr. Do said.
"Lock down" all roads
Before, during and after Tet, CCTs monitored each household, residential area, managed medical declaration, detected strangers entering the city without declaration. The city COVID-19 Steering Committee also directed forces, such as traffic police, ward police, civil defense forces, to patrol the area in cooperation with residents to raise vigilance. These forced cooperated with local residents to detect many cases coming from Hai Duong epidemic center or illegally entering the city, then put into concentrated quarantine as prescribed.
For example, on Feb 20th, Di An city Medical Center received a male driver from Hai Duong entering the city on a truck covering his license plate; then he was immediately put into concentrated quarantine. This driver moved from Hai Duong from Feb 17th to 19th to deliver goods to his customers at an industrial park in Binh Duong. He feared the authorities could detect his license plate, thus the driver used tapes to cover the plate. However, when the truck passed through Di An, this was spotted by local residents and reported to patrolling teams.
Thanks to good coordination between functional forces, on Feb 10th, through people's reports, the patrol quickly arrested 13 Chinese people who entered the area illegally and put them in concentrated quarantine. Earlier, this group entered Binh Duong illegally. After 14 quarantine days and based on two negative test results for SARS-Cov-2, noon on Feb 25th, the city COVID-19 Steering Committee handed over the above group to provincial Police. On Feb 27th, provincial Police transferred this group to border guards of Lang Son province for deportation back to their country. Dr. Do said that in the coming time, Di An continued to encourage citizens and functional forces to collaborate well with local COVID-19 Steering Committee in detecting and managing the area in order to effectively prevent and control the epidemic.
Reported by Quang Tam - Translated by Ngoc Huynh