Due to the advantages of geographic location and the investment attraction policy, many domestic and foreign investors have chosen Binh Duong province to develop business. For faster and more sustainable development, Binh Duong hopes to continue receiving the attention and support from the Japanese Government and the Japan International Cooperation Office (JICA) in technical infrastructure construction projects. Japanese enterprises are also supporting the innovation orientation to attract investment in high-tech industries of Binh Duong.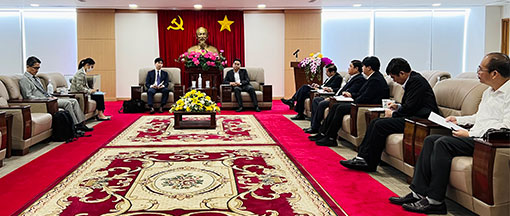 Nguyen Loc Ha (right), Member of Provincial Party Standing Committee, Vice Chairman of Provincial People's Committee, receives and works with the delegation.
Calling for funding for the construction of connected transport
Right after the Binh Duong delegation led by Nguyen Van Loi, Secretary of the Provincial Party Committee, visited and worked in Tokyo (Japan), Saotome Jun, Director of the Southeast Asia Department, Department of Southeast Asia of JICA head office; and Masuda Chikahiro, Chief Representative of JICA Branch Office in Ho Chi Minh City, came to learn about the investment in projects of connected transport infrastructure in Binh Duong.
Specifically, for the construction project of Urban Railway Line No. 1 in Binh Duong Province connecting with urban railway line No. 1 in Ho Chi Minh City from Suoi Tien Terminal Station to Binh Duong New City, the province proposed that the Japanese Government and JICA would support the technical support package, to survey, prepare and report the project investment policy proposal. At the same time, the investment method is approved with ODA loans from Japan, the investment phase is for the period 2022-2025 and after 2025. The project consists of 2 sections, section 1 from Suoi Tien terminal station to Binh Thang interchange station is about 1.8km long, and section 2 from Binh Thang interchange station to Binh Duong new city is 27km long.
For the Provincial Public Transport Infrastructure Improvement Project, Binh Duong will continue to closely coordinate with Central ministries and branches to soon finalize the content of negotiations to prepare for a working session with JICA in Vietnam and accelerate project implementation. For the industrial railway project Bau Bang - Thi Vai - Cai Mep with a length of 127.45km, Binh Duong proposed that the Japanese Government and JICA continue to accept the province's proposal to invest in an industrial railway with ODA loans from Japan.
Mai Hung Dung, Member of Provincial Party Standing Committee, Permanent Vice Chairman of Provincial People's Committee, Director of Binh Duong Smart City's Executive Committee, said: Improving the water environment in South Binh Duong phase 1 and phase 2, solving the problem of drainage and domestic water treatment in urban areas of Thu Dau Mot and Thuan An cities.
In order to take full advantage of regional linkage advantages, Binh Duong has been performing transport infrastructure projects connecting with Long Thanh international airport in Dong Nai province, Cai Mep seaport in Ba Ria province - Vung Tau, the highway connecting with Binh Phuoc province etc. to create favorable conditions for comprehensive Logistics and TOD development (urban development model oriented towards public transport). With the above goal, the province has assembled internal resources, initially formed the My Phuoc - Tan Van road connecting most of the industrial parks from Bau Bang district, Binh Duong new city center to the ports in Ba Ria - Vung Tau, Ho Chi Minh City.
Get ready to welcome investment capital into the high-tech industry
Japan currently ranks second among 65 countries and territories having investment projects in Binh Duong with 335 projects, total capital of 5.86 billion USD. Japanese FDI projects in Binh Duong mainly focus on some sectors, such as manufacture of electronic components, circuits and electronic chips, automobile assembly, iron and steel, and supporting industries, commercial services... In the province, there are some big projects of large corporations such as Panasonic, Toshiba, Foster, Tokyu, Fujikura, Aeon Mall...
Recently, Hashimoto, Chairman of Sharp Corporation (Japan), had a meeting with leaders of the Provincial People's Committee to discuss a plan to expand investment and build another large-scale factory to produce high-tech electronic products in Binh Duong. Hashimoto said the group is exploring investment opportunities in the southern provinces of Vietnam, including Binh Duong, to move their supply chain away from the Chinese market. He assessed that Binh Duong is a locality with an attractive investment environment, meets Sharp's criteria. Currently, the group has two manufacturing factories located in Vietnam - Singapore Industrial Park (VSIP 1) and expanded VSIP 2. With that development orientation, Sharp Group hopes that Binh Duong would give support to meet the demands for construction land fund, human resources, complete connected transport infrastructure, as well as incentives for tax…
Currently, on average, each project of Japanese enterprises investing in Binh Duong has investment capital of over 20 million USD. This is the highest average number among countries investing in Binh Duong. This shows that the province's efforts in improving the investment environment, completing infrastructure upgrades, promoting reform of administrative procedures, etc. have brought positive results.
Mai Hung Dung applauded Sharp Group for trusting Binh Duong to expand its investment scale. Sharp is a long-standing and prestigious brand in the market, hence provincial leaders perfectly welcome this group. Permanent Vice Chairman of the Provincial People's Committee promised to constantly innovate to create an open investment environment and create the most favorable conditions for investors. According to the socio-economic development orientation, Binh Duong defines Japan as a strategic investment partner. Therefore, the province has actively implemented many measures to boost cooperation and investment attraction from Japan.
Reported by Ngoc Thanh - Translated by Ngoc Huynh