Over the past time, Thu Dau Mot (TDM) city's Party committees and authorities at all levels paid attention to promoting digital transformation, focusing on speeding up the building of e-government towards digital government while ensuring infrastructure for the deployment of smart city construction.
IT application
In order to implement digital transformation towards a smart city, in 2022, TDM city's Party Committee and People's Committee focused on leading, directing and promoting the application of information technology (IT) among agencies and units in the direction, administration, activities of people and enterprises, thereby achieving many positive results. Accordingly, the city's technical infrastructure for IT application at administrative agencies has been basically upgraded in a synchronous was, completing the local area network (LAN) and equipment to ensure information security.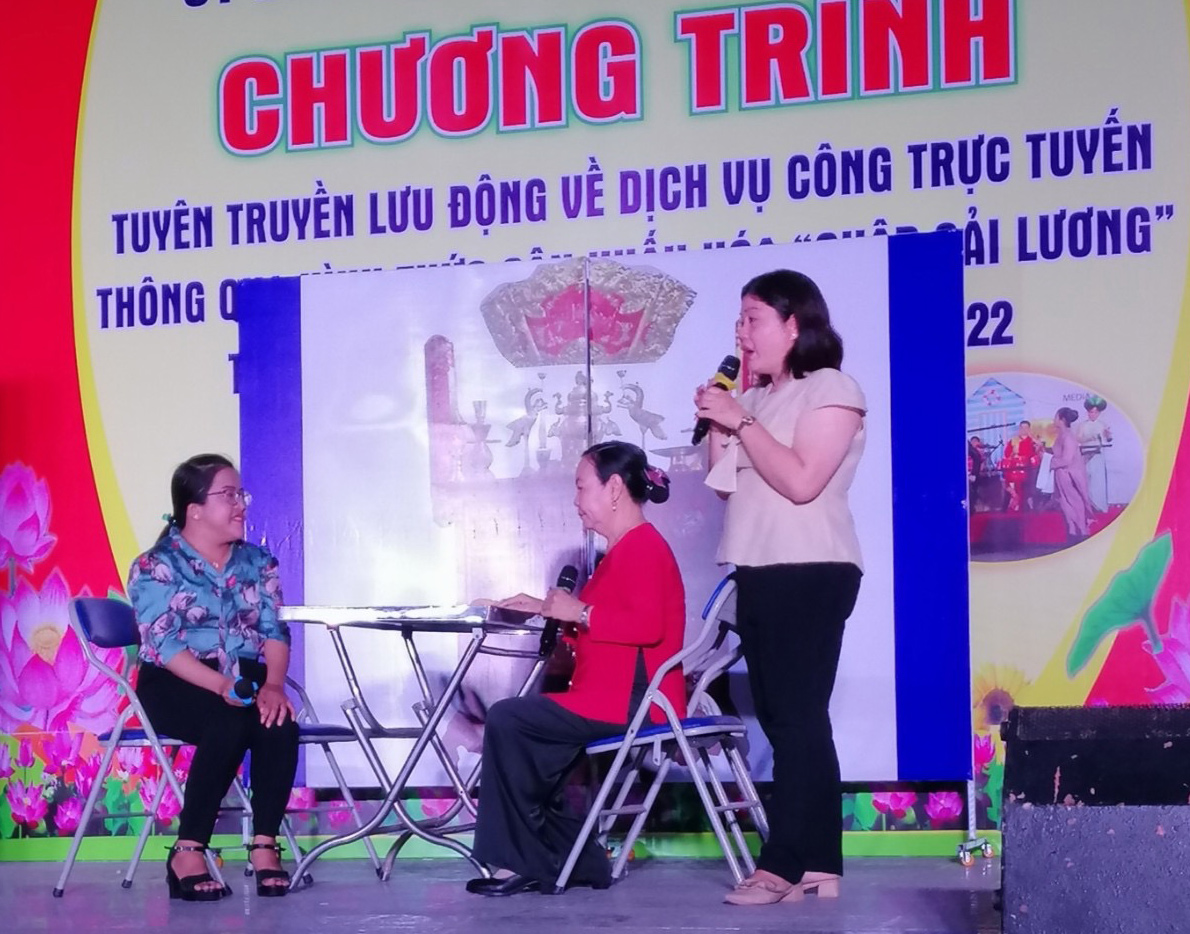 Phu Loi ward makes sketches, theatricalizing propaganda on online public services among people
So far, TDM city has soon completed information technology infrastructure within administrative agencies. The city has effectively implemented the application of IT, using a software on management of documents and work records, an electronic one-stop information system, official emails... All units and agencies in the city have maintained, exchanged, created, processed and digitally signed documents and work records in the electronic environment; there have been 100% of administrative procedures received on the electronic one-stop information system...
Most documents issued through the document management software have used digital signatures of agencies or individuals, with 120 personal digital certificates granted for leaders and accountants, 30 digital certificates of agencies. The foundational applications of e-government, including softwares for management of policy beneficiaries, revolutionary contributors, labor management in enterprises, the smart radio app, construction of a digital ecosystem in the education - training sector, construction of a database on natural resources and environment that ensures connectivity, provision and sharing of data…have gradually being perfected by sectors
The system of public service portal and electronic one-stop shop has met people and enterprises'demands such as appointment registration, digital signature on eForm, digital signature on PDF file, payment on national public service platform, payment of land tax obligations, online payment to district and commune levels, and review and standardization of procedures under the ISO process and reporting system. The city has implemented a pilot model on merging the online public service portal with provincial electronic one-stop information system, forming up provincial information system to handle administrative procedures; built and put its Intelligent Operation Center into operation…
Solution groups
To contribute to building the foundation of a smart city, an innovative region, promoting digital transformation for the period of 2021-2025, with a vision to 2030 and beyond, in the coming time, TDM city will focus on implementing many tasks and solutions. Particularly, the city will further promote propaganda on the construction of smart cities, the implementation of strategies, plans for economic, cultural and social development in association with dissemination of information about the "Binh Duong smart city project"; strengthen the leadership of all-level Party committees and authorities in being proactive to participate in digital transformation; intensify propaganda on the Party's policies, raising all-level authorities, socio-political organizations, people and enterprises 'awareness of digital transformation; set up and complete regulations on the content, scope of connection, share and tap information and data from social organizations, enterprises and community in the online environment; set up and promulgate regulations on digital infrastructure for digital government, smart city and put forward a roadmap for implementation; ensure that all investment projects to build essential infrastructure are appraised for their suitability with the promulgated digital transformation and smart city architecture; promote the application of IT in the direction, administration and activities of people and enterprises in all fields while strengthening training on skills of IT application and information security for cadres, civil servants, improving the efficiency of use of completed applications at the requirements of IT human resources in the coming time...
The groups of tasks and solutions aim at ensuring long-term factors, contributing to solving some immediate problems, changing thinking, awareness and institutions to match the requirements of digital transformation process"… (Nguyen Thu Cuc, Chairwoman of TDM city's People's Committee)
Reported by Thu Thao-Chau Tien-Translated by Kim Tin