Binh Duong determines that the sector of trade – services always plays an important role in the overall development. Along with the local advantages, the efforts by all- level authorities, sectors and especially the business community, Binh Duong has focused on exploiting and promoting resources to develop the local commercial sector in a sustainable and efficient manner.
Strong impulse
In 2022, the province's total retail sales revenue of goods and services was estimated at VND 269.44 trillion, up 16.8%. That is the result of synchronous implementation of policies to stimulate investment demand, build new products, develop key markets. In 2023, Binh Duong has set a target of reaching a 15% increase in total retail sales revenue of goods and services. To complete the plan, provincial People's Committee has asked for departments, agencies, sectors and mass organizations at all levels to actively adapt flexibly, innovate effectively with 6 key tasks.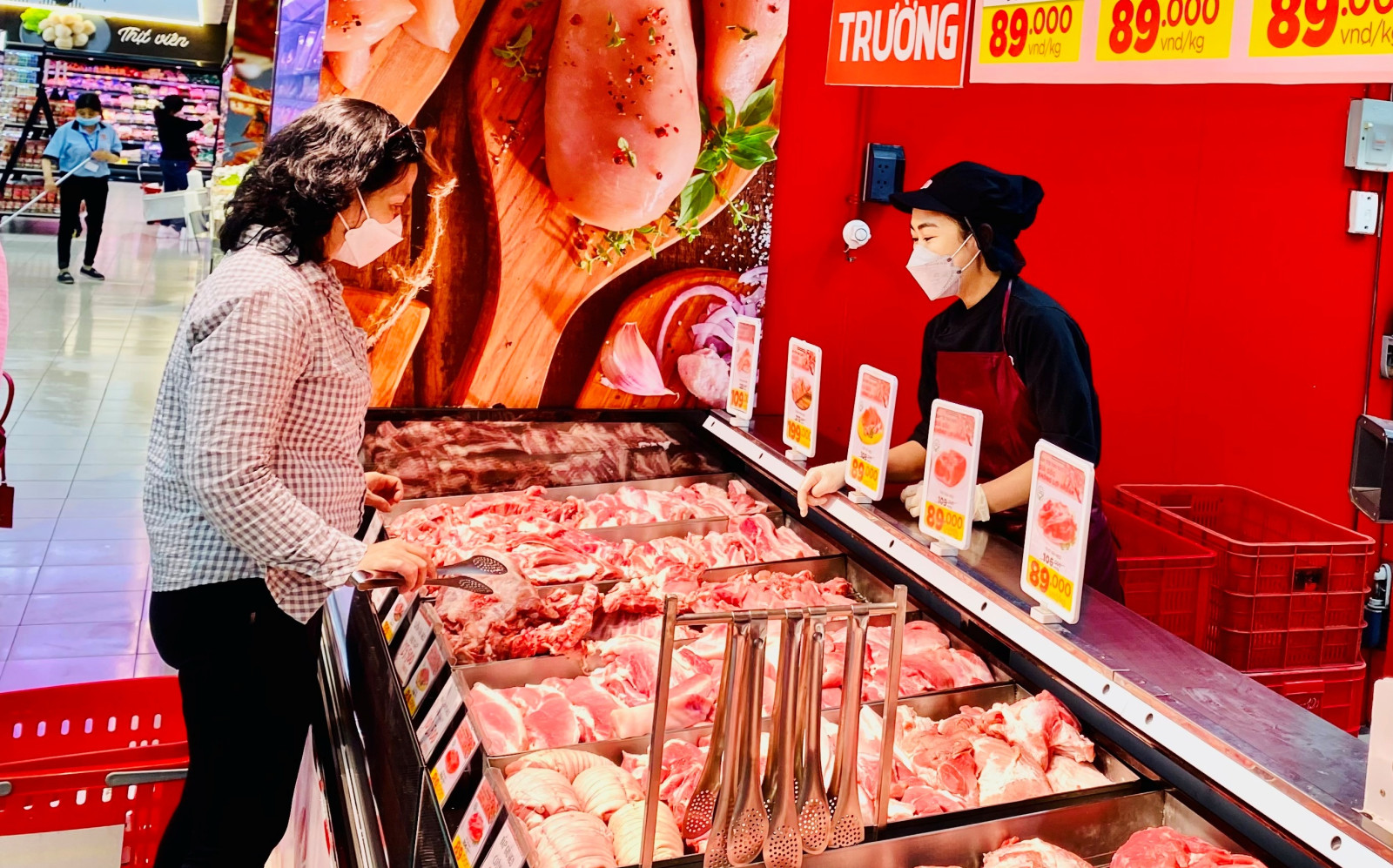 Enterprises make efforts to share difficulties and develop domestic consumption. In picture: Customers shopping at Go Binh Duong supermarket on the days after the Tet (Lunar New Year) festival 2023
For the market, right from the beginning of 2023, provincial People's Committee has directed departments, sectors and localities to organize and closely monitor the supply and demand, market prices of commodities under their management; proactively remove difficulties for production, business and circulation in order to prepare stockpiles, stabilize market prices, give priority to ensuring supply and supply - demand balance, especially for essential goods and services such as gasoline, food, and foodstuffs with a high demand in the first months of 2023.
According to Nguyen Thanh Toan, Director of provincial Department of Industry and Trade, in 2023, with a large degree of integration and openness, the economy will continue facing many challenges. Therefore, the industry and trade sector must focus on directing and implementing specific, active and effective solutions to achieve and exceed the goals set out in the year. The sector will also strengthen the effective implementation and supervision of the implementation of measures to declare and list prices, and organize the inspection and examination of the observance of the law on prices; continue promoting propaganda work, ensure timely and transparent information on prices of important materials and essential products related to production and people's lives to limit inflation increase, stabilize the psychology of consumers and businesses.
Vo Nhat Vu, Director of Go Binh Duong supermarket said: "In 2023, the supermarket will make every effort to achieve the set goals by diversifying products and linking with units lowering the prices of products as much as possible to share difficulties with consumers, stimulate demand, and attract customers. We expect that our revenue will increase in 2023 with stabilizing prices, increasing product quality and diversifying products."
It is known that enterprises operating in the field of commerce in the province are mainly small and medium-sized ones. And their cooperation along the value chain in the business community is still weak. The development of wholesale infrastructure has not been commensurate with the potential and development needs of the market. In addition, material facilities for the night economy are limited. There is no large-scale entertainment complex that is separate from residential areas, and the scale of projects serving the night economy is still small. This requires businesses and localities to have a worthy development orientation, making trade and services become a "balance" in the economic structure.
Creating pervasive momentum
Vo Van Minh, Chairman of provincial People's Committee said that in the period of 2021-2025, Binh Duong will continue defining industrial development in a sustainable and modern direction on the basis of promoting the synthesis of resources of all economic sectors, creating a driving force for development. In particular, in order to balance trade, services and industrial manufacture, the province has focused on developing high-quality services at the requirements of industrial and urban development towards civilization and modernity; promoted the restructuring of services towards increasing the proportion of services applying high technology, artificial intelligence and information technology to have a spillover effect on other fields.
According to Le Tuan Anh, Director of provincial Department of Information and Communications, with the availability and determination of digital transformation, Binh Duong has set 2025's targets, including reaching 50% of non-cash transactions in public administration services or more; having over 99% of households and 100% of communes with broadband internet infrastructure; gaining over 50% of the population with electronic payment accounts … This is an important foundation for e-commerce development, keeping pace with technology trends.
Huynh Dinh Thai Linh, Director of the World Trade Center Binh Duong New City (WTC BD) said that the city will become a destination for international trade activities, creating a driving force for the attraction and development of surrounding industrial parks, becoming a focal point to upgrade the urban area of ​​Binh Duong. In 2023, the WTC BD will further support businesses to organize activities to connect domestic and foreign markets, especially with potential markets of partners that the World Trade Organization system has connected in both face-to-face and online forms.
*Nguyen Thanh Toan, Director of provincial Department of Industry and Trade: Currently, the province continues implementing investment procedures in industrial parks that have been planned. There will be 34 industrial parks with a total planned area of ​​14,790 hectares. This is a favorable condition for the province to attract domestic and foreign investment projects, develop industrial production and trade, creating a premise for services to accelerate strongly in the coming time.
*Dr.Huynh The Du, from Fulbright University: Binh Duong is one of the Southern Key Economic Zone's industrial development centers. And the post-Covid-19 pandemic period will be an opportunity for Binh Duong to become a destination for enterprises and form supply chains, producing goods and consuming products.
Reported by Tieu My-Translated by Kim Tin