The emulation movement of good workers, encouraging technical innovations has spread quickly among enterprises. From this movement, many examples were praised and rewarded, creating motivation for other workers.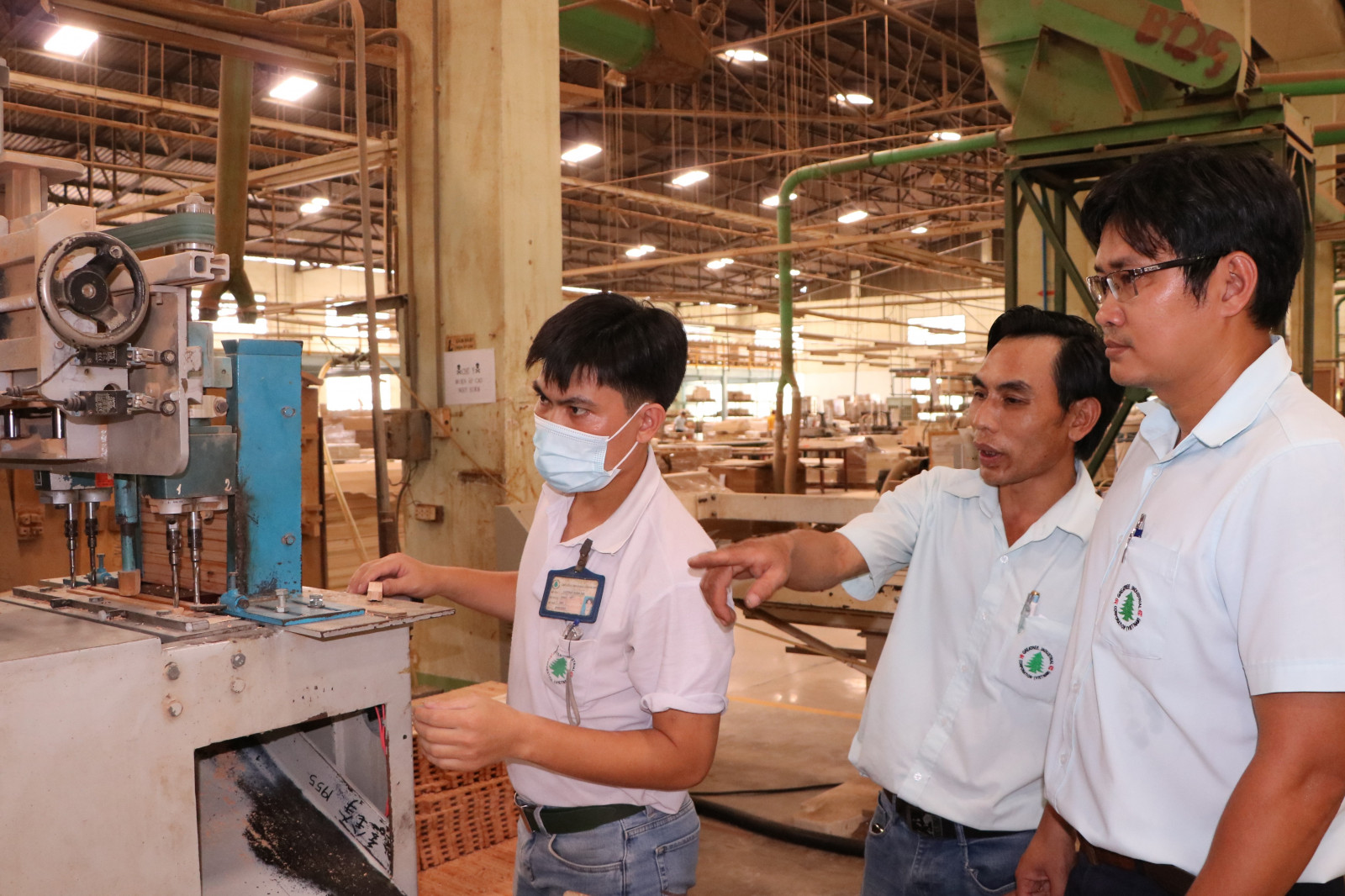 Dang Cong Ha (center) with his initiative of "Recycling old machines that were reported waste" into "Sliding drill machines".
To improve production efficiency
Dang Cong Ha, Head of M&E division, Greatree Industrial Joint Stock Company (Thuan An City), with more than 12-year experience of M&E, has had technical innovations to improve labor productivity, shorten production time, save labor, products made meet requirements and have been trusted by customers.
Ha said that every year due to failure to meet production requirements, there were ordinary wood cutting machines that will be considered by the board of directors to be removed from the production line and put in warehouse to report waste; there were removal machines that have a period of many years. When he went to check and found out that the machines were still working and usable, he came up with an initiative of "Recycling old machines that have been reported as waste".
After improving the machine into a sliding drilling machine, it met strict requirements of production, fast and stable operation, increased productivity, and reduced standing labor to operate the machine compared to the existing machine purchased from the producer. The sliding drilling machine purchased from the manufacturer required 2 workers and can only drill 2 pieces at a time, while Ha's machine is able to drill with an amount of 6 sliders/minute and only need 1 worker standing and operating the machine. The improvement cost is only about 20-30 million VND/machine, while the company has to invest in buying a new machine at the price of 600 million VND/machine, but the productivity is not equal.
Not just stopping there, Ha also came up with other initiatives to increase labor productivity, save costs for the company, and protect workers' health. For example, his initiative of "Using light corrugated iron sheet and anti-heat paint for corrugated iron roofs" has brought unexpected results. On sunny days, in factories roofed with ordinary corrugated iron, it became even hotter. Ha researched and proposed an initiative to the board of directors, it was to replace transparent corrugated iron between corrugated iron sheets.
"The corrugated iron sheets during the day take advantage of the sun shining down to light up workshops, reduce the amount of electricity used for light bulbs, at the same time, paint the corrugated iron to prevent heat and install an automatic spray system on factory roofs to reduces the heat when it's hot, helps factories stay cooler, ensure worker's productivity because they no longer suffer the hot weather", said Ha.
Similarly, Pham Hong Bac, Head of Production Management Department, Greatree Industrial Joint Stock Company, with passion for his work, also come up with initiatives to improve production efficiency and save expenses for the company, protect workers' health. Bac said that the company specializes in manufacturing furniture products, so there is often a lot of wood dust in factories due to the process of sawing wood, sanding, etc. affecting workers' health.
To overcome this, the company installed a vacuum cleaner system in factory. However, the vacuum cleaner has a disadvantage that it often has to be turned off due to the limited collection of wood dust in the storage compartment, so it fills up very quickly. In order for the machine to work, it must collect all the wood dust in the vacuumed compartment before the machine can continue to vacuum. While waiting for collection, the amount of wood dust in the factory was not sucked up in time, not only affecting the working environment but also the production process.
"After thorough research, I came up with the initiative to install 2 additional vacuum cleaners in the workshop, when the dust collection is delayed, I will turn off the large main vacuum cleaner system and turn on the auxiliary vacuum cleaner to continue vacuuming the workshop. Since this initiative was applied, production activities have not been interrupted, ensured on-schedule progress and been more efficient than expected. At the same time, when the workshop only has 1 or 2 production lines to work overtime, instead of running a large vacuum cleaner for the whole workshop, running an auxiliary vacuum cleaner can ensure effective dust collection and save power for the company", said Bac.
Streamline the production process
Ngo Hoang Trung, Chairman of the Grassroots Trade Union, Greatree Industrial Joint Stock Company, said that in parallel with taking care of and protecting the legitimate interests of trade union members and workers, the Trade Union also actively coordinated with Board of Directors to organize and launch patriotic emulation movements, the movement "Good labor, encouraging innovations, technical improvements", especially to respond to patriotic emulation movement launched by the superior trade union.
Emulation movements have attracted the participation of a large number of union members and workers and there were many creative initiatives, technical improvements to rationalize production, increase labor productivity, and reduce investment costs for businesses... For example, Ha and Bac have had many initiatives and solutions to improve machinery to streamline production processes, guarantee occupational safety and health, have been highly appreciated by the company's board of directors, and are among the best examples of creative labor for union members and workers in the company to follow.
"The emulation movement has created a motivation for union members and workers to promote creative labor spirit, a sense of responsibility, dare to think, dare to do, overcome all difficulties, strive to successfully complete assigned tasks. Thereby, making an important contribution to the completion of production and business plans of enterprises. In addition, the emulation movements deployed extensively have contributed to improving the role and position of trade union organizations, which is a driving force to motivate officials, union members and workers to actively study, practice, train skills, improve professional expertise, acquire new technologies, meeting the requirements of the industrial revolution 4.0", said Trung.
Reported by D.Trong, T.Nguyen - Translated by Ngoc Huynh