In the current "new normal" period, some businesses comply with disease prevention control regulations in order to maintain supply chains and sustain employment for workers. By various ways, trade unions at all levels in the province have carried out many activities to support workers in all aspects to make them feel secure about their work.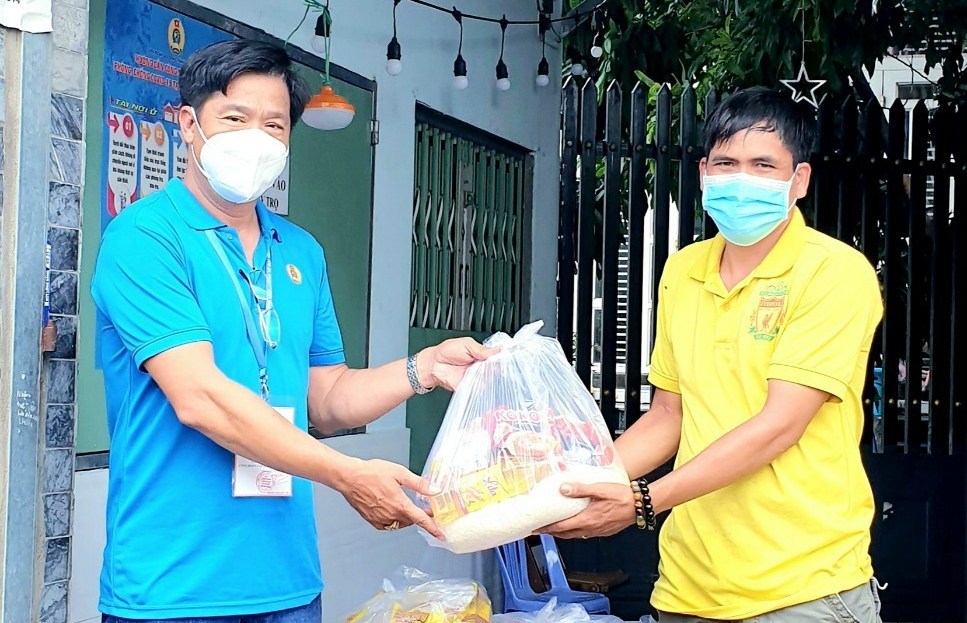 Trade unions at all levels in the province continue to take care of the welfare of workers.
Enterprises provide accommodation for workers
Due to the outbreak of the Covid-19, many businesses in the province faced numerous difficulties in maintaining production and business activities. However, businesses have invested in collective housing and dormitories for workers. Therefore, it is relatively easier to implement the "three-on-site" model to ensure safety, disease prevention and control, and maintain labor productivity.
As a company specializing in the production of sports soles and insoles for famous brands, in the pandemic context, Patel Vietnam Company in An Tay commune (Ben Cat town) still maintains its operation and achieves high productivity. Dang Thi Hong, President of Trade Union branch of Patel Vietnam Company, said: "The company has a dormitory for our workers. However, the company has lately applied "thee-on-site" method for more than 600 workers, so the existing dormitory is not enough. The company has built more temporary housing areas for employees at warehouses and workshops. All these housing areas are completely isolated from the company's production area. When participating in the "three-on-site" production, all employees are provided with mosquito nets, blankets, mattresses, fans and personal toiletries by the company. The company also built toilets and bathrooms for employees to guarantee the disease prevention control.
Meanwhile, Tong Van Thang, Chairman of Directors Board of Wintech Vietnam Technology Development Investment Joint Stock Company (Phu My Ward, Thu Dau Mot City), said: "Dormitory system for employees was built in 2006 with 28 rooms, each room is 12-15m2 with a mezzanine. Room, electricity and water consumption are free of charge; if a bill exceed the norm, the room renter will pay a small amount according to the price fixed by the State. Due to the availability of a dormitory system, we did not face any difficulties as applying the "three-on-site", still sustain stable jobs for workers.
Since Wintech Company built the dormitory, Ha Van Thuan has been one of the workers allowed by the company to live in dormitory. Thuan said: "Since the company supported me by allowing me to stay in the dormitory, I have been able to reduce a part of my living expenses and have a more stable life, especially during this pandemic. Since living in the dormitory, I feel much more convenient. The company has cared about workers so much, we will try our best and dedicate ourselves to the company to develop the company more and more.
Support workers in accommodation
Remington International Company in Thoi Hoa ward (Ben Cat town) is an example of successful application of the "three-on-site" model. For nearly four months, the company organized this model for 100% their employees and ensured absolute safety. Especially, during the "three-on-site" period, the company allowed workers to bring their children to the company to live with, creating all the most favorable conditions for workers to feel secure.
Nguyen Ngoc Hoan, Trade Union's Chairman of Remington International Company, said: "Understanding difficulties faced by workers during this period, the company's grassroots Trade Union advised Directors Board to increase the support level from 150,000 VND/day to 300,000 VND/day for all "three-on-site" employees. For children who stay with their parents in the company, we appointed personnel to take care of them carefully, served them with meals like company workers. In addition, the company also provides milk and breads for the children. In addition, all employees of the company have been vaccinated and tested continuously.
Recently, flocks of workers returning to their hometown to avoid the pandemic has caused businesses a serious shortage of labor as resuming production. In order to attract workers returning to work, the province also has many policies and guidelines to ensure that workers feel secure and stay in the province for a long time. Currently, Department of Labor, War Invalids and Social Affairs is surveying the labor shortage of enterprises in the province, obtain information on recruitment, labor demand and company policies to support workers; then coordinate with other departments to assist the recruitment of workers, supply human resources to meet the demand of production recovery.
In addition, trade unions at all levels are continuing to implement welfare package for union members and workers having difficult circumstances; direct grassroots trade unions to coordinate with enterprises to complete procedures so that workers can receive the support from the Government's welfare packages so that workers can return to work without worries. Ong Thuy Hoang Mai, Vice President of the Provincial Confederation of Labor, said that the Provincial Labor Confederation would continue to assist the authorities at all levels in the disease prevention and control to help businesses recover production and business development. Trade unions at all levels will step up information, dissemination, and encourage former skilled workers to return to the company, listen to aspirations and difficulties of workers to have appropriate care solutions in the new situation.
Reported by Hong Phuong - Translated by Ngoc Huynh