From vegetable farming, after many worrying days because of being influenced by old thinking and farming methods, many farmers in Binh Duong have boldly applied the model of growing vegetables according to VietGAP standards. This new thinking, new way of farming has brought a stable income for families and somewhat contributed to the hometown development.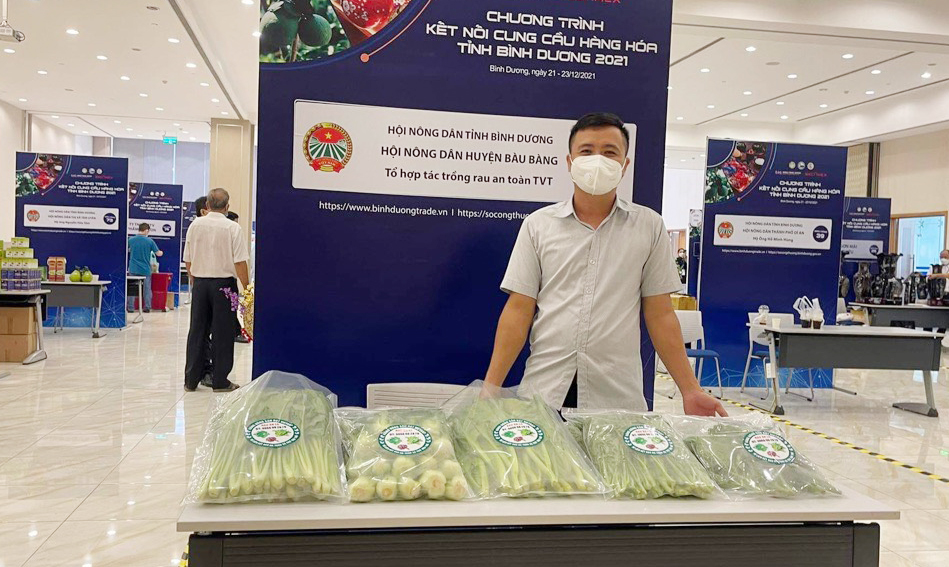 The support of the authorities and unions makes an important contribution to connection establishment for product consumption of farmers. In photo: Tran Quang Thuy, Chairman of Tru Van Tho commune Farmers' Union and the safe vegetable booth at the trade fair connecting agricultural consumption in 2021
To change farming mindsets
The farm of Bui Van Toan's family in hamlet 2, Tru Van Tho commune, Bau Bang district has lush beds of broccoli, mussels, eggplants, lettuce, gourd etc. are waiting for the harvester's hands.
Toan said that he at first grew vegetables for his family demand and partly for his wife to sell at the local market. Despite they worked hard for many years, their income was just enough to cover living expenses. Once he was invited by the commune Farmers' Union to a training course on growing clean vegetables and visited a vegetable net-house farming according to VietGAP high-tech standards, Toan gain experience from this farm and was determined to invest in a vegetable farm to improve his family's lives.
With the support and encouragement of his wife, in 2016 he boldly invested more than VND60 million in a net house farm with an automatic sprinkler system on an area of 900m2 of land, starting a new cultivation direction. To seek for consumption, Toan rented a kiosk at Lai Uyen market for his wife to sell their vegetables, then he became the vegetable provider of traders in Ben Cat markets. In order to have enough vegetables to provide and meet the tastes of consumers, Toan has grown his vegetables seasonally. Due to his affordable price and clean vegetables, Toan's products always have large number of customers.
As a result, now with 900m2 of vegetable farming, every day Toan's family collect a profit from 600,000 - 800,000 VND, which used to be a dream income to his family. After the success of VietGap vegetable farming, he did not hesitate to help and guide farmers to develop this model.
Similarly, Nguyen Van Binh in hamlet 2, Tru Van Tho commune developed a clean vegetable farm according to VietGAP standards. This has helped his family change their lives, their lives were stabilized and become much better. At first, he grew vegetables with a few square meters of land around their house, in early 2016, Binh decided to convert more than 1,600m2 of rubber and fruit trees to clean vegetables employing VietGAP technology. With his savings of more than 100 million VND, Binh boldly invested in net houses and automatic irrigation system, and sought for a clean vegetable consumption market to ensure a stable revenue.
Currently, on the expanded farm, Binh alternately grows tomatoes, sweet cabbage, vegetables, peas, lettuce, squash... On average, his family generates every year more than VND200 million of revenue. His vegetables are mainly bought on site by traders; his family also bought a stall to sell clean vegetables at Tan Long market in Tan Long commune, Phu Giao district. Not only taking care of his family economy, Binh is also willing to share his experience of growing vegetables with local farmers.
In order for households growing vegetables in the area to support, share experience as well as consume products of each other, Tru Van Tho commune established a safe vegetable farming cooperative group with four members. Not only Tru Van Tho commune, many other vegetable growing cooperative groups in Binh Duong province have been operating very effectively, bringing stable revenues for farmers. For example, a cooperative group growing vegetables in Phuoc Hoa commune (Phu Giáo district) was established in 2015 with three members. Since its establishment, the group has maintained an average revenue of over VND60 million per year, bringing an average income of VND5 million per month to members. This shows that connection is always an important solution for the sustainable, long-term development of agricultural production practices.
Science and technology leads the way
In order to meet the requirements of large-scale and high-quality production development, farmers in localities in the province focus on mechanization, applying technical advances into vegetable farming. Toan said: "In order for vegetable farms to be clean and productive, it is necessary to master the techniques of growing vegetables, know how to handle stages in the cultivation process from soiling, organic fertilizer, majestic compost, inorganic fertilizers can also be used in the development of vegetables to guarantee good nutrition. Watering is very important for vegetables to grow and develop well; all vegetable growing stages must be recorded in books for easy monitoring." According to Toan, in order to meet the criteria for safe vegetables according to VietGAP standards, at the beginning of Q2-2022, the commune Farmers' Union granted a loan of VND 100 million to repair net house and misting irrigation system.
Many farmers do not have enough financial conditions, supports of preferential loans and farming techniques, are very meaningful. He confided: "To get today results, in addition to my efforts, there was the support from Farmers' Union in terms of techniques, fertilizers, tools as well as preferential loans. With a loan of 100 million VND, my family was able to invest in a clean vegetable farm according to VietGAP standards." His family's vegetable farm has a new modern irrigation system, which not only saves water and labor but also reduces the number of damaged vegetables...
With the application of advanced farming techniques and technologies, lush vegetable farms generate bumper crops. This proves that farmers with their passion, experience, and determination to invest in, learn new techniques in production will definitely reap good profits. In addition, the support of agencies and unions will help produce high-quality products, stable consumption market. The models of safe vegetables expanded in the area will contribute to the sustainable development of agricultural sector in the province.
Reported by Tien Hanh – Translated by Ngoc Huynh