A delegation of the Vietnamese education and training sector's trade union led by its President Nguyen Ngoc An attended the 37th ASEAN Council of Teachers plus the Republic of Korea (ACT +1) Convention held in Kuala Lumpur, Malaysia from September 15-17.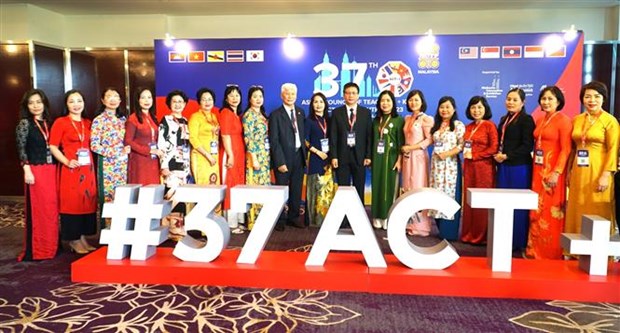 Vietnamese delegation at the event
The event themed "Leading the future of education" attracted about 600 educational managers and teachers from ASEAN countries and the RoK.
It included a seminar, a session for national reports, and four sessions on supporting teaching and learning through today's digital education development, experience in teaching digital literacy, and empowering collaboration in future classrooms.
The Vietnamese delegation presented a national report on combining face-to-face and online teaching to convey knowledge to learners at all levels and a thematic report on digital skills training in schools through sample lectures.
Head of the Vietnamese delegation An said that they shared experiences, challenges, and opportunities during educational reforms.
Within the framework of the event, the Vietnamese delegation also participated in exchange activities, and cultural performances and introduced Vietnamese coffee to international friends./.
VNA