As many as 43 Vietnamese travel agencies are introducing attractive tourism products and services at the International Travel Trade Show (ITB) 2023, which takes place in Berlin, Germany from March 7-9.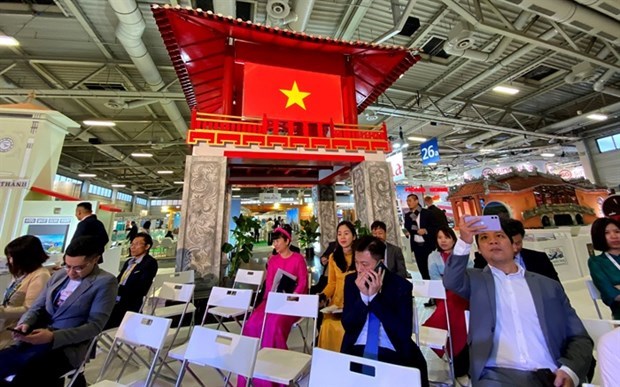 A Vietnamese booth of at the event
The event offers an ideal platform for Vietnamese tourism businesses to reconnect with markets, partners, German tourists in particular, and international tourists in general, after nearly three years of hiatus due to the COVID-19 pandemic.
With the message "Living fully", Vietnam's booth carries more special features than previous versions, with attractive products catching market trends.
The presence of Vietnamese businesses at the event shows that Vietnam is ready to welcome international visitors back to fully experience a vibrant Vietnam with beautiful and unique nature, and rich culture.
Vietnamese Ambassador to Germany Vu Quang Minh said international and European tourists in general as well as German people in particular have shown great interest in the Vietnamese tourism market during discussions with Vietnamese businesses.
He expressed the hope that 2023 will open a new chapter for the development of tourism, which is an important contributor to Vietnam's socio-economic development.
Nguyen Trung Khanh, General Director of the Vietnam National Administration of Tourism (VNAT), said ITB 2023 is one of the largest global events in tourism, and this is a playground as well as a forum for tour operators to meet, exchange information and find opportunities for cooperation.
According to Khanh, in recent years, Vietnam's tourism industry has strongly grown, with its revenue greatly contributing to the national GDP.
The participation of Vietnamese tourism businesses at the event demonstrates the overall strength of Vietnam's tourism, and promotes close connection among businesses – an important factor to revive the tourism industry, he added.
According to Vice Director of the Tourism Department of HCM City Le Truong Hien Hoa, the city would like to introduce new guidelines and policies on tourism to partners.
Participating in the ITB 2023, HCM City's businesses not only focus on the European market but also target tourists from many other continents around the world, he said, adding that the city is set to welcome 5-5.5 million foreign tourist arrivals in 2023./.
VNA