At Lobby Hall B of Binh Duong WTC Expo, early September 24, was the coordination of Becamex IDC and Binh Duong WTC Expo to inaugurate the Vietnam-India friendly cultural festival 2022 expected to be in 2 days of September 24-25 in the sideline of the on-going Horasis India Meeting 2022 to mark the 50th anniversary of Vietnam-India relation. The inauguration ceremony was attended by Mr. Mai Hung Dung – permanent Deputy Chairmanof Binh Duong provincial People's Committee, Mr. Frank Jurgen Richter – Chairman of Horasis India Meeting, and leaders of localities and enterprises.
Addressing the ceremony, Mr. Mai Hung Dung stressed that the festival is a lively example of cultural exchanges of Vietnam and India. The festival is also a chance for community connection, opening up opportunities for locals to experience special cultural traits of India.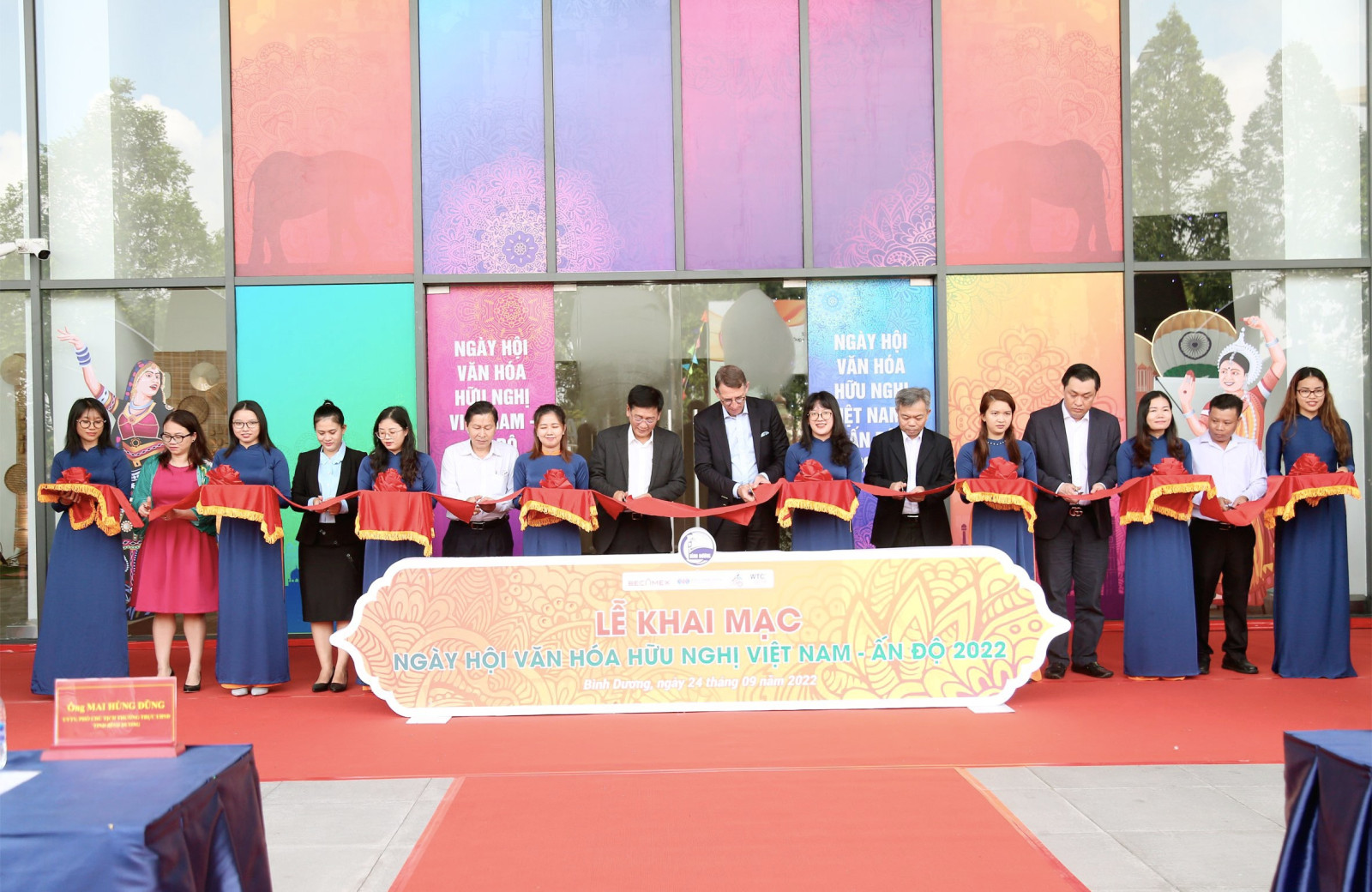 The ribbons are cut to inaugurate Vietnam-India Friendly Cultural Festival 2022
Binh Duong province is following the strategic development of creativity, which requires FDI attraction into production. The province orients to balanced economic development with forcus on infrastructure and services. The province is currently calling for investments, optimal operations of focal trade and service to step by step standardize the provincial trade-service platform. Aside the regular cultural activities of the two nations, various playgrounds have been set in Binh Duong to make it a center of cultural exchanges and trade of the region.
After the official inauguration, the delegates and guests visited the Lobby Hall B of Binh Duong WTC Expo to have a look on the space of cultural exchanges expected to last in September 24-25 with various activities of culinary, Henna (skin art), and Vietnamese and Indian music shows.
By Reporters – Translated by Vi Bao