Russian Ambassador to Vietnam Gennady Bezdetko has hailed Vietnam for its efforts in economic development amid a host of difficulties caused by the COVID-19 pandemic and concerns over a global economic recession.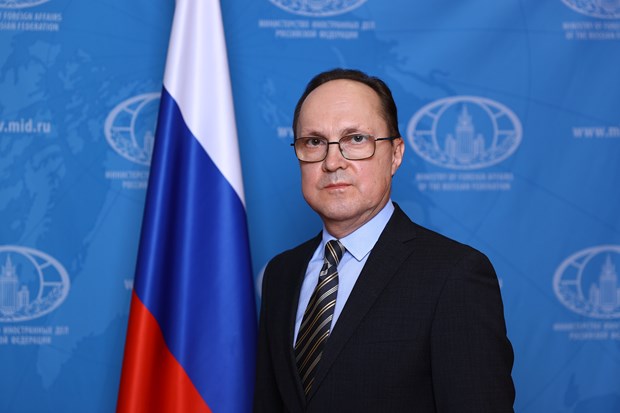 Russian Ambassador to Vietnam Gennady Bezdetko
Vietnam recorded good economic growth in 2022 although many countries across the world found it hard to go through the year, the diplomat said in an interview granted to the Vietnam News Agency (VNA) on the occasion of the Tet (Lunar New Year).
Due to some negative factors, including the pandemic and soaring energy prices, the global economy faced a range of challenges, he continued.
In Vietnam, thanks to flexible and effective actions taken by competent agencies in a bid to restore business activities after the pandemic was controlled, the country's GDP growth reached 8.02%, surpassing the target of 6-6.5% set by the Government, which is surely a positive sign, the ambassador stressed.
The country's total export-import turnover was estimated at around 750 billion USD in 2022, up about 50 billion USD from the previous year, with a trade surplus of over 11 billion USD.
The figures showed the right path Vietnam has selected, Bezdetko said, noting his hope that such favourable trends will continue this year.
The ambassador also lauded Vietnam's impressive strides over the past more than 35 years of Doi moi (renewal), saying the national economy has been developing rapidly amid global challenges.
The country has kept foreign investment inflows, and integrated more intensively and extensively into the global economy, with production and technology potential intensified, he explained.
With these achievements, the targets of maintaining the annual GDP growth at 7% and raising per capital income at 7,500 USD by 2030 are reachable, the ambassador said.
Bezdetko pointed to the optimistic prospects for Vietnam in the implementation of sustainable development goals (SDGs) despite the present global economic and political situation, particularly the food and energy crises.
Regarding the fight against corruption, the ambassador described it as a key for Vietnam to ensure the stability and efficiency of political institutions and dynamic economic development.
He recalled the establishment of steering committees for anti-corruption in Vietnamese provinces and centrally-run cities, which, he said, would help the country make progress in the fight.
Asked about Tet, the biggest and longest festival in Vietnam which is approaching, Bezdetko said this is the time for family gatherings, meetings between friends, visits to teachers, reviewing the previous year and making future plans, and it is associated with interesting customs and rituals.
On this occasion, the ambassador noted his wish that the Vietnam-Russia relationship will grow more broadly and strongly, and his belief that the multifaceted cooperation between the two countries will be enhanced in 2023 in the spirit of the bilateral comprehensive strategic partnership./.
VNA