Afternoon of May 20, Mr. Vo Van Minh, Deputy Secretary of Binh Duong provincial Party Committee, Chairman of the provincial People's Committee had a meeting with Vietnam National University of Ho Chi Minh City (VNU-HCM) on the cooperation program for 2017-2022. Attending the event was Assoc. Prof. Dr. Vu Hai Quan, Member of the Party Central Committee and Director of VNU-HCM.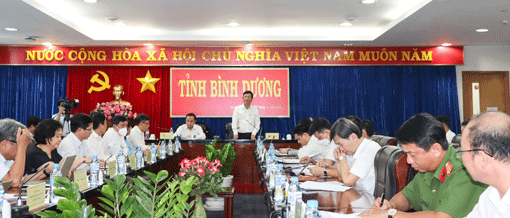 Mr. Vo Van Minh is speaking at the meeting
After 5 years of implementing the cooperation program, the provincial People's Committee and VNU-HCM have effectively implemented 6 important contents of developing high-quality human resources, building and developing gifted high schools, supporting universities to cooperate with businesses, Phu An bamboo ecological museum, and developing facilities and improving the efficiency of scientific research and technology transfer activities to implement the Smart City Project.
At the meeting, the delegates acknowledged that the cooperation program for 2017-2022 is still slow in implementation and its effectiveness is not high enough. The reason is that the ability of the two sides participating in cooperative projects is still limited compared to the set forth requirements. In the coming time, Becamex IDC and members of VNU-HCM will promote human resource development to serve the needs of industrial development and attract high-quality human resources to the province, especially in the fields of logistics, 4.0 technologies, automation, start-ups, innovation, precision mechanical technology etc.
Concluding the conference, Mr. Vo Van Minh, affirmed that Binh Duong always wishes to build and connect many key traffic routes to bring VNU-HCM closer to the province. In the coming time, there should be a cooperation mechanism and linkage model based on the actual needs of the province. The two sides would cooperated in the effective implementation of key scientific research and technological development programs of the province. VNU-HCM supports Binh Duong in implementing projects in order to realize the Smart City Project and the province's development goals such as research on Artificial Intelligence, Agricultural Research Program and high-tech food.
Reported by Kim Ha – Translated by Vi Bao