As a rising star in the global supply chain, Vietnam has the potential to become a new "tiger" in Asia, said economist Brian Lee Shun Rong at Maybank, which is Malaysia's largest financial services group and a leading banking group in Southeast Asia.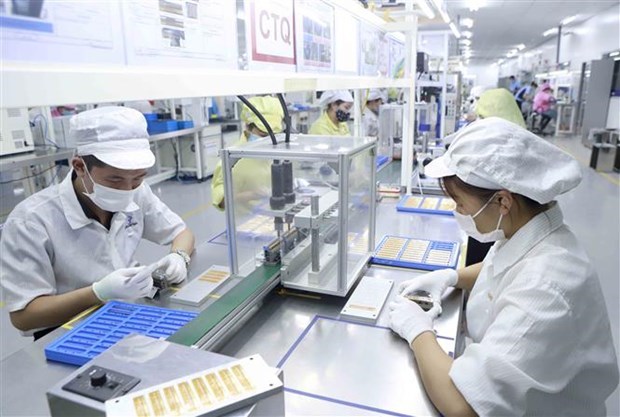 Electronic component production at Youngbag Micromotor Vietnam Co. Ltd. in Binh Xuyen industrial park in Vinh Phuc province
Brian Lee was quoted by Russia's news agency Sputnik as saying at Forbes Vietnam's recent Business Forum that Vietnam will become a new "tiger" of Asia after the Republic of Korea (RoK), Singapore, and China's Taiwan and Hong Kong.
He said the Vietnamese industry is developing strongly, driven by foreign-invested enterprises.
According to data from Maybank, both foreign direct investment (FDI) influx into Vietnam and its export turnover in the past ten years are bigger than those of all other Southeast Asian countries. In particular, the electronics and phone industry has surpassed garment and textiles to become the biggest contributor to the total export value.
This shows that Vietnam has enhanced its position in the global value chain, said Brian Lee, adding that the productivity of its workers also grows faster than in other ASEAN countries.
To become a "tiger" of Asia, the economist noted that Vietnam should have world-standard infrastructure and skilled workforce, support domestic enterprises in improving their foothold in the global supply chain, and step up growth based on digital transformation.
The Russian newspaper also quoted economic expert Nguyen Xuan Thanh, a lecturer at Fulbright School of Public Policy and Management, saying Vietnam is well-controlling inflation and fiscal and monetary policies.
According to the lecturer, even if the world oil price increases again, without exceeding the peak of 120 USD per barrel, Vietnam's economic situation in 2022 will still be positive, with inflation below 4% and GDP growth over 7%.
CEO of PHC Media Dang Cuong held that Vietnam has returned to the orbit of growth like the pre-pandemic period, but the country is still facing a wide range of challenges as geopolitical conflicts in several "hot" areas in the world have affected the goods and input material markets.
Despite these challenges, Vietnam remains an attractive investment destination in the long term thanks to its favourable geographical location, large consumption market, young population and abundant, dynamic workforce, and fast-growing middle class, Cuong added.
Earlier, Singapore's Business Times called Vietnam a "new Asian tiger" in its article, reporting that Vietnam is expected to accelerate its economic recovery from the pandemic this year after having recorded a 2.6% increase in the gross domestic product (GDP) in 2021.
Once among the world's poorest countries, its economy is booming, and the World Bank describes it as one of the most dynamic and emerging countries in the entire East Asia region, the Business Times said in an article published last week.
Singapore's DBS Group Research forecasts Vietnam's GDP growth to reach 8% in 2022, boosted by an accommodative monetary policy. The International Monetary Fund (IMF) has predicted that Vietnam will climb three spots to rank third in GDP among ASEAN member states this year, thanks to the fast-growing middle class and the rise of ultra-rich people.
Knight Frank's latest Wealth Report estimates there were about 19,500 high-net-worth individuals in Vietnam in 2020, defined as those with assets of at least 1 million USD, the article said. By 2025, that number is expected to grow by almost 25% to top 25,000, it added.
The Business Times attributed the economy's robust growth to increasing foreign investment flows into the country. Many Singapore companies, including CapitaLand and Keppel, have invested heavily in the country as they seize the abundant opportunities.
"Vietnam has long been known as Southeast Asia's coding farm, where talent and wages are in a sweet spot for companies to use it as a base for their technical development," it noted.
The article also referred to Vietnam as the largest solar power producer in Southeast Asia today, with 16.6 gigawatts of installed capacity as of 2020. Moreover, Vietnam's construction industry is set to continue its recovery in 2022 as several large-scale infrastructure projects move through different stages of development, it further said./.
VNA