A working delegation led by Vietnamese Ambassador to South Africa Hoang Van Loi paid a working trip to KwaZulu-Natal (KZN) province from March 16 to March 20 as part of the nation's economic diplomacy programme for this year.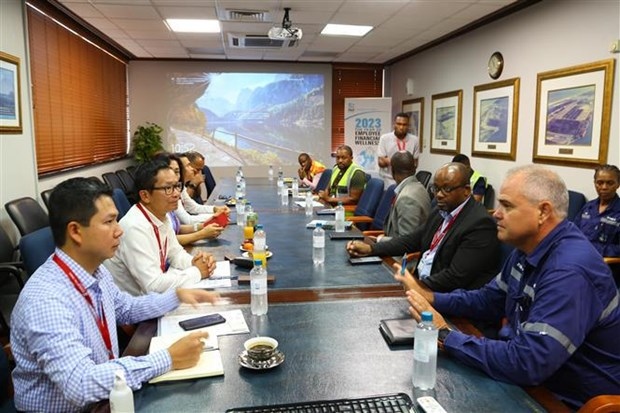 At a working session between the Vietnamese delegation and TIKZN representatives (Photo: VNA)
During the course of the trip the delegation held working sessions alongside the Trade and Investment KwaZulu-Natal (TIKZN), the management board of the Richards Bay Coal Terminal, and the railway transport conglomerate Transnet.
Ambassador Loi informed Neville Matjie, CEO of TIKZN, about plans for the upcoming visit by Vietnamese Minister of Industry and Trade Nguyen Hong Dien, including a B2B matching event which will be held in the province. Both sides consented to successfully hold a broad array of activities during the visit.
The two sides also spent time to exchange information, implementation orientations, and agreed to co-ordinate efforts in preparation to successfully organise the delegation's activities.
Along with supporting the implementation of upcoming Vietnamese events, the representative of KZN province also expressed a keen interest and strong desire to learn from the nation's experience in a number of industries and fields.
Matjie said that in terms of tourism, KZN province advocates promoting the development of the tourism industry, with a strong desire to attract tourists from the Vietnamese market to KZN province and learn how the Vietnamese side developed a tourism model. Indeed, notable characteristics of this type of model include individual business households and small businesses who are currently very successful in many famous tourist destinations such as Hanoi, Hoi An, and Ha Long Bay.
In apparel, he outlined the need to study Vietnamese ways in attracting foreign direct investment and outsourcing contracts with some of the world's largest fashion labels.
The host also sought the country's experience in rapidly increasing the proportion of renewable energy in the national energy structure within a short period of time, as well as methods for attracting investment and managing renewable energy projects. He therefore called on the nation to invest in wind and solar power within the province.
Located in the southeast of South Africa, KwaZulu-Natal province is best known for its array of stunning beaches, safari parks, lush green hills, and vast sugarcane and banana plantations. It also boasts an extensive network of seaports, making it an ideal destination for Vietnamese investors and businesses keen to gain access to the South African market, he said.
Ambassador Loi said in the near future the Vietnamese Embassy will work alongside the Vietnam Trade Office in South Africa as part of efforts to arrange trips for delegations of trade, as well as tourism and investment promotion officials.
Visiting Richards Bay Terminal, the biggest coal export terminal in South Africa, the Vietnamese delegation talked with its management board and representatives of Transnet as a means of learning about logistics infrastructure and supply chain from mines to terminal.
The Vietnamese diplomat said mining will be a co-operation field that the two countries' industry and trade ministries will aim to step up activities in moving forward, including importing coal from South Africa as a way of diversifying material sources for thermal power plants and industrial production in Vietnam.
Talking to the media following the working session, Alan Waller, CEO of the Richards Bay Coal Terminal, described Vietnam as a developing market of South Africa.
Both nations have potential in coal import-export, he said, adding that South Africa's coal quality is good and the terminal could provide effective services that the Vietnamese side needs.
VOV