Vietnam's tourism sector targets to welcome about 8 million foreign tourist arrivals from a total of 110 million next year, according to the General Administration of Vietnam Tourism.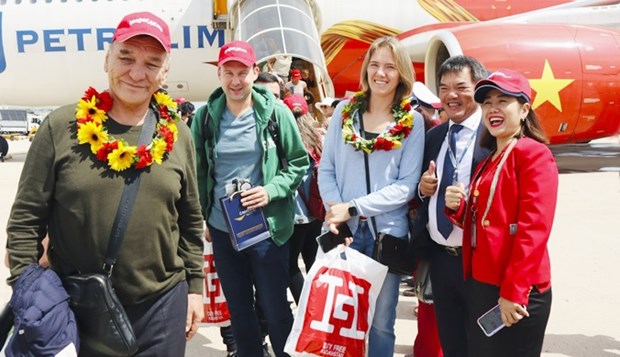 Vietnam's tourism sector targets to welcome about 8 million foreign tourist arrivals next year
The country expects to earn about 650 trillion VND (USD27.5 billion) from tourism.
Minister of Culture, Sports and Tourism Nguyen Van Hung said that last year, Vietnam targeted to welcome 5 million international arrivals., but the country received only 3.6 million due to limitations.
Hung said that to achieve this year's target, the entire industry is determined to implement the Prime Minister's conclusion at the conference to promote attracting international tourists to Vietnam.
Accordingly, the sector will coordinate more closely with relevant ministries, especially the Ministry of Transport, the Ministry of Public Security, the Ministry of Foreign Affairs, and the Ministry of Industry and Trade, to create a favourable mechanism to welcome international tourists.
To attract international visitors, ministries, sectors, and localities must innovate and diversify products, he said, adding that the tourism authorities have just set a target that each locality must have a unique tourism product and pay more attention to regional linkages.
Under Vietnam's tourism development plan for 2023, the industry will implement some projects and strategies, the tourism administration revealed.
They include tourism network planning from 2021 to 2030 with a vision to 2045, the Vietnam Tourism Marketing Strategy to 2030, the project "Application of Industry 4.0 technology to develop smart tourism, turn tourism a spearhead economic sector", and a project on developing Vietnam's community-based tourism, among others.
Communication campaigns will be launched on CNN and some major international media channels, while tourism authorities will actively participate in international events to seek cooperation opportunities, it added.
In 2022, Vietnam's tourism gradually recovered, especially the domestic segment. The number of local tourists reached some 101 million. Total revenue from tourism is estimated at 21 billion USD, 23% higher than planned and 66% higher than that of 2019./.
VNA