In less than 1 week to the Lunar New Year 2023, people enter the shopping rush while supermarkets are offering deep discounts to serve their customers.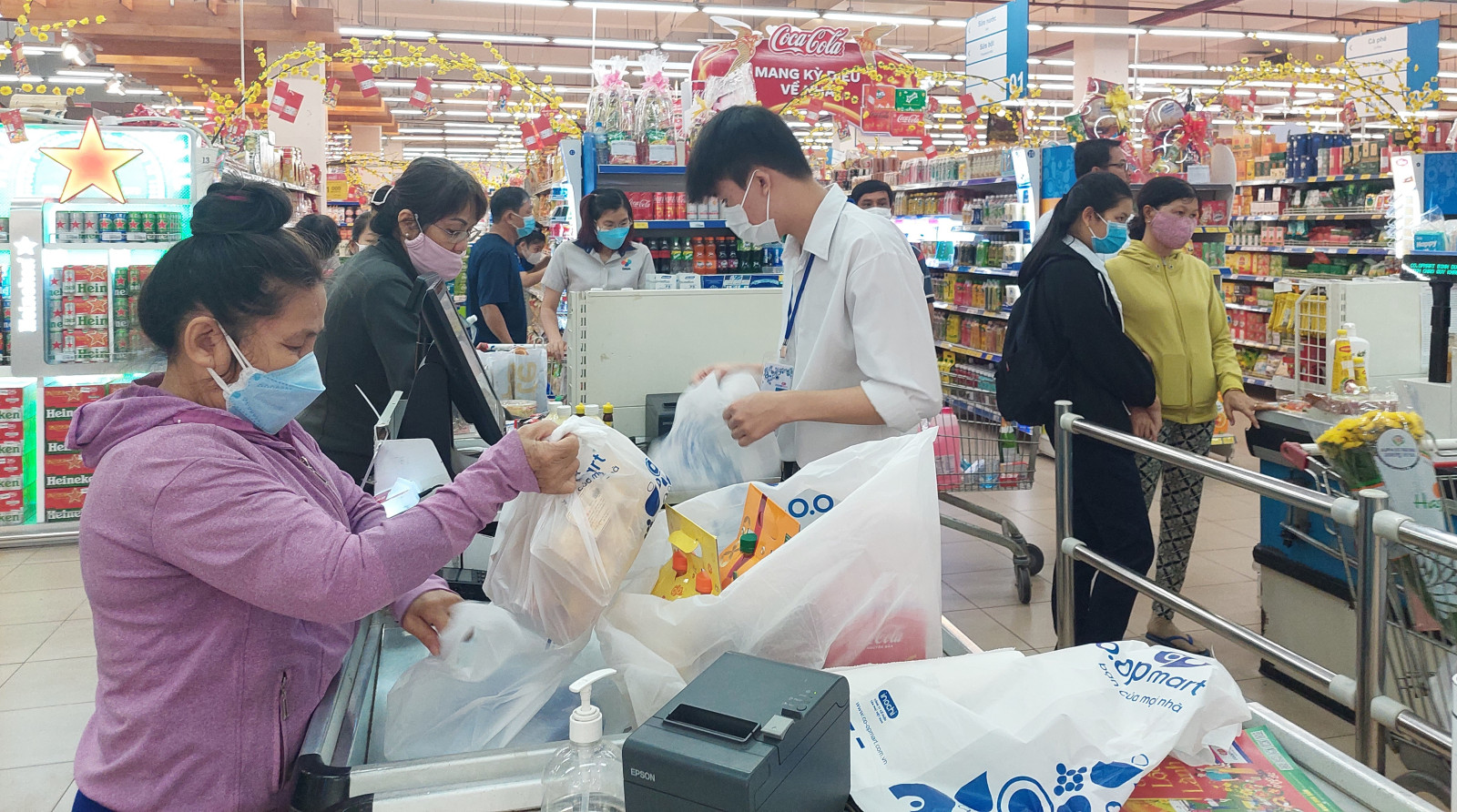 Customers are shopping for Tet commodities at Co.opmart Binh Duong Supermarket
Vietnamese purchasing power increases
Accompanying customers during the peak shopping season to welcome the Lunar New Year 2023, more than 130 Co.opmart and Co.opXtra supermarkets nationwide officially launched a series of attractive promotions and discounts up to 50%. The closer Tet is, the deeper such discounts are. Nguyen Ngoc Thang - Director of Operations Division of Co.opmart, excitedly said that the purchasing power of Vietnamese goods in particular and goods in general throughout the Saigon Co.op retail system including Co.opmart, Co. opXtra, Co.opFood and others has tripled from weekdays.
It is now on the last days of the former lunar year, so purchasing power, in addition to food for daily meals, is concentrating on confectionery, processed and fresh foods, soft drinks and gift baskets. "Employees have been rewarded for Tet, so they are ready to spend much on things for their families. In particular, with the proportion of Vietnamese products at 95% of the product structure, supermarkets recorded that the purchasing power of domestically produced goods is dominant compared to imported goods of the same type," said Nguyen Ngoc Thang.
At Co.opmart Binh Duong on Sunday morning on January 15, the line of people with full carts patiently queuing up, from about 10 am, to pay at the counter was long. Huynh Thi Phuc, who lives in Chanh Nghia ward of Thu Dau Mot city, carefully looks for the least crowded line and then pushed the cart into position. "Last Saturday, I spend more than VND 2 million for goods which were mainly dry goods, spices, delicious rice, and kitchen utensils. Now it is time for cakes, tea, sausages, beef jerky, canned food, beer, soft drinks, some jams and roasted nuts as gifts and to treat guests in 3 days of Tet. When shopping for Tet, I only choose products of Vietnamese brands or on the packaging that read "made in Vietnam" to support domestic businesses," said Phuc.
According to statistics of Saigon Co.op, the consumption of fast-moving food products of Vietnamese enterprises at Co.opmart supermarkets, especially private label products, always has high sales growth. Nguyen Ngoc Thang said: "Saigon Co.op has been a purely Vietnamese retailer for 20 years, and concurrently, is a leading distributor in responding to the campaign Vietnamese people give priority to using Vietnamese goods. We give priority to Vietnamese goods not only because of the national spirit, supporting Vietnamese enterprises to improve their competitiveness, but also very proud of the much improved quality over the years."
Many products on sales
According to Thang, Saigon Co.op always accompanies suppliers to bring consumers quality products at reasonable prices, especially during Tet holiday. Typically from now until the end of the lunar year, Co.opmart, Co.opXtra and others offer discounts up to 50% for thousands of products. Specifically, the promotional program is for personal care products, house cleaning, and laundry detergents. Customers will also receive a very good discounts applied to special products of Saigon Co.op private labels with prices from VND 39,500 to 245,000.
The program offering a discount of 15 - 25% is for fresh food items applied from now until January 21 to include thigh, shoulder, belly, rib, and imported belly pork, snakehead fish fillet, snapper, salmon head, salmon breast, frozen orange fish, large white shrimp, grated fish fillet, whole headless catfish, cleaned red snapper, heart cabbage, Da Lat fat lettuce, kale, reed cabbage, American corn, yams, Korean pears, Thai red plums, Australian oranges among others. In addition, preliminarily processed and cooked products are also available to include preliminarily processed bitter melon with grilled fish, preliminarily processed soy sauce, braised catfish, marinated braised catfish, and braised meat with eggs.
Reported by Thoai Phuong – Translated by Vi Bao