During 22 days of working at the matches of the Vietnamese team in the United Arab Emirates (UAE), I met and interacted with many oversea Vietnamese living and working here. Through the endless stories, each person had the desire to introduce Vietnamese cuisine to international friends. I was really impressed by the way that those oversea Vietnamese have brought Vietnamese cuisine to the land of 'Arabian nights'.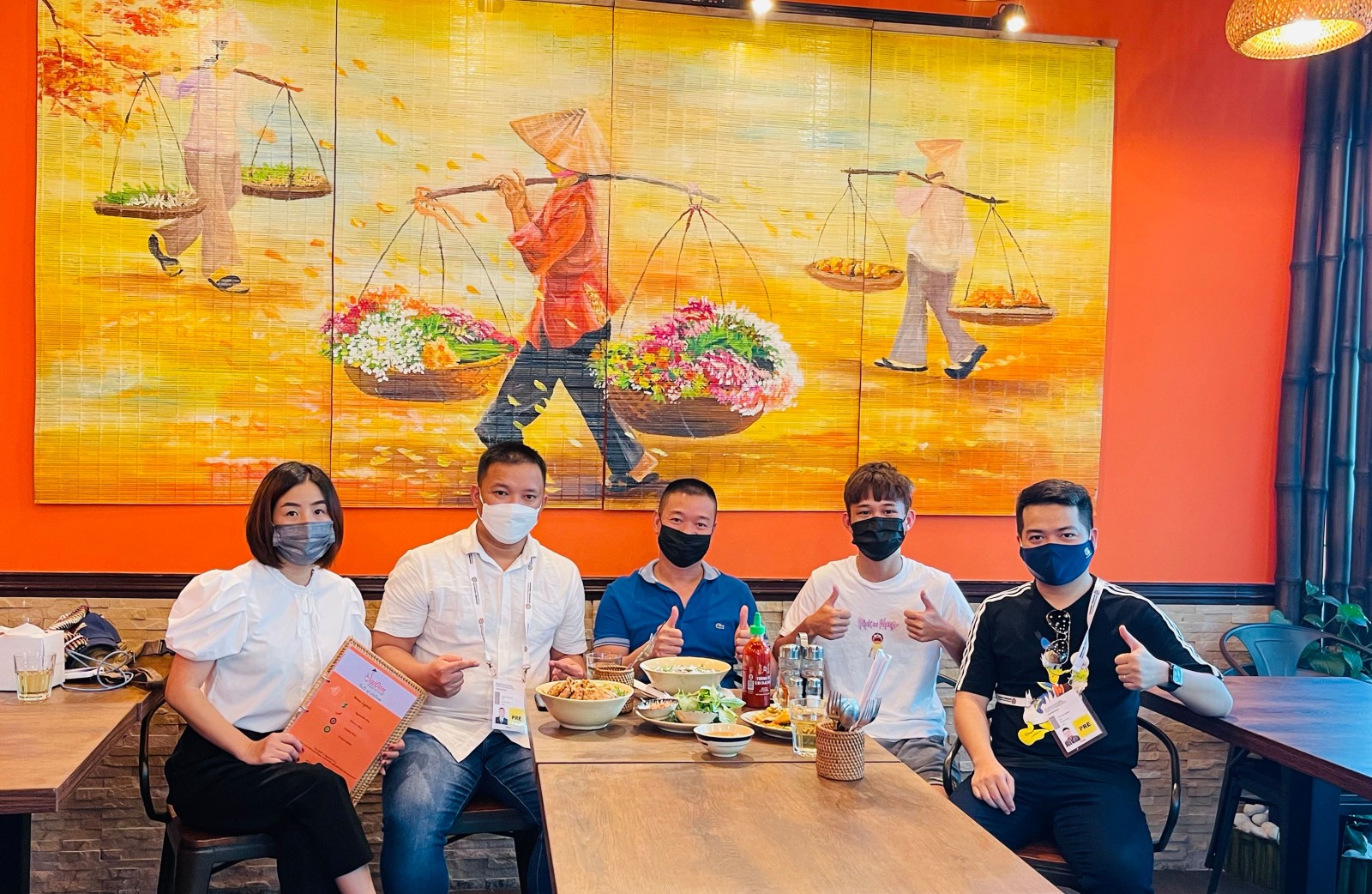 Thai Hai (second from left) is having lunch at a Saigon restaurant with many Vietnamese flavor dishes
Turns made for passion of Vietnamese dishes
As a girl from Hanoi more than 9 years ago, Nguyen Linh Anh decided to challenge herself by going to Dubai to work in the financial sector. On the day of leaving, Linh Anh just thought to herself that the trip was helpful to improve knowledge by challenging oneself before getting home as the 3-year contract expired. However, for unknown reasons, the girl born in 1984 was the kept in the sunny and sandy Dubai land until today.
After nearly 10 years of working and living in the UAE, Linh Anh has partly accumulated a decent amount of money in her hand. Through conversations in dining with friends from all over the world, Linh Anh has always received the message that: "Your Vietnamese food is easy to eat, delicious, sweet, not hot for your body. However, it is difficult for us to find a purely Vietnamese restaurant in Dubai." Those words awakened and aroused a new business idea in the girl's mind. Not thinking too long, Linh Anh decided to start a restaurant called Saigon with a long-time acquaintance located in the Asian Stress. That was chef Trong Phu, a "senior" of 24 years of cooking for a 5-star restaurants in the UAE, including 15 years as a personal chef for a billionaire in Dubai.
As we wished to offer the purely Vietnamese flavor, 100% of the ingredients used to process 40 dishes at Saigon Restaurant are shipped from Vietnam including pepper, fish sauce, bean sprouts, chives, and herbs of 100% "Made in Vietnam" brand. Not only that, so as for customers to see the Vietnamese identity on entering the restaurant, all designs and decorations in the restaurant are also arranged by Linh Anh in Vietnamese styles. The walls are painted and drawn with many images of young women wearing ao dai. The stylized hats used to attach to lights, chopsticks or bowls. All were shipped from Vietnam.
Preliminary calculation showed that to form the "Saigon space" in the heart of Dubai, Linh Anh and Mr. Trong Phu invested nearly VND 9 billion in the works. To focus on the new turn, Linh Anh also quit her job in finance to take care of her restaurant. Saigon restaurant was established when the Covid-19 epidemic began to spread in Dubai. Therefore, up to now, Linh Anh has not been able to officially open the restaurant. However, the food here is true to Vietnamese flavor. Traditional dishes such as Hanoi noodle soup, bun cha, Vietnamese rice etc. help expatriate Vietnamese to somewhat relieve their homesickness on often visit to the restaurant.
"We have been on a business trip for a long time, so we reporters miss, if not crave for Vietnamese food. I didn't think I would be able to enjoy a bowl of Hanoi pho in the heart of Dubai like this. The price of VND 240,000 VND for a bowl of Hanoi pho like this in Dubai is not expensive compared to the effort and meticulousness of the restaurant for diners. I really have to admire what Linh Anh and Mr. Trong Phu have tried so persistently to help promote Vietnamese cuisine to international friends," reporter Ted Tran of Dan Viet newspaper said after having lunch at Saigon restaurant.
The only Vietnamese cafe in Dubai
Saying goodbye to Saigon restaurant with the funny and cute owner Linh Anh, I continued to find Gio Coffee & Milk Tea - the only Vietnamese coffee shop in Dubai opened by young owner Ta Ngoc Hoang 2 years ago. Similar to Saigon restaurant, Hoang's Gio Coffee & Milk Tea was also opened at the time of the Covid-19 epidemic outbreak, so the number of customers was not as many as initially expected. However, Vietnamese people always have the spirit of mutual affection and love, so the shop is the place for Vietnamese expatriates in Dubai to choose as a place to stay and watch football every time Coach Park Hang Seo's squad play.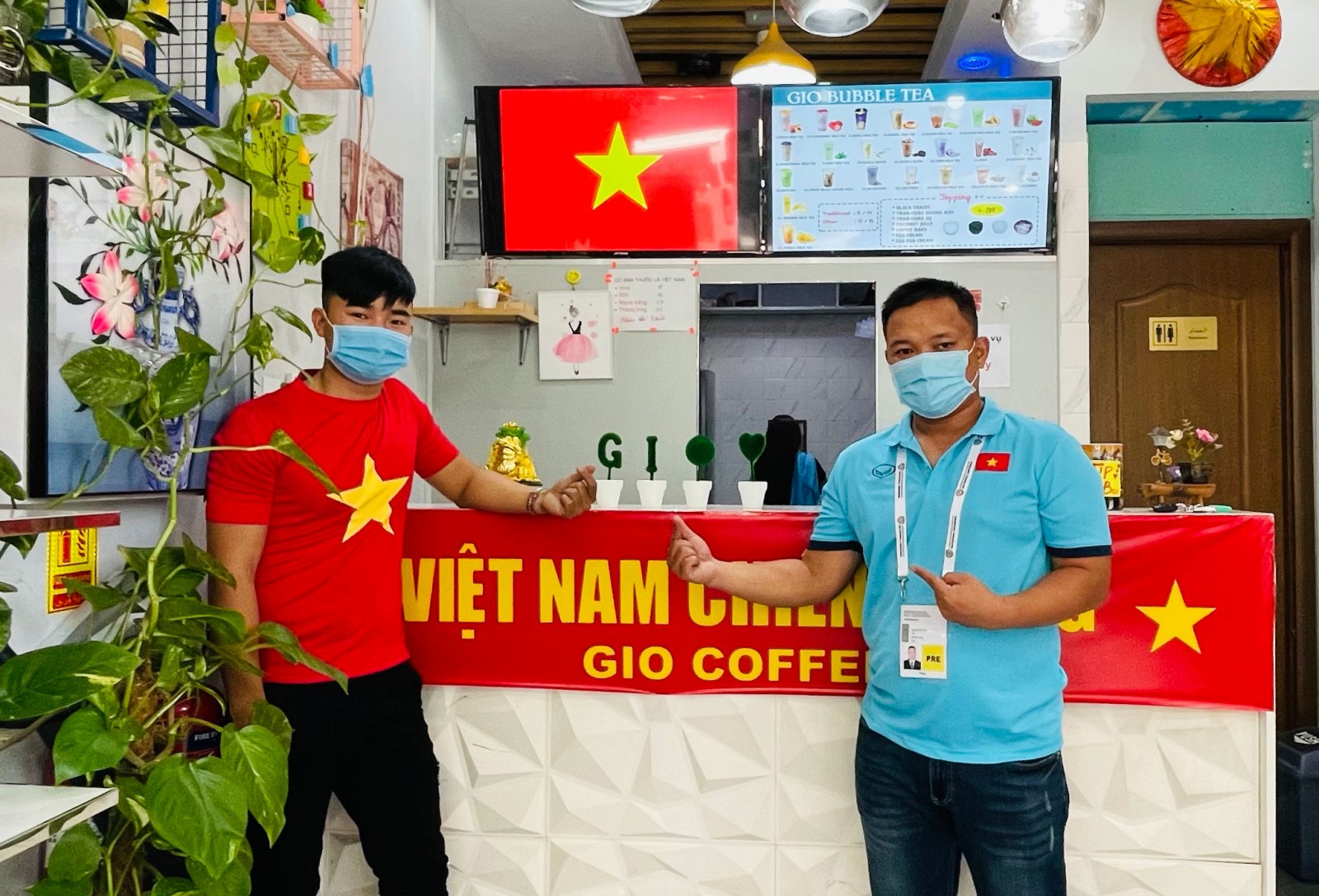 Thai Hai (right) stands for a photo with Ta Ngoc Hoang, owner of Gio Coffee & Milk Tea
Wishing to promote the taste of Vietnamese coffee to international friends, Ngoc Hoang transported all the ingredients used to make this popular beverage from Vietnam. The cost of transporting goods from Vietnam to Dubai is quite expensive at about VND 240,000 for a kilogram. Along with that, the cost of renting space for an area of ​​​​nearly 30 square meters is nearly VND 50 million a month. However, being always aspired to keep the right taste of Vietnamese coffee, no matter what difficulties and however high the cost, Hoang always accepts to bring customers the right cup of Vietnamese coffee.
"In Dubai, if you go to drink coffee at other shops, the cost will be very expensive, there is no space and you can't sit for a long time. At Gio Coffee & Milk Tea, we feel the sense of home belonging as when we enter, we will immediately see red flags with yellow stars, conical hats and purely Vietnamese paintings. It is very difficult to open and maintain a restaurant like this in the heart of expensive Dubai. However, Hoang overcame everything to keep the shop operating. Hopefully Hoang will be more successful and Vietnamese people will be successful when bringing Vietnamese cuisine everywhere," said Mr. Bui Duc Hai, a Vietnamese who has worked in Dubai for 20 years as a boat repairman.
Difficulties may arise as the cost of renting space in a foreign country is not cheap. However, with pride in their homeland's cuisine and determination to realize such pride, Vietnamese expatriates always want to spread the quintessential values ​​of Vietnamese culture to their friends worldwide. In particular, the business and promotion of Vietnamese cuisine is also a direction worthy of respect. Hopefully, the initiators and pioneers in the Vietnamese culinary business in the land of "Arabian nights" with aspirations, national pride and the will to rise up will succeed by their choices.
Reported by Thai Hai - Translated by Vi Bao