Vietnamese fighter Truong Thi Kim Tuyen made a splash at the 2023 World Taekwondo Championships in Azerbaijan after defeating the defending champion - Daniela Paola Souza of Mexico 2-0 in the women's 49kg event during the 1/8 finals on May 31.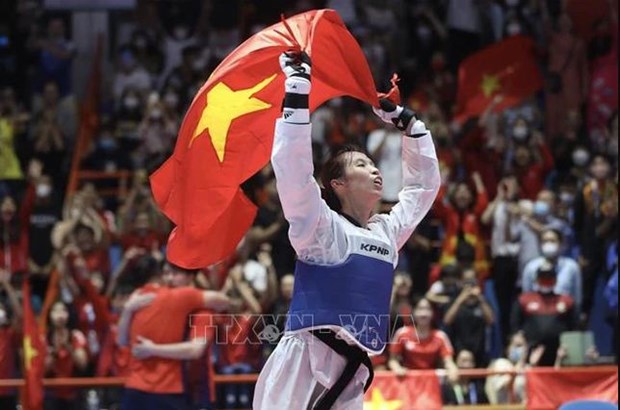 Vietnamese fighter Truong Thi Kim Tuyen
Tuyen, the hope of Vietnamese Taekwondo, had a successful competition day by defeating two other rivals - Nadia Omar of Somali và Tien Yu Jhuan of Chinese Taipei.
The 26-year-old fighter is the silver medalist at the 32nd Southeast Asian Games. She once bagged the gold medal at the Asian Taekwondo Championships 2021 and won a ticket to Olympic Tokyo 2020.
Along with Tuyen, Vietnam also sends Bac Thi Thiem, Nguyen Anh Ngan, Pham Minh Bao Kha and Tran Thi Anh Tuyet to the event. However, Tuyet failed to go through the 1/16 round. The tournament is a great chance for Vietnamese fighters to score more points and earn a berth at the Olympic 2024.
The 2023 World Taekwondo Championships is taking place in Baku of Azerbaijan from May 29 to June 4 with 14 sets of medals for 14 weight categories./.
VNA