Vietnamese Ambassador to Thailand Phan Chi Thanh held a working session with Governor of Thailand's Nakhon Phanom province Wanchai Janporn on May 19 to discuss measures to promote cooperation between their localities in the fields of investment, trade, economy, tourism, culture, and people-to-people exchange.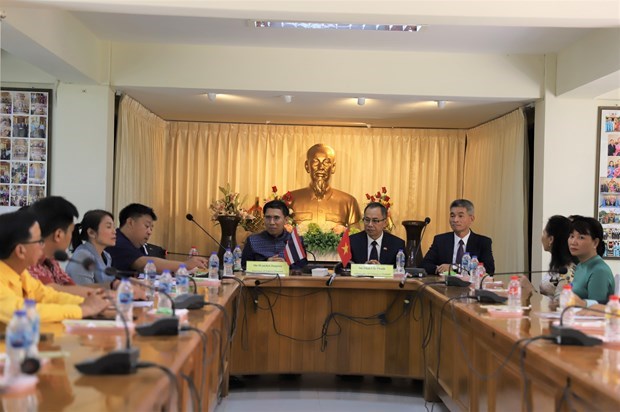 An overview of the working session
The governor welcomed the visit of the Vietnamese delegation on the occasion of President Ho Chi Minh's 133rd birthday, adding that the memorial site dedicated to the late leader of Vietnam and the Thailand-Vietnam Friendship Village in Nakhon Phanom, where the late President lived and worked in 1928 and 1929, is a historic and cultural relic with important significance for their bilateral relations.
He expressed his desire to promote multifaceted cooperation with Vietnamese localities, through road and rail transportation connectivity between Vietnam, Thailand, and Laos.
Acknowledging the contributions of the Vietnamese community to the local socio-economic development, Wanchai affirmed his support for the community in the province, and for the maintenance of the memorial site of President Ho Chi Minh.
For his part, the Vietnamese Ambassador highlighted the fruitful results of the ties between the two nations in various sectors and indicated that Nakhong Phanom has great advantages in strengthening cooperation with Vietnamese localities.
The same day, the Vietnamese diplomat visited the International Aviation College - Nakhon Phanom University, the only facility that offers pilot and flight attendant training in the northeast region of Thailand.
Nakhom Phanom University has cooperated with many higher education establishments in central Vietnam for more than 20 years. More than 500 Vietnamese students have studied at this institution. Every year, about 300 Thai students at the university choose Vietnamese as their foreign language subject.
To further promote collaboration between the two countries in the field of education, the ambassador suggested that the university continue to promote the teaching and learning of the Thai and Vietnamese languages for students from the two countries, and form sisterly relations with Vietnamese institutions./.
VNA