Vietnam's No. 1 chess player Le Quang Liem is due to play Dutch GM Benjamin Bok in the quarterfinals of the Banter Blitz Cup online chess tournament on July 5.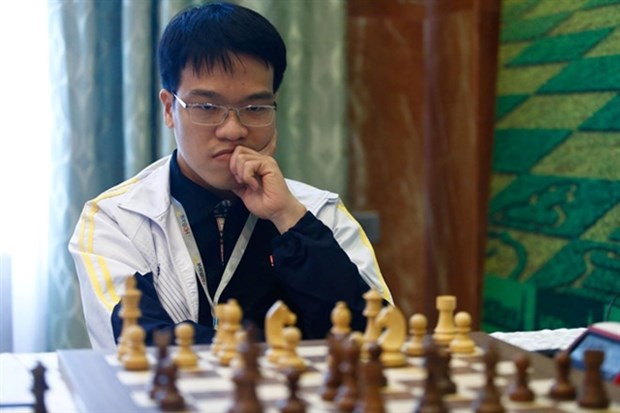 Vietnamese Grandmaster Lê Quang Liêm
Liem booked his place in the last eight following consecutive wins against Kamil Plichta (Poland), Jaime Santos Latasa (Spain) and Ray Robson (the US) in the Group B qualifying campaign.
Alongside Benjamin Bok, the Vietnamese player is joined by seven other group winners, including Jan-Krzysztof Duda (Poland), Vidit Santosh Gujrathi (India), Ivan Cheparinov (Bulgaria), Adhiban Baskaran (India), Kirill Shevchenko (Ukraine), and Egvenij Miroshnichenko (Ukraine), in the quarterfinals, according to the Nhan dan newspaper.
The quarterfinal pairing is decided by the eight players' standard Elo rating, with third-ranked Le Quang Liem (Elo 2,709) meeting sixth-ranked Benjamin Bok (Elo 2,624).
A victory will see the Vietnamese star through to the semifinals where he will play either Vidit Santosh Gujrathi (Elo 2,726) or Kirill Shevchenko (Elo 2,605).
The winner of the Banter Blitz Cup will get to choose to compete in the next stage of the Champions Chess Tour 2021 (July 31-August 8) or the San Fermin Mundial knockout tournament (July 13-14). Meanwhile, the runner-up is eligible for the remaining event.
The Banter Blitz Cup 2021 is being held online by Chess24.com. In its first version last year (Banter Series 2020), Le Quang Liem advanced to the semifinals but then lost to Wesley So (the US). However, he still clinched a place in the Skilling Open rapid chess tournament – the first stop of the 2021 Champions Chess Tour.
Liem has played in two stages of the 1.5 million USD 2021 Champions Chess Tour thus far, with his best performance a quarterfinal berth at the Chess Classic, in late April, where he was ousted by Hikaru Nakamura (the US)./.
VNA