Spring has come everyone's door. In order for children to have happy Tet, schools and units have been organized many activities to give Tet gifts to students having difficult circumstances, especially those who are affected by Covid-19.
Schools take care of children
Recently, Phuoc Vinh A Primary School (Phu Giao District) held a spring festival for children. In this program, the school gave 21 Tet gifts to poor students. The above gifts are contributed by teachers, parents, and some students who joined hands to take care of disadvantaged students. The school's Directors Board said that although the spring gifts were not big ones, these were from the hearts of teachers, friends and society to the children with a hope that they would welcome a joyful spring and confidently continue their schooling.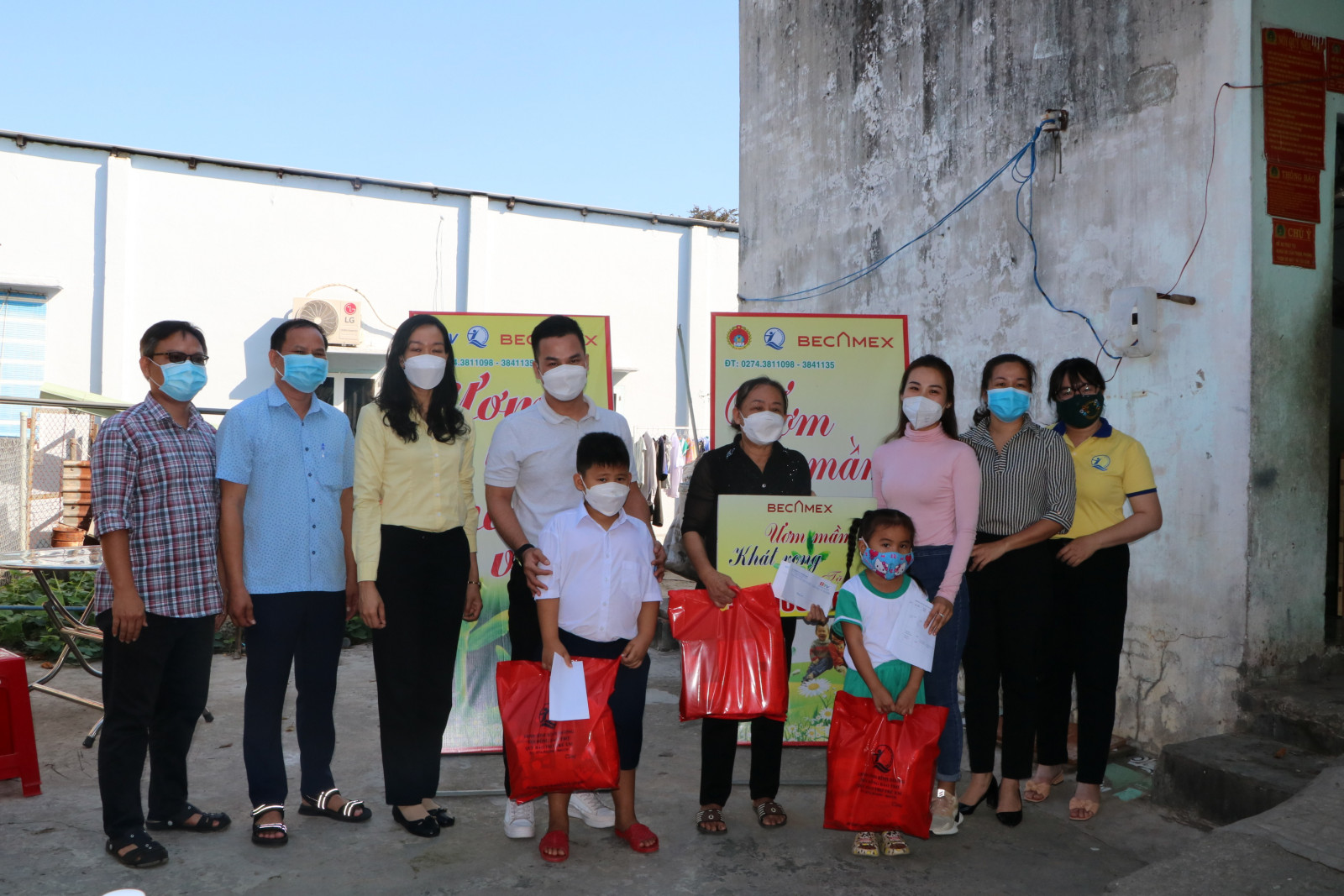 The Provincial Children's Protection Fund gave Tet gifts and support to Trieu Anh Duy.
For students of Lai Hung A Primary School (Bau Bang District), although they have not learning directly at school, this Tet, children having difficult circumstances also received Tet gifts. Accordingly, the school cooperated with Red Cross of Lai Hung commune to give gifts to 20 children, including: sweets, milk, necessities. Nguyen Thi Thuy Phuong, Principal of Lai Hung A Primary School, said that a part of the school's students are children of workers. At the beginning of this school year, the school checked and promptly grasped difficult circumstances of students to support them in the online learning process. Taking care of children is also an activity that the school carries out every year when spring comes.
Every year, poor students of Dong Hoa B Primary School (Di An City) also receive love and support from teachers, friends, and benefactors. Recently, the school has given 102 gifts including money, sweets, rice to disadvantaged students and orphaned students due to Covid-19. This was an activity in the program "Giving love on Tet 2022". Pham Thi Chinh, Principal of Dong Hoa B Primary School, said that the school had received 90 million VND, 20 bags of rice supported by students, parents and benefactors. "The school would like to thank the heart of the whole society for join hands with us helping students overcome the difficult period, bring a warm New Year to all students", Chinh said.
The whole society work together
To encourage and comfort disadvantaged children on Tet festival, in recent days, the Provincial Children's Fund has visited and given Tet gifts to many students who lost their parents due to Covid-19. Nguyen Thanh Tung, a fourth grader of Hoa Loc Primary School in Dau Tieng district, and his grandmother were very happy and surprised as receiving visits and Tet gifts from Provincial Children's Fund. In addition to the gift, Tung also received lucky money from the district and commune's administration, especially 20 million VND from the Provincial Children's Fund to support his schooling expenses. Tung's mother left when he was a baby. He live with his father and grandparents. In December 2021, his father passed away due to cancer. Then grandfather died of Covid-19 earlier this year. The sadness kept coming, they thought this year the family would not have a warm Tet. But now his grandmother has a little money to buy new clothes for Tung and Tet goods for the whole family thanks to the care of local administration and Children's Protection Fund.
Due to Covid-19, in some localities, many children suddenly lost their family, affecting their lives and schooling. Recently, Trieu Anh Duy, a second grader at Tran Quoc Tuan Primary School (Ben Cat Town), also received a Tet gift and a support of 20 million VND from the Provincial Children's Fund. Duy and his brother have lived with their grandparents since childhood, in which the grandfather is the breadwinner of the family. During the recent Covid-19 wave, his grandfather unfortunately got sick and did not survive. Currently, the grandmother and two children are in a very difficult situation when they have just lost the breadwinner, the grandmother is old, has diabetes, and is often ill. The Tet gift has helped this family have a warmer spring, and the children have some money to continue schooling.
Tet has come to every home. With the contribution of the whole society, surely poor and disadvantaged students in the province will have a warm and happy spring, helping them have more faith in the future and continue their efforts on learning and training…
Reported by Hong Thai - Translated by Ngoc Huynh