The comprehensive development results of Binh Duong were greatly contributed by the labor force. To honor workers in the provincial process of construction and development, many artists have shown their affection in their artworks.
Endless creative inspiration
About the award-winning art works in competitions in and outside the province, Ngo Phuoc Chanh, Vice Chairman of the Provincial Literary and Arts Association, said that the image of workers is very vividly portrayed by painters and artisans through sculptures, oil paintings, silk paintings, lacquer paintings, such as silk painting "Nghề truyền thống" (Traditional craft), oil painting "Đường lô sương sớm" (Early morning street) by Pham Thi Hong Xuyen, oil painting "Công nhân đóng thuyền" (Boat builder) by Nguyen Dinh Tri, "Thành phố mới nghỉ trưa" (New city at lunch break) by Nguyen Van Dao, composite statue "Công nhân gốm" (Pottery Workers), "Thông đường" (To clear streets) by Nguyen Hong Khoi, composite statue "Công nhân vận tải" (Transport Workers) by Ngo Phuoc Chanh...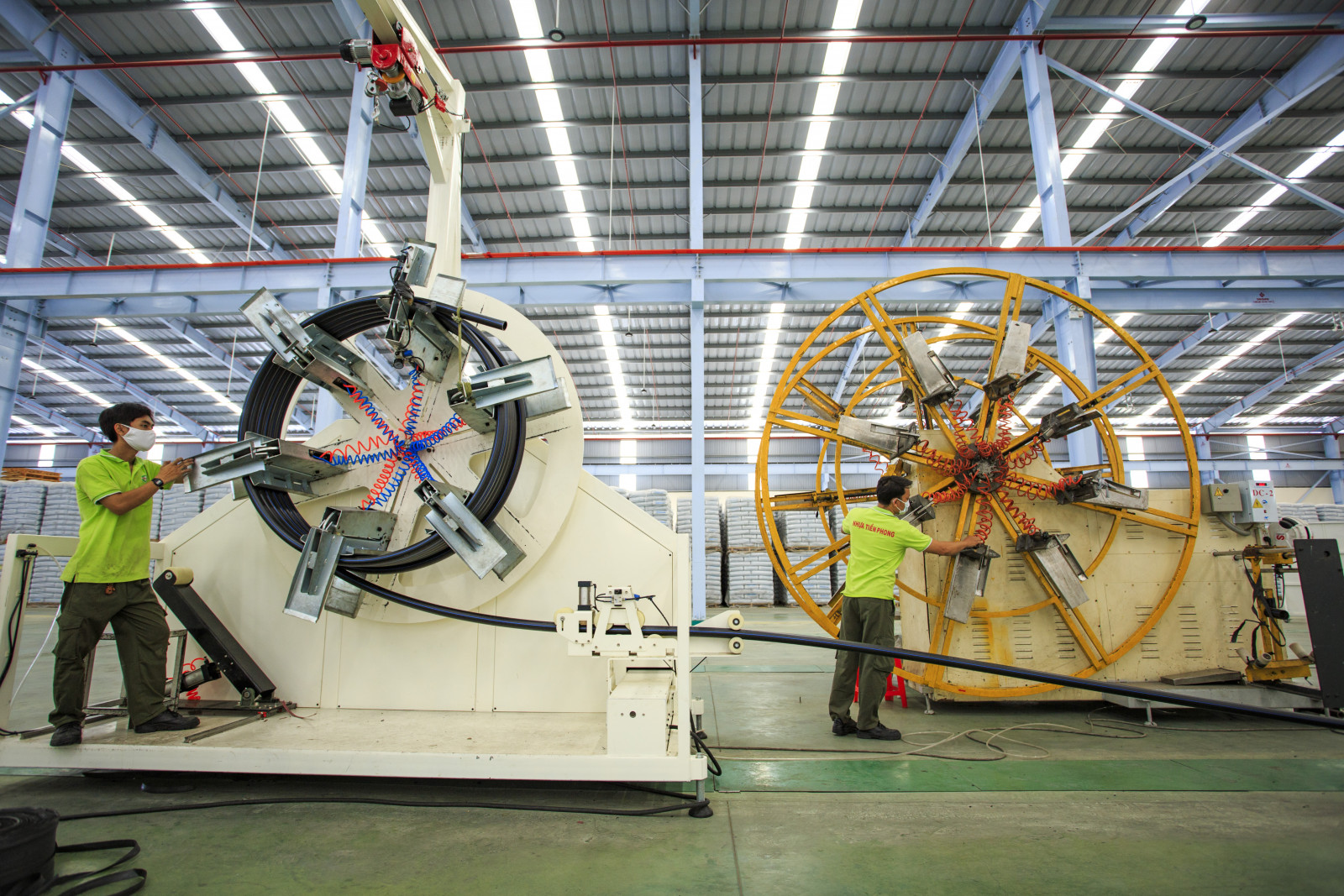 The image of workers shines through a photographic work.
As photographer Vu Ngoc Thuan captured beautiful moments of workers at working place, he better understood their fatigue and stress. With their labor and creativity, workers have contributed essential products, helping many businesses reach out to the world, contributing to the embellishment of the local urban picture.
Workers are depicted in music and dance works with a vibrant energy. Musician Nguyen Long said that he has many compositions about workers that won many awards in Binh Duong. These are songs: "Bình Dương khúc hát mùa xuân" (Binh Duong spring song), "Bình Dương hồn nghề xưa" (Binh Duong old craft soul), "Bến Cát khúc tình ca màu xanh" (Ben Cat love song), "Bình Dương rạng ngời sức sống" (Binh Duong radiant vitality), "Ban mai" (Early morning), "Thương lắm Bắc Tân Uyên" (Dear North Tan Uyen), "Ban mai xanh Bàu Bàng" (Bau Bang Morning) ... For musicians, the image of a Binh Duong's new day is dynamic and full of vitality, in which workers is the blue color for the new day picture.
In the dance performance "Thấu đất" by Xuan Thanh, audiences easily felt the diligence of craftsman who has turned clay into known ceramic masterpieces. The dynamic vitality of workers is also expressed in a dance performance "Bình Dương điểm đến cho tất cả" (Binh Duong destination for all) by Meritorious Artist Thuy Chi. Despite difficulties and challenges, but workers tried to overcome and move towards a bright future on the worth-living land, the city of dreams.
Gratitude with art
The working class in the past worked, produced, and struggled to regain peace and independence for the nation. Today's workers know how to apply information technology in many fields to build the homeland, bring the quintessence of the nation to introduce to international friends. Therefore, workers are not only an endless source of creative inspiration but also helps artists to show gratitude through works of art.
Binh Duong is an industrial province that attracts many talents from different places. Over the years, artists have created art as a tribute to workers that are like hardworking bees always bringing good honey to life. Showing gratitude is for everyone is able to clearly feel the values that workers are contributing to life every day, in order to arouse the sense of self-training and striving in learning and labor, join hands to build the homeland, so that the country is more and more glorious, are able to walk abreast with other great countries all over the world, as Uncle Ho's desire.
The deep impressions of workers were also expressed in performances of art, contest entries of many units at programs and contests and festivals in the province. Songs, elaborately staged dances and colorful costumes of workers from different industries and professions showed the love and gratitude to the working class, who have diligently produced and devoted their creative labor to Binh Duong to have beautiful and breakthrough achievements in the eyes of friends everywhere - Becoming a worth-living city.
Reported by Minh Hieu – Translated by Ngoc Huynh