The contest of young talented and friendly officials, civil servants and public employees in 2021, jointly organized by the Youth's League, Office of Home Affairs under Office of People's Council and People's Committee of Thuan An city, is receiving the attention of many people. The contest aims to contribute to the constitutional reforms of administrative procedures that contribute to construction of a civilized and modern administration to best serve the people.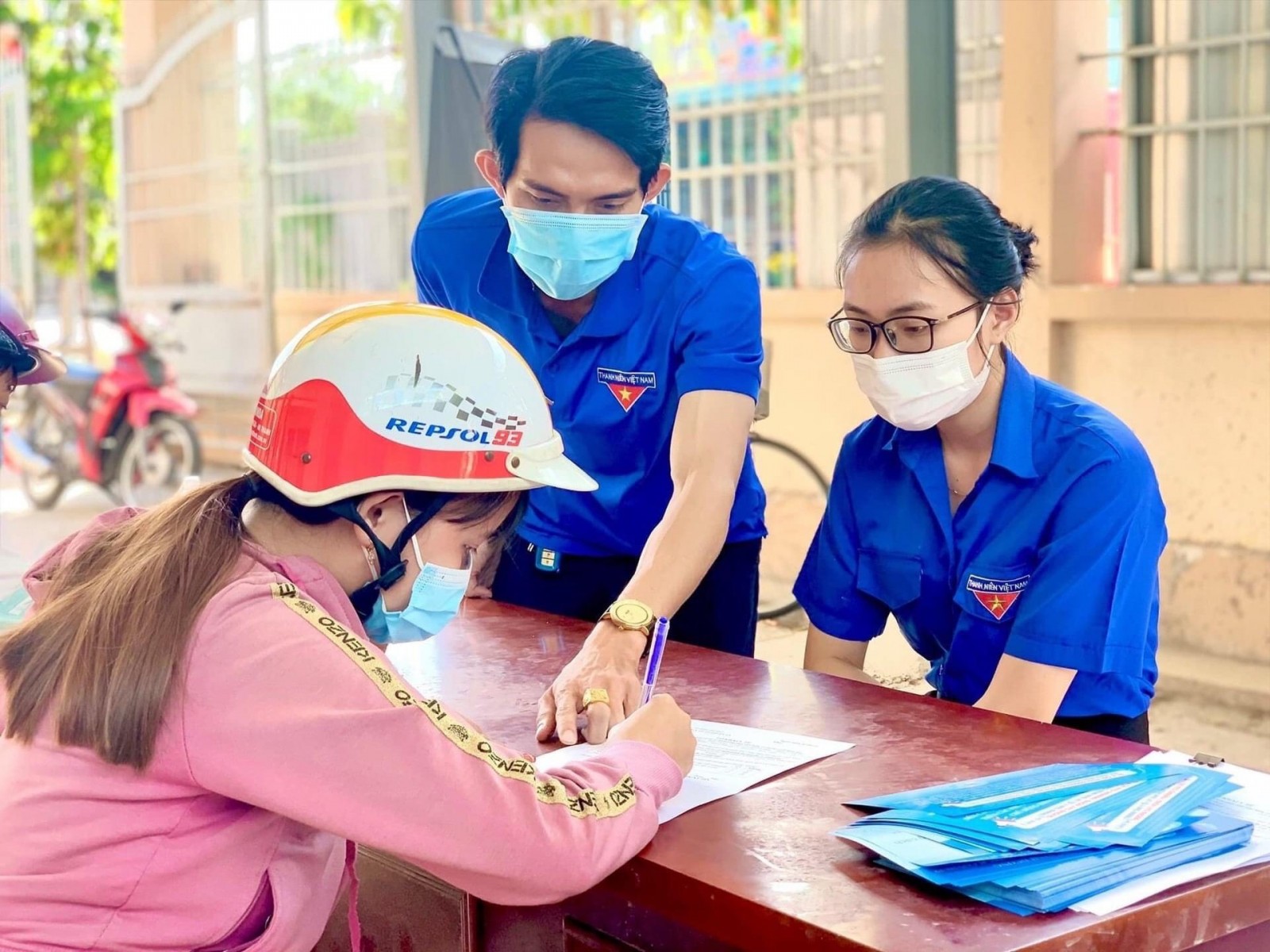 Contestant Bui Hoang Trong from Binh Nham ward proposes the application of service opinion and feedback collection from Zalo
To improve online procedures
The contest consists of 2 rounds of preliminary and final exams. The preliminary round of "Online registration - Constitutional administration reform of administrative procedures" is taking place actively on the social network of Facebook. Accordingly, candidates send 1-3 pictures of individuals or groups of units where they work in association with the model of "3 friendly smiles" and the constitutional reforms of administrative procedures. Especially, in this contest, young cadres, civil servants and public employees have shown their enthusiasm, dynamism and creativity through the "contributions" in their work.
Typically, candidate Nguyen Thi Uyen Thai from An Phu ward had the contesting article of "Incentive to reform administrative procedures and improve the implementation of online public services." She has proposed many ideas to improve the implementation of online public services such as well propaganda to guide people to implement online services fairly in a visual and vivid form, increasing the posting of news, articles, and reports on public online services on the mass media, building content propaganda slogans, distributing propaganda leaflets, printing the signboard introducing the public service at the one-stop-shop section of agencies and units etc.
Currently, communes and wards are equipped with televisions in the one-stop shop unit, so it is necessary to design in the form of illustrations and video instructions on how to perform public services and run them regularly on such media so that people can access and know how to do the procedures correctly. Thai said that in order to improve the implementation of online public services, it is also necessary to have links in the implementation process such as training support and improving skills, computer use skills, and internet for people; public internet access point is also supported; free wifi network in densely populated areas is offered; post offices and banks should cooperate to support the deployment of online public services such as result delivery by post and online payment of all fees and charges.
Information technology application to be boosted
Coming to the contest, young cadres, civil servants and public employees have made initiatives and proposals to serve the reform of administrative procedures in the locality. Some initiatives can be mentioned as those of candidate Nguyen Tu Minh Toan from People's Court of Thuan An city namely the "Application of information technology in data storage"; candidate Vu Lan Ngoc from Urban Management Office of Thuan An city namely "Constitutional structure of reforming administrative procedures in the certification of house number"; candidate Bui Hoang Trong from Binh Nham ward for the application deployed to get service opinions and feedbacks from the Zalo; candidate Nghiem Xuan Quynh from An Phu ward with the software of "Mobilization and recruiting troops." Especially, contestant Nguyen Ngoc An from An Phu ward has proposed the "Using of information technology software in the updating and managing the contingent of party members from ward to neighborhoods."
According to contestant Nguyen Ngoc An, the purpose of her initiative was to help the Party Committee easily grasp information in updating and managing party members from wards to neighborhoods in the most accurate, fast and effective manner. Describing this initiative, An said: "SPSS (Statistical Package for Social Sciences) is a computer software for statistical analysis. SPSS together with AMOS also allows researchers to use highly ordered quantitative analysis techniques such as structural equation analysis (SEM) to measure and test many theoretical models. Currently, SPSS software is widely used in statistical data analysis. In particular, in universities, the use of SPSS as a research tool is very popular. Personally, I think that we should rely on these two software packages to create a software fully integrated with necessary functions of the local Office of the Party Committee. In which, required functions, such as full names of the party members, party member card numbers, the total number of party members, dates of arrival, dates of departure, new members admission, disciplinary entries, bonus entries, family history among others."
According to An, if the software is put into use, it will bring many practical and effective benefits. It is possible to regularly monitor the cadres of Party members quickly and accurately. Accordingly, just find any person's name, the software will show all the information you need to find. In particular, this software will help save a lot of time and offer high accuracy and information in clearly and logical manner. In addition, An also proposed to create a form to congratulate the Party's years for each party member.
It can be said that the contest of "young, good and friendly cadres, civil servants and public employees" has contributed to promote the Youth's League activities and the youth movements among cadres, civil servants and employees; it also creates an environment and favorable conditions to exchange and share good solutions, models, and effective methods in implementing tasks in units and localities.
Reported by Ngoc Nhu – Translated by Vi Bao