During two days, July 30 and 31, Ben Cat Town Youth Union solemnly held the 13th Congress of the Ho Chi Minh Communist Youth Union in Ben Cat Town, tenure 2022-2027. This is an important political event for Ben Cat youth to look back on five implementation years of the Resolution of the 12th Youth Union Congress, continue developing the achieved results, overcoming difficulties, and carrying out important tasks in the next tenure, that is to unite and creatively build the beautiful, civilized and modern Ben Cat hometown.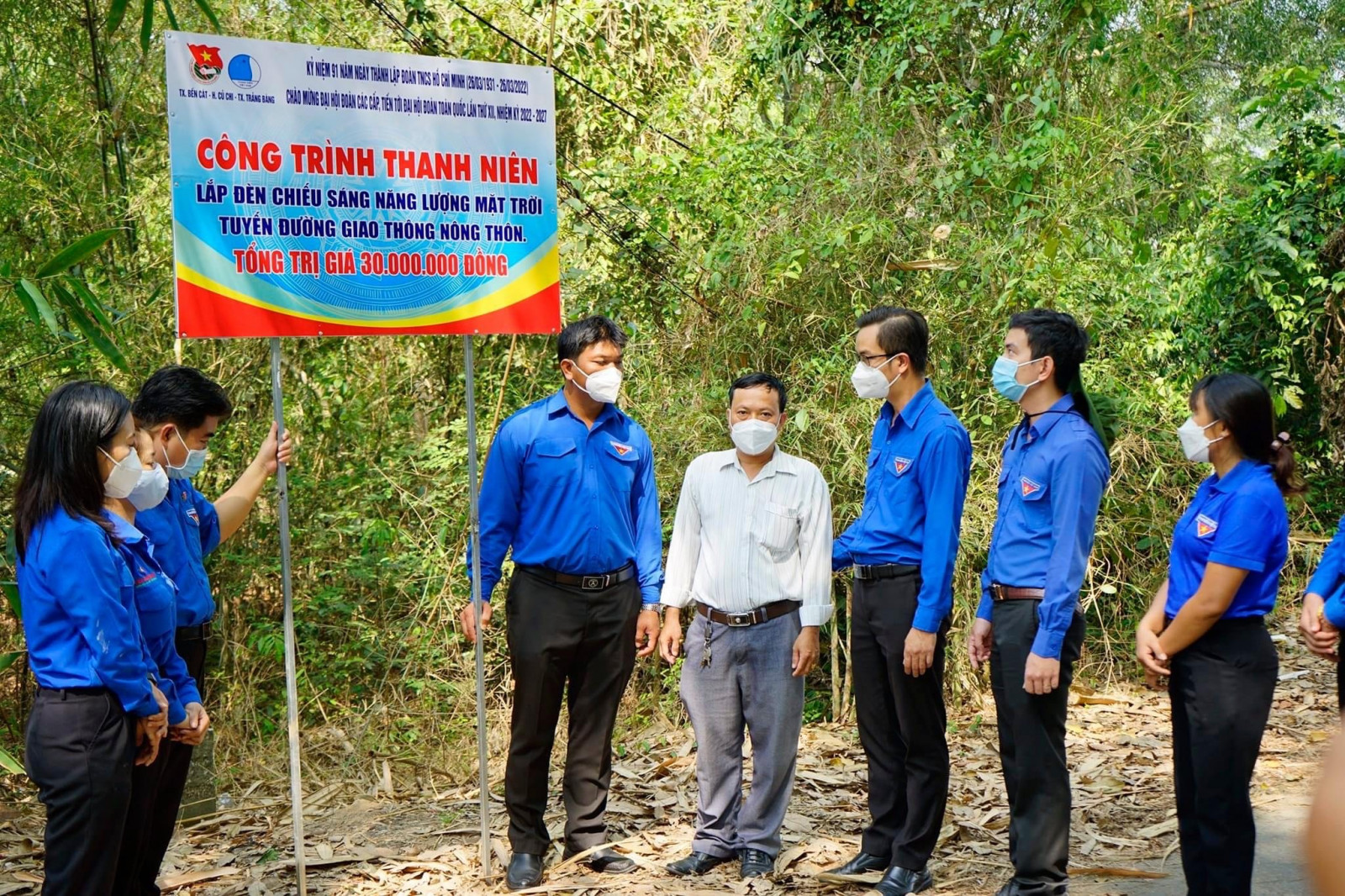 During the last tenure, Ben Cat youth carried out 20 projects "Lighting up the countryside" with a total expenditure of over 400 million VND.
Good impressions from works and projects
During the last tenure, the Ho Chi Minh Communist Youth Union of Ben Cat Town joined hands to carry out many projects and works of new rural construction and urban civilization. Prominent among them are youth projects, such as "Lighting up the countryside", "Youth flower roads", "Building entertainment spots for children"...
Accordingly, Ben Cat Town Youth Union executed 20 projects "Lighting up the countryside" with a length of 4km of rural roads in communes performing new rural construction program, with a total expenditure of 400 million VND. The town Youth Union also provided support for young people to develop startups by assisiting the youth in taking out loans, organized training courses, transfers of scientific and technical advances in agricultural production to youth cooperative groups in the area. Along with farming and animal husbandry, Youth Unions of communes and wards also encouraged young people to take part in environmental protection activities; to be exemplary in performing cultural life of new rural construction, especially in the practice of thrift and civility in marriage, mourning events.
In recent years, Ben Cat Town is changing strongly in the process of industrialization, modernization and urbanization. In order to contribute to the construction of a civilized and modern Ben Cat urban area, in the past tenure, Ben Cat Town effectively implemented the movement "Youth Union participates in urban civilization" and the campaign "Youth join hands to build civilized urban areas". Namely, to equip students with knowledge and skills to form cultural lifestyle and urban civilization through propagation and education sessions in residential areas and lodging houses. Meanwhile, the Town Youth Union implemented other practices of "Residential areas without young ones committing social evils", "Bright - green - clean - beautiful - civilized - safe" roads, "Beautiful Electricity poles"…
To gather and unite young workers
As an area with a large number of young workers, taking care of this group is one of the key tasks in Youth Union's work of Ben Cat Town. To promote results achieved in the previous tenure, the whole town has established and maintained 283 lodging house young workers' associations, 11 youth union and branches in non-state-owned enterprises with more than 200 members.
During the last tenure, the town Organizing Committee of the Gathering and uniting young workers' project maintained and developed many good and creative ways in taking care of young workers, such as: "Young workers's Day", "Day of union - giving strength to young workers", discount markets, "Weekend playground", Young workers singing contest. Besides, there are activities to take care of migrant young workers on Tet holidays, reproductive health counseling, providing legal advice at lodging houses...
Accordingly, from the town to communes and wards, youth organizations gave gifts to disadvantaged young workers, implemented support packages for migrant young workers, workers having labor accidents, fatal diseases; donated medicine cabinets to lodging house's youth branches; visited and gave gifts to disadvantaged ethnic minority young ones on occasion of Chol Chnam Thmay New Year. These activities contributed to demonstrating the role of the Youth Union in the work of joining hands with the Party and State to take care of the material, cultural and spiritual lives of young workers, helping them to feel assured, work better, and contribute to the construction and development of Binh Duong.
Nguyen Minh Tan, Secretary of Ben Cat Town Youth Union, said that looking back on the past five years, Youth Union's activities and movements of Ben Cat Town closely followed the orientation of Provincial Youth Union and the Town Party Committee. In particular, educational work of youth organizations has been increasingly innovated and diversified in terms of solutions, contributing to improving the effectiveness of political and ideological, traditional education, ethics and lifestyle education for young people. Youth Union's communication channels have been effective and caught up with current trends of young people.
Activities to improve the youth's role were widely carried out in all social areas, creating chances for the youth to promote their strength, enthusiasm and creativity. In particular, the work of encouranging Youth Union members to build a cultural and civilized lifestyle in combination with the Project No. 02-DA/TU of Ben Cat Town Party Committee on improving the people's spiritual life and building cultural lifestyle, urban civilization in 2020-2025 period, orientation until 2030 and the following years. In parallel, Youth Unions took part in new rural construction, namely, Youth Unions mobilized young members and implemented many projects to serve the youth and people in the town as well as people inside and outside the province... ".
With the achieved results, in the 2017-2022 tneure, Youth organizations of Ben Cat Town received rewards from the Provincial People's Committee, the Provincial Youth Union, the Provincial Youth Federation, the Provincial HYPO Council; People's Committee of Ben Cat Town also commended and rewarded many excellent collectives and individuals in youth works and movements.
With the action slogan "Ben Cat youth unite, create, aspire, develop", in the 2022-2027 tenure, the youth of Ben Cat town sets specific targets, such as: to implement 5 youth project, children's playgrounds in residential areas; new construction or repair of 5 houses; organize at least 5 charity bus trips - journeys for public health, medical examination and free medicine distribution for at least 3,000 people; carry out at least 20 projects "Lighting up country roads" or "Lighting up urban areas" in communes and wards; awarded 500 scholarships, 1,000 gifts, 25 bicycles, 500 school bags, and 10,000 notebooks to youth union members and children having difficult circumstances; install at least 50 young workers' bulletin boards and at least 50 law bulletin boards located in lodging houses...
Reported by Ngoc Nhu - Translated by Ngoc Huynh