In 2020, many capital construction works in Bau Bang district were completed and put into use, especially investment in essential projects of new rural construction. Thereby, making an important contribution to meeting the requirements of socio-economic development of the district.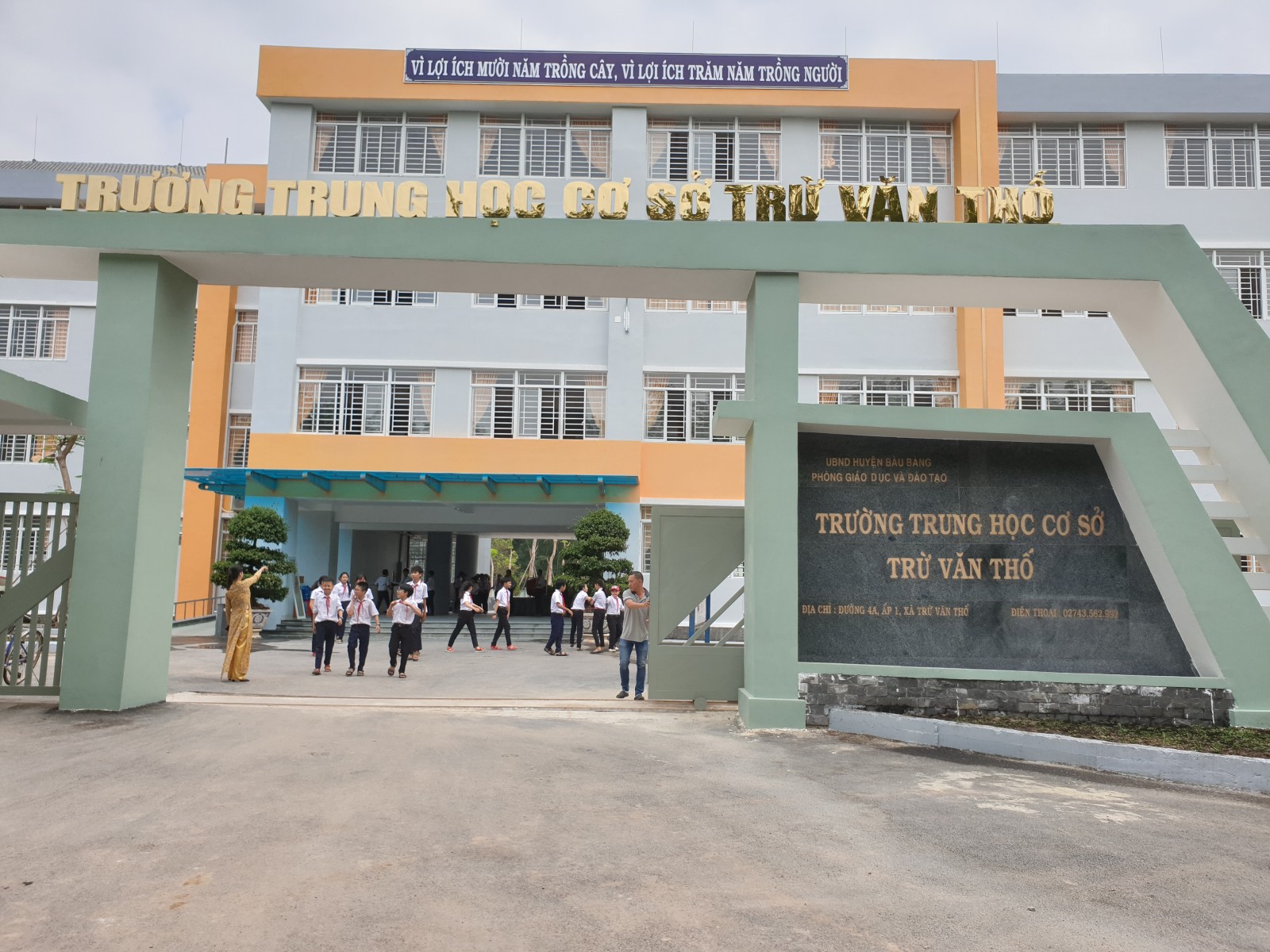 The school system of Bau Bang district is well-invested, meets the learning demand of local children.
To utilize investment value
Despite certain difficulties due to the Covid-19, thanks to proactive solutions, construction progress and disbursement of investment capital in the area was not much affected. According to the adjusted public investment plan 2020, the district has a total capital of nearly 460 billion VND, of which provincial capital is 325 billion VND, district capital is 134.7 billion VND. As of 31 Oct 2020, disbursement value reached 190.4 billion VND, completed 41.41% of the plan. Estimated allocated value as of 31 Jan 2021 is more than 456 billion VND, reaching 99.18% of the plan (provincial capital is 321.3 billion VND, reaching 98.84% of the plan; district capital is 134.7 billion, reaching 100% of the plan).
Particularly, this year, the district completed and put two key projects into use. For the investment in My Phuoc - Bau Bang boulevard, Provincial People's Committee and People's Committee of Bau Bang District issued decisions to recover lands, and compensate 206 cases with a total amount of nearly 130 billion VND. My Phuoc - Bau Bang route is opened for traffic flow. District Health Center project with 100 beds meets standards set by Ministry of Health. The center was built with investment capital of over 240 billion VND, includes 1 ground floor, 2 floors, modern and fully equipped facilities to serve the demand for medical examination and treatment.
In order to perform well the investment management, the district stepped up the supervision of construction works, guaranteed construction progress, improved the accountability in preparing bidding documents and appointing contractors. The district will also review the internal adjusted capital plan for completed projects to finalize and disburse works. In addition to completing works in progress, the district is focusing on the next key projects. namely, to execute strictly project process under Investment Law, submit construction design for approval, estimate total cost to organize bidding for a number of key projects, to stimulate socio-economic development, improve the quality of new rural construction.
Vo Thanh Giau, Chairman of Bau Bang district People's Committee, said that as a newly established district, Bau Bang needed to invest in many projects for state management and socio-economic development. From the approved annual fund, the district must allocate the capital for each project, especially key projects in the area. District leaders also regularly direct functional branches to inspect and urge constructors, promptly report and propose solutions to solve arising problems. Besides, the district also did well appraisal of investment procedures and dossiers according to regulations; executed works and projects according to plan; urge units to complete settlement and payment dossiers, and accelerate the disbursement of the remaining investment capital of transition projects and ongoing projects.
Clear transformation
It can be said that, with the focus on capital construction investment, the district's face has clear changes, many projects have been completed and put into use. Thereby, making an important contribution to meeting requirements of socio-economic development of the district. Up to now, the district has quite comprehensive infrastructure; the system of roads, electricity, schools and stations meets development requirements, ensures the material and spiritual life of people. In particular, the rural transport system was improved solidly and synchronously, including roads in small areas and hamlets; facilitate people's commute.
Nguyen Xuan Le (living in Bau Long street, Lai Uyen town) said that the current rural appearance changed, especially the district invested social welfare works and projects, like: Electricity, roads, schools, stations etc., stimulating local economic growth and improving people's living standards. Instead of red dirt, muddy roads, asphalted, clean and beautiful roads, spacious schools have emerged. All of these things are to serve essential needs of the people in rural areas.
One of the most prominent features of Bau Bang in capital construction in recent years is that the district has invested strongly in roads, schools, hospitals... Currently, the district's roads are 100% asphalted, creating favorable conditions for people's commute, production, and attracting business investment. The district has also many schools meeting national standard. The school system is upgraded synchronously from facilities to equipment for teaching and learning demand.
According to Mr. Vo, in order to ensure the progress and quality of construction projects in the area for investment attraction and industrial development, in the coming time, Bau Bang district will continue to monitor, direct investors to speed up construction progress, disburse capital, and improve the capacity of staff. To direct specialized units to examine planning, formulation, survey, design, bidding, and appointment of contractors, ensuring publicity and transparency. To speed up site clearance work, actively persuade people to agree on the policy and implement while ensuring the interests of people; verify the settlement of completed projects, resolve outstanding works, delayed settlement to reduce capital construction debts. The district also strives to complete the order and procedures to protect the construction of projects.
With synchronous and drastic solutions, the district's capital construction investment has made many good changes, gained high results, contributing to the completion of the district's socio-economic development goals.
Reported by Thoai Phuong - Translated by Ngoc Huynh