Along with measures and tactics to control and stamp out the epidemic, Binh Duong also quickly carried out Covid-19 vaccination for people in the area to create community immunity. Binh Duong has issued a plan to give 1 million jabs, developed a vaccination plan for the 9th phase, the 10th phase and deployed it in all communes, wards and townships.
To vaccinate people in epicenters
Talking about the vaccination strategy for people in epidemic areas, Minister of Health Nguyen Thanh Long said: "The province's vaccine strategy focuses on hitting "red zones" first, I think this is a very creative way and Ministry of Health appreciates this strategy. Specifically, the province strive to provide vaccinations in red areas within 1 week and organize small vaccination teams to go to each alleys to give vaccination and do not limit the number of people vaccinated per day. Human resource for the vaccination plan is supported by Ministry of Health to make this campaign highly effective. The Ministry of Health has decided to provide Binh Duong with 80,000 more doses of Moderna and AstraZeneca vaccines and will continue to distribute to the province when receiving more vaccines.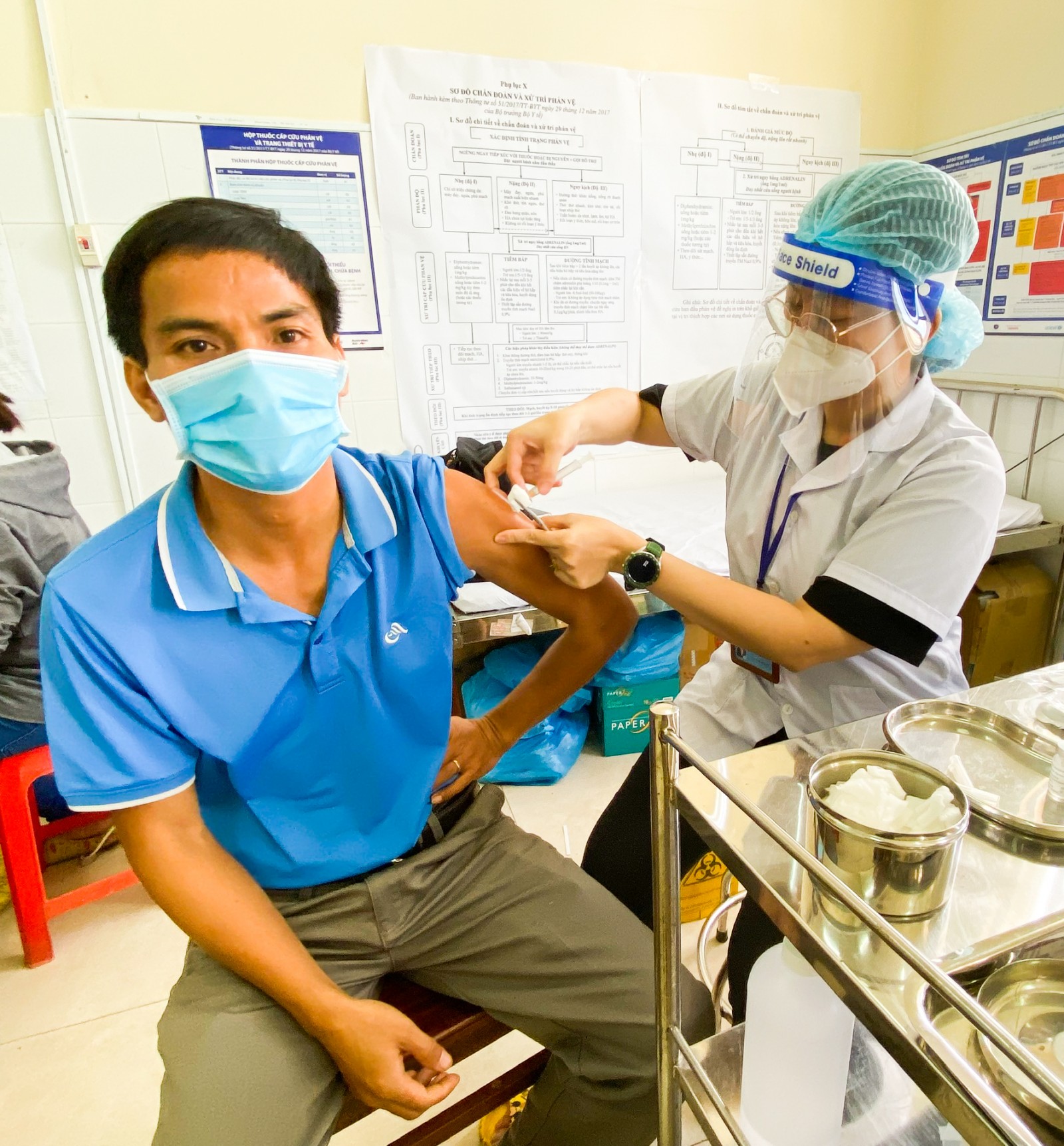 Medical team give Covid-19 jabs to priority persons in the province.
From August 2 to 10, the health authority organized the 9th and 10th phase of Covid-19 vaccination for the listed subjects. The expected number of vaccines given in these two phases is 140,000 doses. As of August 3, provincial health branch organized the 7th phase of vaccination for 11,901 people who had received the first jab and 3,025 people who had received the second jab; 2,363 vaccinated people had normal reactions after the injection. Cumulatively, the whole province has injected 82,408 people, of which 75,271 people with the first jab; 7,191 people with the second jab; 17,913 people had common reactions, accounting for 21.7%.
In addition to the vaccine source allocated by Ministry of Health, Provincial Business Federation also asked Provincial People's Committee to allow their participation in the "Pilot Program of Nano Covax Vaccine Phase 3". Provincial People's Committee proposed Ministry of Health to support and allow Provincial Business Federation to participate in the program with 200,000 volunteers who are officials and workers of associations and member businesses operating in the province.
To ensure fairness and transparency in vaccine distribution
Vo Van Minh, Deputy Secretary of Provincial Party Committee, Chairman of Provincial People's Committee, said that in order to quickly create community immunity, Binh Duong has issued a plan to inject 1 million doses of Covid-19 vaccine to people in the province. This large-scale campaign has been implementing in all communes, wards and towns in the province. In addition, the province also deployed mobile injection teams at manufacturing organizations in the province. All eligible vaccines distributed by Ministry of Health are used at the same time to ensure that over 90% of people of the vaccination age are vaccinated against Covid-19.
Vo Van Minh emphasized that although the number of people vaccinated is large, the distribution of vaccines is carried out on the principle of fairness, equality, publicity, transparency and efficiency with the goal of achieving community immunity. Namely, the subjects of vaccination in this campaign are diverse, including all people in age groups who are prescribed to use the vaccines as recommended by the manufacturer. The dissemination of information about vaccination plan as well as people subject to the vaccination will be made public.
At a meeting on August 3, after listening to Provincial Covid-19 Steering Committee's report on Covid-19 prevention control work in the province and opinions of delegates, Provincial Party Standing Committee concluded and directed the health branch and localities, units to continue to urgently implement and further accelerate the vaccination, must ensure to complete the campaign within a week (the target is to give at least 100,000 jabs/day); continue to inspect, arrange adequate forces for the vaccination progress, and at the same time develop socialization at eligible businesses, organizations and private medical centers.
Reported by Hoang Linh - Translated by Ngoc Huynh