On the morning of August 3, Nguyen Anh Minh, Director of Binh Duong Department of Transport, said that the agency had worked and rented seven-seat 50 taxis having partitions of Mai Linh company (Ho Chi Minh City) without drivers. Currently the Department of Health mobilized volunteer to drive the taxis, initially nearly 40 people registered to drive. In addition, there are also 20 Thang Loi taxis having drivers. These taxis will be allocated to provincial districts, towns and cities to organize the transportation of F0 cases to medical centers and hospitals for treatment.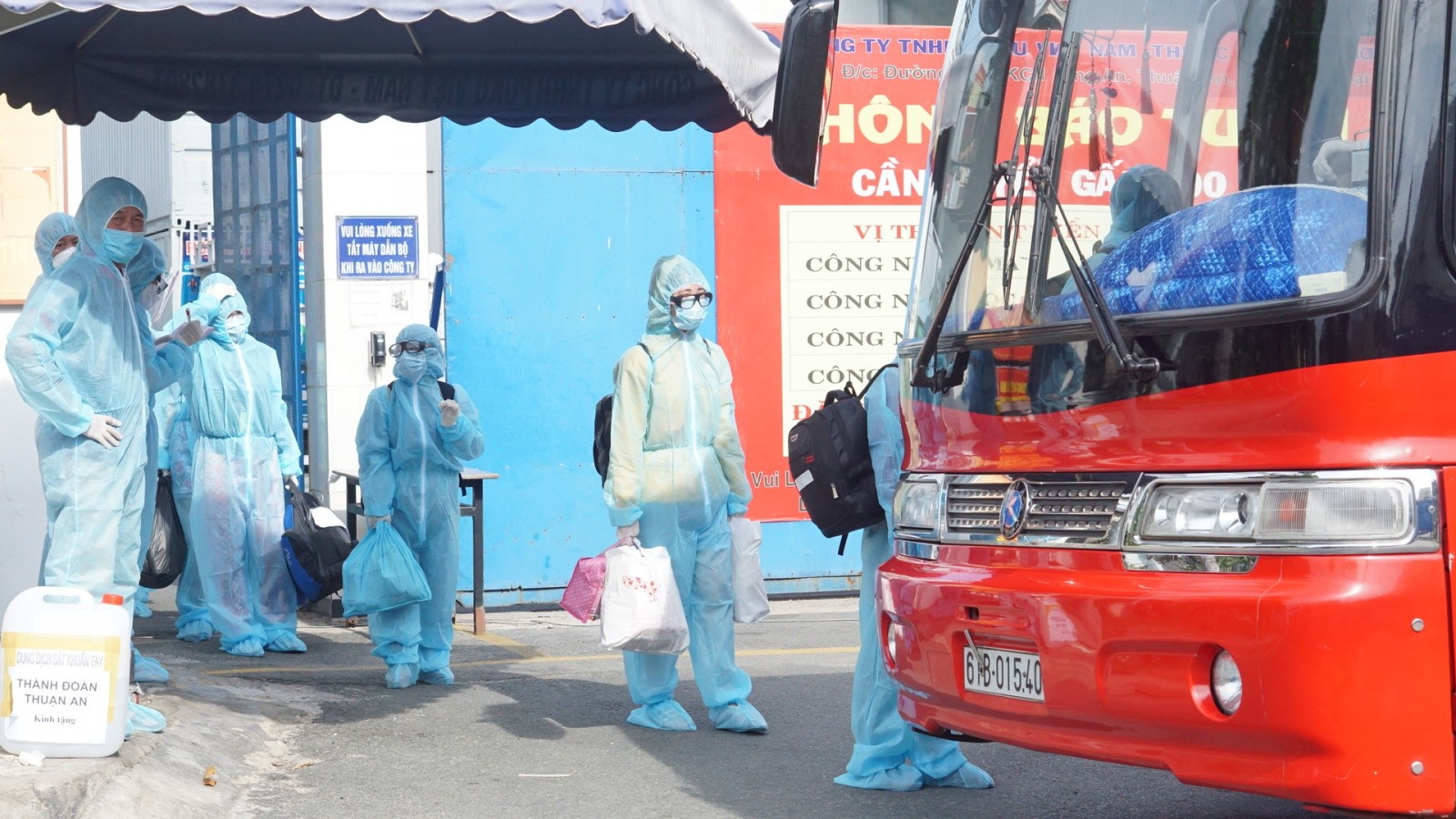 Buses carry workers of Puku Vietnam Company to concentrated isolation area in Thoi Hoa ward (Ben Cat town).
"In addition, the Department has also prepared 20 buses of 45-seats to serve the transport of mobile vaccination teams according to the province's plan. The Department has cooperated with Provincial Military Command to coordinate vehicles for transport of treatment drugs, medical equipment and supplies as well as volunteer forces from other provinces and cities coming to Binh Duong to aid in the Covid-19 prevention and control", Minh said.
Previously, Department of Transport allocated 43 buses of 16-seats to communes and wards in Thu Dau Mot city, Thuan An city, Di An city and Tan Uyen town to carry F1 cases to centralized isolation areas. The organization is performed by municipal administration. If the number of people need to be transported is high and exceeds the local capacity, Provincial Military Command will collaborate with Department of Transport to coordinate vehicles to ensure safe transportation at the request of health agency.
Regarding the information about F0 cases completing treatment period and F1 cases completing isolation period did not receive transport support to their residence from localities, treatment and isolation centers, Nguyen Thanh Tam, Chairman of People's Committee, Permanent Deputy Head of Covid-19 Steering Committee of Thuan An City, said: "Vehicles allocated to the city have participated in the transportation of F1 and F0 cases back to their residence to continue monitoring and managing more time as prescribed". However, in fact, some people have their own needs and rent their own cars to return to their residence. In order to transport F1 and F0 cases to their residence, municipal administration will direct communes and wards to intensify informing isolation and treatment facilities to be certain about the schedule of F1, F0 cases; then proactively organize vehicles to pick up and bring patients to their places of residence".
Reported by Minh Duy - Translated by Ngoc Huynh