At the meeting on Jan 17th 1991, the Politburo decided to consider October 14th 1930 as the establishment day of the Vietnam Farmers Union. Over the past 90 years, with the support of Farmers Union, Binh Duong farmers have continuously improved themselves, enriched themselves, and contributed to building their hometown more and more beautiful.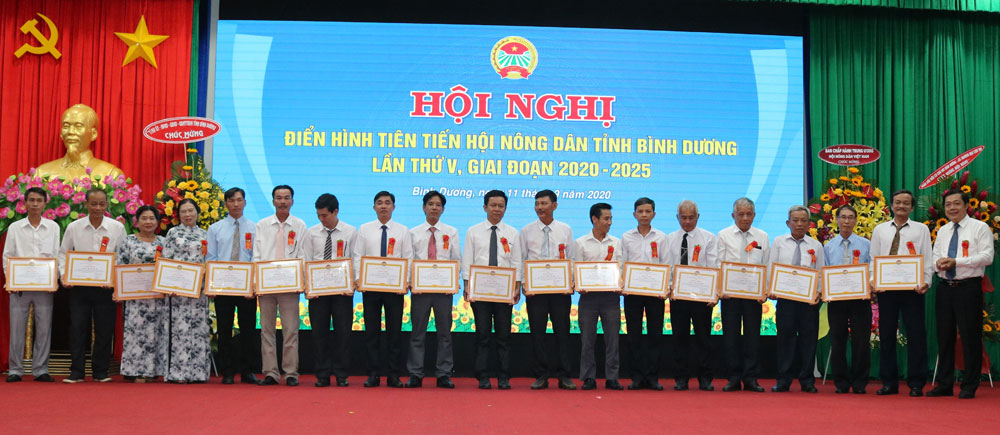 Some exemplary farmer collectives and individuals in the 2015-2020 period are commended.
Glorious tradition
Over the past 90 years, under the leadership of the Party, Vietnamese peasant class in general and Binh Duong farmers in particular wholeheartedly determined to follow the Party, rose up and struggled to eliminate enslavement, poverty, and ignorance. During the two resistance wars against the French and the American imperialists, the peasant class contributed great efforts, which were human strength, wealth, blood and bone to the national liberation. In the "Doi Moi" (Renewal) period, peasant class, together with working class and intellectual class, were the core force in building the great national unity bloc under the Party leadership, well performed the transition to socialism.
Vietnam Farmers Association over the past 90 years has built up and developed strongly. Under the leadership of the Party, all levels of Farmers Union in Binh Duong province have actively created and innovated content and method of operation; strengthened propagation, encouraged members to fulfil objectives and tasks. Thereby, emulation movements of farmers at all levels were really exciting and effective in the actual production and business activities.
The 9th Congress of provincial Farmers' Union tenure 2018-2023 continued to affirm its movements step by step come into life, attracted a large number of members, made a great contribution in the construction of a new countryside. Farmers' emulation movement of good production, good business continued to develop in terms of quantity and quality. Many examples of farmers starting their businesses, overcoming difficulties to become owners of farms, ranchers, production establishments, formed many production cooperative groups, cooperatives, developed many new models of crops and livestock. Besides, many good business households helped poor households with technical skills, production experience, capital support, seedlings, agricultural materials.
To accelerate the new rural construction
Over recent years, all-level Farmers' Unions in the province have stepped up the implementation of new rural construction and civilized urban programs. All union levels propagated purposes and mechanisms of the Party and the State through activities and meetings of branches, organizations and clubs; encouraged members to contribute to the new rural construction planning, to directly participate in the implementation of criteria related to agriculture, farmers and rural areas.
According to Do Ngoc Huy, Chairman of Provincial Farmers' Union, the union disseminated the goal of "Solidarity - creativity - integration, for the sustainable development of Binh Duong province" among members. Currently, the area of high-tech agriculture in the province reaches more than 5,300 hectares, up 3 times compared to 2016, and comprises valuable crops such as vegetables, mushrooms, fruit trees, orchids, ornamental plants... The province has 75 production facilities certified according to VietGAP, mainly farms of citrus fruit, melons and vegetables with a total area of 470 hectares; there are about 600 hectares of organic cultivation on crops. In particular, citrus trees 250 hectares, vegetables 25 hectares, other fruit trees 260 hectares...
During the last 5 years, Farmers' Union has actively implemented advisory and support services to help members take out preferential capital from Farmer Support Fund, Social Policy Bank, preferential credit policies and programs, agricultural and rural development projects. Total support for farmer production in the past 5 years amounted to more than VND 1,468 billion with 33,670 household borrowers.
In the coming time, Provincial Farmers' Union will continue to strongly innovate its operation method by combining the gathering, uniting, communicating and mobilizing members to participate in the development, supervision, social criticism, and implementation of the Party's guidelines, policies, and the State's laws; strengthening service activities, consultancy, support and vocational training, meeting the needs and practical interests of farmers. Besides, the unions will effectively carry out socio-economic development programs and projects in rural areas; to promote the central and core roles in order to enhance the role and responsibilities of the union in agricultural development, new rural construction and civilized urbanization.
Provincial Farmers' Union will also continue to enhance revolutionary movements; persuade farmers to actively implement economic restructuring towards urban agriculture, high-tech agriculture associated with processing industry, develop agriculture sustainably, improve people's lives. The union continues to heighten its role to truly gather, organize, represent and protect the legitimate interests of farmers...
Reported by Quynh Nhu - Translated by Ngoc Huynh