To implement Resolution No. 08-NQ/TW dated January 16th 2017 of the Politburo on tourism development as a key economic sector, Binh Duong has identified tourism as one of the important economic sectors of the province. In order to develop tourism, in recent years, the province has made many investment and development solutions for this field. Industrial tourism is one of the new tourism products that Binh Duong tourism industry is aiming for further development.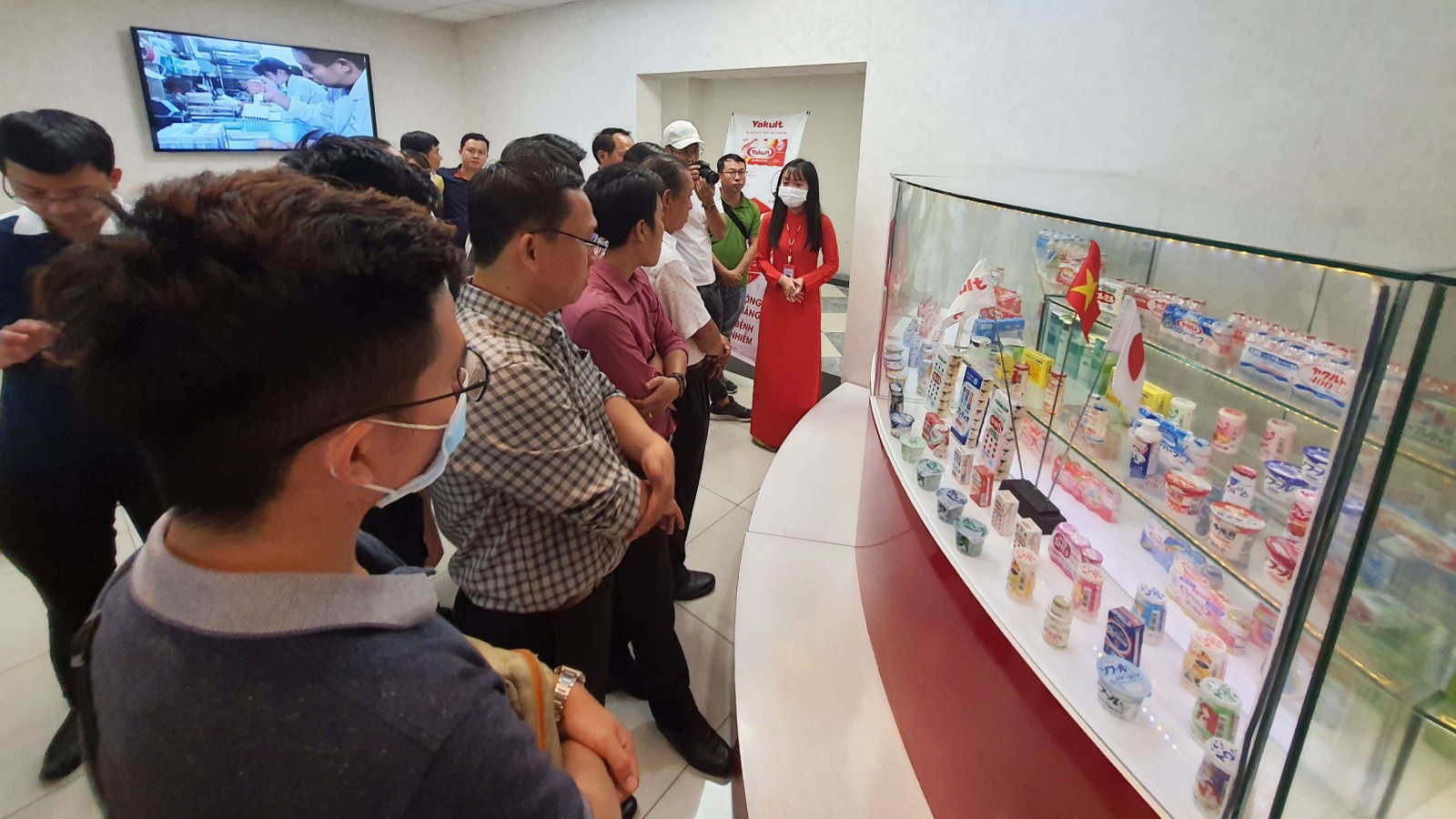 Travel companies in and outside the province participated in a survey at Yakult Vietnam Company in Thuan An City.
An important economic sector
As a province located in the southern key economic zone, Binh Duong makes good impression not only by the rapid and dynamic development of industrial production but also its long and diverse history and culture. In addition, in recent years, tourist attractions and resorts in the province have been built and upgraded by investors, contributing to the continuous development of tourism industry of the province, meeting the people's demands for entertainment, sightseeing, and leisure of a large number of tourists.
According to development orientation of the province, in recent years, tourism industry is also constantly growing. Nguyen Thanh Phong, Deputy Director of Provincial Department of Culture, Sports and Tourism, said that in 2019 alone, Binh Duong attracted over 5.1 million visitors, total revenue reached over 1,440 billion VND. In 2020, due to the impact of Covid-19 pandemic, tourism activities of the home province were significantly affected. To overcome difficulties and find development directions for tourism, in the past year, Department of Culture, Sports and Tourism implemented many solutions to promote the growth of tourism industry.
Developing new tourism products to better meet demands of tourists is one of the solutions concerning Binh Duong tourism branch. Provincial tourism authority made effort to take advantages of available potentials and strengths, create more specialties and attract more tourists into Binh Duong.
One of the new tourism products that promises to bring many interesting and new things to tourists coming to Binh Duong is to develop industrial tourism products. This is also a tourism product that many travel companies are expecting to exploit.
A new development direction
To find the development direction for industrial tourism products of the province in the coming time, under the direction of Provincial Department of Culture, Sports and Tourism, recently, Provincial Tourism Promotion Center has carried out a survey of some companies, production facilities, booths displaying industrial tourism products, combined with seminars to collect opinions about how to improve Binh Duong industrial tourism and service products. The program attracted the participation of many business units of tourism and travel companies in the province and some provinces in the region, such as: Tay Ninh, Dong Nai and Binh Phuoc.
Through the survey, most participants appreciated Binh Duong's potential for industrial tourism products. Truong Thanh Hang, General Director of Viet Hung Tourist Company (Thu Dau Mot City), said her company previously organized delegations to visit some places as in this survey. Therefore, according to Ms. Truong, her company has enough experience and capacity to organize tourist groups.
On the basis of surveys and comments from participants, Department of Culture, Sports and Tourism made a plan to develop industrial tourism products in the province. Nguyen Thanh Phong added that the implementation of linking, connecting tours and routes to factories, companies, manufacturing facilities in industrial zones to introduce about this new type of tourism to a large number of domestic and foreign tourists. "After the recent survey and discussion, we will develop a complete tour program to put into service", Mr. Nguyen said.
Along with the system of recognized historical and cultural relics, traditional craft villages and handicrafts with a history of more than 300 years, Binh Duong also has about 40 industrial zones and clusters in diverse fields and trades. These are the potential and advantages for Binh Duong to exploit and develop industrial tourism. If well exploited, it will not only serve tourist' demand, attract more and more domestic and foreign tourists into Binh Duong, but also contribute to bringing economic values, developing tourism an important economic sector of Binh Duong.
Reported by Hong Thuan - Translated by Ngoc Huynh