The Covid-19 pandemic has greatly affected production and business operations of enterprises, many of which had to reduce employment counts. In such situation, Binh Duong provincial Labor Union carried out various activities to help working people to overcome hardship and settle down.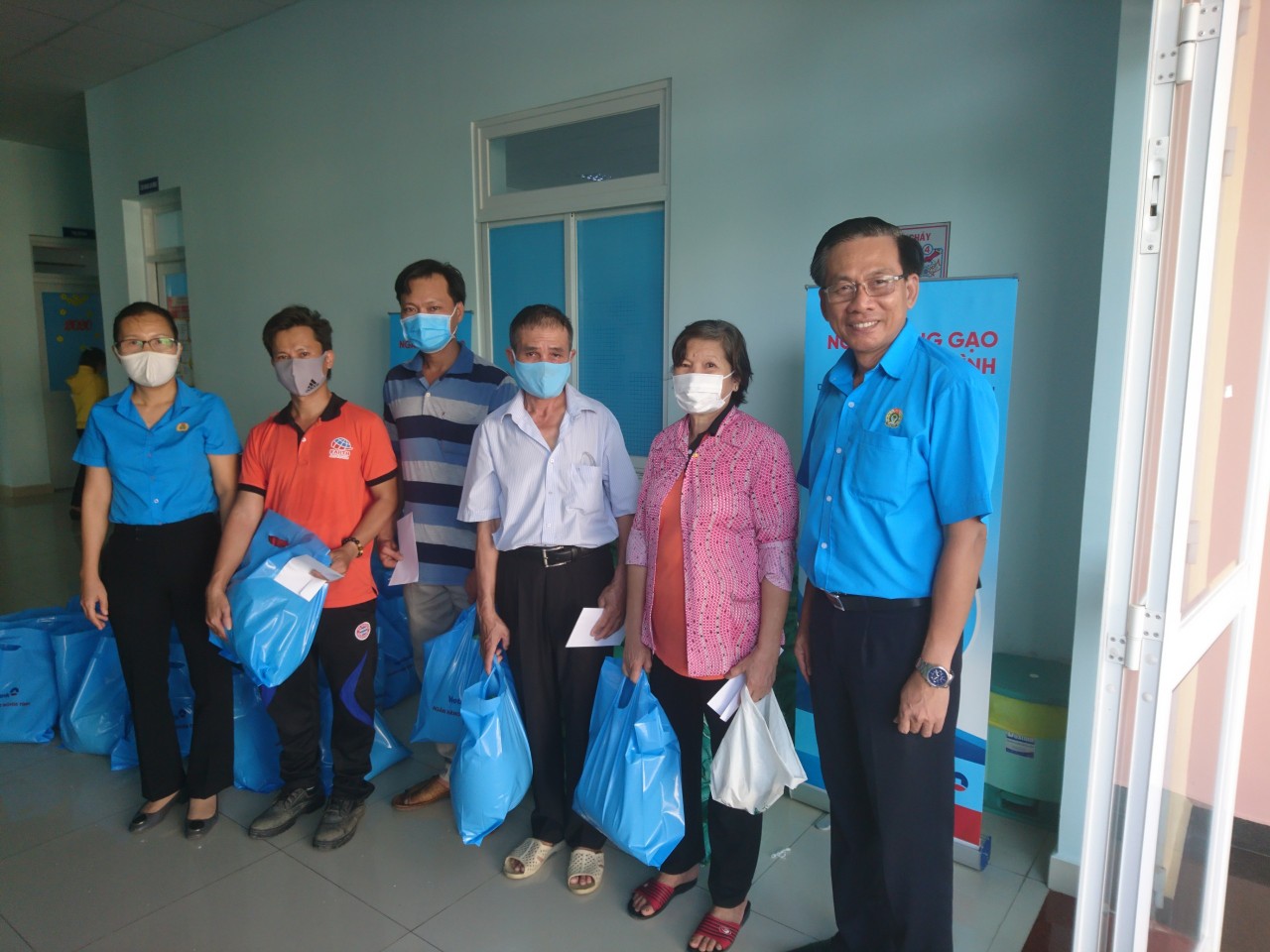 Tan Uyen town Labor Union offers gifts to working people in difficulties due to Covid-19 pandemic
Sharing difficulties
The prolonged Covid-19 pandemic has greatly affected production and business operations of many enterprises while lives of immigrant workers have been truly hard. Visiting Duong Thi Duyen, a worker of Lam Thinh Production and Trade Co. Ltd. at Quarter B, Binh Chuan ward, Thuan An city we heard of her: "Due to Covid-19, the company stopped working temporarily, we are unemployed without any income, our lives fell short to difficulties. The recent visits and help of unions have been very encouraging to us to get through such a hard time."
Thong Nhat Vietnam Company Limited at Ong Dong quarter, Tan Hiep ward, Tan Uyen town, after the second outbreak of the Covid-19 epidemic, tried to expand its consumption market, so the production situation was relatively stabilized to create jobs for workers and employees. Ngo Quoc Hiep, Chairman of the Trade Union of the company informed that the 2nd wave of Covid-19 epidemic, although the production was in moderation, the company still ensured regular jobs for workers. The company also coordinate with Binh Duong provincial Labor Union to share with and support workers in difficult circumstances, typically supporting those workers who unfortunately suffered from dangerous diseases, each case of VND 2 million. The provincial Labor Union also visited, encouraged, gave gifts and donated VND 10 million to each employee in the mentioned circumstances.
Sharing with and helping working people to overcome difficulties, the provincial Labor Union has instructed its grassroots at all levels to coordinate with local agencies, departments, and unions to mobilize the landlords to exempt and reduce house rents for workers having difficulties because of the Covid-19 epidemic. Recently, the labor unions have coordinated with local departments and unions to mobilize more than 1,000 accommodation businesses with nearly 15,000 rooms to exempt, reduce, and extend the rents for workers. Nguyen Ba Toan, owner of Hung Loi Residential Area at Uyen Hung ward, Tan Uyen town, said: "I have 2 apartment areas with a total of nearly 2,000 rooms. Joining hand to prevent and fight the Covid-19 epidemic, while sharing common difficulties in the society, I have offered totally free of charge for the room rental against those having no job or being job loss. I also offered 50% discount of rent for rooms with 1 person employed and 1 person unemployed."
Various helping activities for working people to overcome hardship
Over the past time, understanding the difficulties of enterprises and employees, the provincial Labor Union has urgently instructed its grassroots to strengthen activities of accompanying and supporting the frontline to fight Covid-19 epidemics by visiting, encouraging and donating gifts and necessities to employees in need. In addition, the labor unions at all levels actively reviewed and assessed records of enterprises and employees affected by the Covid-19 epidemic and made a list of employees whose labor contracts were suspended or left with unpaid work or employees whose labor contracts have been terminated and not eligible for support policies under Resolution 42/NQ -CP of the Government and Decision No. 15/2020/QD-TTg of the Prime Minister. Up to date, the labor unions at all levels have helped 4,000 union members and 5 workers by a total amount of more than VND 2 billion.
Being so emotional holding on her hand the gift offered by Tan Uyen town Labor Union, Nguyen Thi Nghia, a worker of New Decor Wood Industries at Quarter 6, Uyen Hung ward, Tan Uyen town said: "Due to the difficulties of the company, I was suspended. Without income, daily life is extremely difficult and deprived. In this epidemic situation, it is also difficult to find other jobs even part-time jobs to earn. Thanks to the visits from the trade unions and the local authorities, we are very grateful. The amount of VND 1 million of Tan Uyen town Labor Union is so encouraging to me to move on."
Truong Thi Bich Hanh, Chairwoman of the Binh Duong provincial Labor Union said: "The Covid-19 epidemic is still complicated and prolonged, many enterprises are still facing difficulties, affecting their resolving policies for their employees. Binh Duong provincial Labor Union has added exit strategies by lending loans at preferential interest rates through micro-finance institution CEP. Up to date, nearly 2,000 workers working in extremely difficult circumstances in 49 enterprises affected by the Covid-19 epidemic have applied for the loans. Currently, CEP has disbursed to more than 700 cases with the amount of nearly VND 4 billion. In fact, many employees are still postponed from work or taking unpaid leave in the following months. Therefore, Binh Duong provincial Labor Union has proposed to the Vietnam General Labor Union to extend coverage time to the end of the third quarter of 2020, making up conditions for the immigrant workers to have a stable life."
Reported by Thu Huong – Translated by Vi Bao