FDI capital has made an important contribution to the outstanding achievements of Binh Duong province's socio-economic development. This is one of the foundations that build up the strength for Binh Duong to advance quickly and firmly on the way ahead, with the goal of improving the quality of FDI inflows.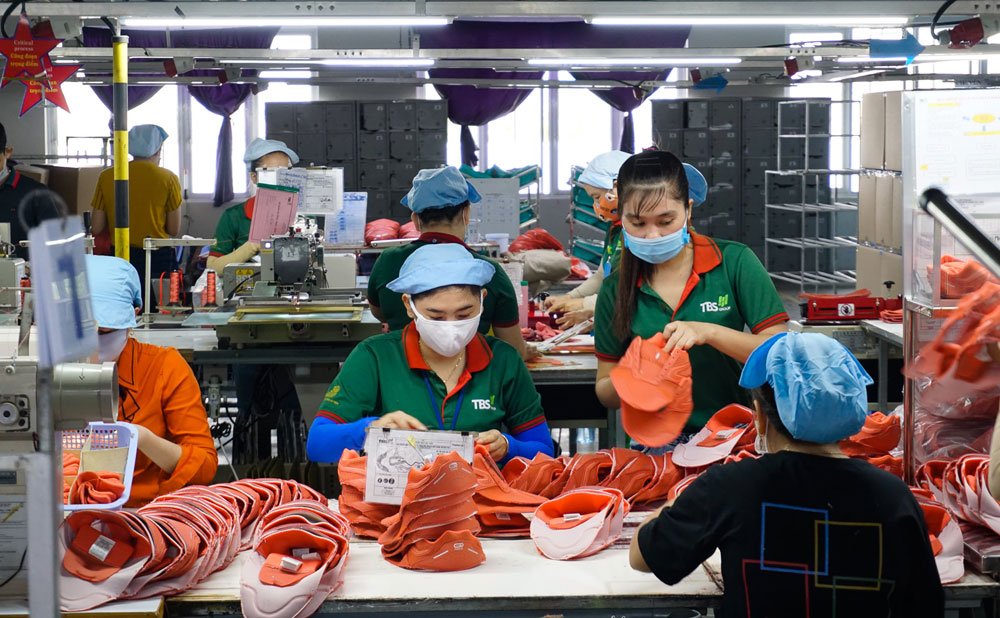 Binh Duong calls for investment and assist businesses to develop production and business. In photo: Production activities at Thai Binh Joint Stock Company.
To be unobstructed and efficient
Binh Duong always acts with a consistent view that, for development, it is necessary to facilitate industrialization in association with effective exploitation of the potentials and advantages of geographical location, natural and human resources. In particular, provincial Party and government have proactively proposed breakthrough solutions to attract investment. Identifying its advantages, Binh Duong soon proactively called for foreign investment capital very early. Thanks to the flexible application of general guidelines, policies and provincial actual conditions, industrial parks (IPs) of Binh Duong gained important results in rapidly increasing the pace of investment capital attraction into the province.
Starting from Song Than 1 Industrial Park and Vietnam - Singapore Industrial Park 1 (VSIP 1) are the first IPs built and have become one of the stepping stones to form successive industrial zones in the province. Especially VSIP 1, which is a model industrial park in Vietnam in all aspects, has become a reliable address for prestigious investors in the world. The birth of IPs contributed to developing Binh Duong from a rural agricultural province to one of the provinces with a thriving industry. Also since then, the "good land" Binh Duong has created an open business environment to welcome investors. And with strong attraction and spread, thousands of companies and corporations from 65 countries and territories came to Binh Duong for business development.
Mai Bá Trước, Director of provinciak Department of Planning and Investment, said that in recent years, Binh Duong has been one of the leading localities in attracting FDI of the country. Notably, over the first 6 months of 2021, although the COVID-19 had a bad impact on investment activities, Binh Duong attracted an estimated $1.4 billion of FDI capital. The good thing is that most of the FDI projects were selected carefully based on its high technology content, modern management, spillover effects, connection of global production, and supply chains... It can be affirmed that the strong FDI inflow into the province in recent years have had an advantageous impact on the province's economy, elevating Binh Duong to one of the localities with the highest economic growth rate.
Towards sustainability
Binh Duong's outstanding results in attracting FDI were yielded by not only one or a few key factors but also the synergy of many factors. And obviously, the success in investment attraction also comes from the province's own resources. Looking back on the development path, it can be seen that, with 24-year experience of welcoming talents and investment has contributed to creating an open and convenient mechanism and policies to welcome the investment wave of domestic and foreign enterprises to the province. Especially, the very open and transparent policy mechanism has created plus points in the eyes of investors. With FDI inflow, Binh Duong today has taken on a completely different face, is one of the localities with the highest urbanization rate in the country (82%) with 3 cities and 2 towns possessing synchronous and modern infrastructure.
According to foreign investors, in addition to the consistency of innovation method in investment attraction, the advantage of modern industrial park infrastructure has helped Binh Duong become the preferred destination of foreign investors. Gricha Safarian, General Director of Puratos Grand-Place Vietnam Company (VSIP 1), said: "We appreciate Binh Duong's efforts and determination to improve the business and investment environment. Especially the thinking of provincial leaders always be innovative, and has a consistent perspective in direction, performance. This is one of the key factors for FDI investors to come and have long-term commitment to Binh Duong. In this way, FDI investors are also ready to connect the province with other investors".
Due to those efforts of the province, the business community's confidence in opportunities and potentials has been multiplied. The outstanding results in foreign investment of Binh Duong have been spreading, significantly contributing to the bright "picture" of foreign investment in the whole country. Nguyễn Hoàng Thao, Deputy Secretary of Provincial Party Committee, Chairman of Provincial People's Committee, said that plenty of investors had come to Binh Duong. This is not a coincidence but is the result of a whole process and efforts of the province and investors. FDI enterprises have helped Binh Duong integrate deeply into international economic life. Binh Duong always strives to improve investment environment, upgrade infrastructure to better serve the demand of investment attraction.
"In the coming time, Binh Duong will continue to mobilize all investment resources for development, in which attracting FDI plays an important role. However, investment attraction must aim at sustainable development, environmental protection, ensuring the harmonization of interests of the State, enteprises, and people. The province pays special attention to investment attraction in a selective manner, gives priority to projects that employ environmentally friendly technologies; encourage and give incentives to foreign investment in high-quality services; build transport infrastructure to ensure faster connection with other domestic and international regions, especially in key areas", said Nguyễn Hoàng Thao.
Phạm Ngọc Thuận, General Director of Becamex IDC Corporation: "Becamex IDC has performed its role in promoting business and investment opportunities of FDI enterprises increasingly closely with Binh Duong. The corporation have strengths lying in industrial real estate, the system of completed and modern industrial parks - urban areas, professional services etc. will best serve the needs of investors. Becamex IDC continues to upgrade and complete important traffic routes, such as National Highway 13, My Phuoc - Tan Van, DT743 highway and many other ones to enhance connectivity not only within the region but also connect flexibly to the outside, to the southern key economic region.
Yeh Ming Yuh, General Director of Polytex Far Eastern (Vietnam) Company: The achievements in attracting investment in recent years are an opportunity for Binh Duong to continue promoting its strengths to large corporations. Currently, with the advantage of modern and complete industrial park infrastructure, Binh Duong has become a preferred destination of investors. I also appreciate Binh Duong province's efforts and determination of Binh Duong to improve the investment and business environment, as well as provide support, cooperation.
Reported by Ngoc Thanh - Translated by Ngoc Huynh